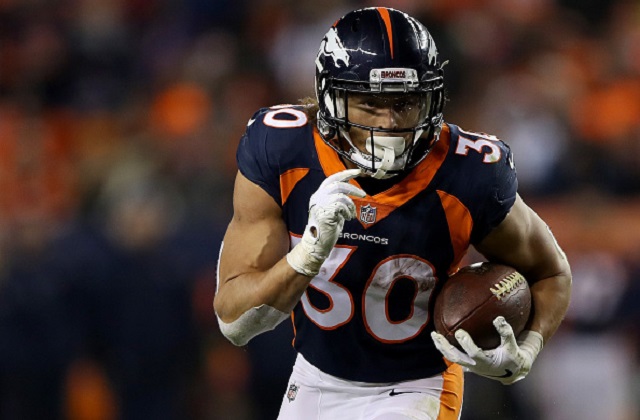 Written by Chris Hexter
26 November 2019
Atlanta Falcons
Injury
Julio Jones (Q-Shoulder)
Opportunity
Calvin Ridley (WR2)
Russell Gage (WR3)
Julio gave owners a scare as he popped up in our notifications this past Sunday leaving the game against the Buccaneers with a shoulder injury. Luckily, Jones returned to action but still left owners wanting more. Jones hasn't been performing the way most would've hoped this year, extending his scoreless streak to eight games. He has four on the season. Jones didn't practice on Monday but has only missed a handful of games since he entered the league. Keep playing him as you do every week and pray he ends his scoreless streak against the Saints on Thanksgiving. If he isn't able to go, Ridley is an automatic start and would need to be in every lineup. Gage would be no more than a middle of the pack WR3 and would be considered a decent flex play.
Philadelphia Eagles
Injury
Carson Wentz (P-Bruised Finger)
Opportunity
Josh McCown (QB2)
Wentz had no weapons around him as he faced the Seahawks without Jordan Howard, Alshon Jeffery, DeSean Jackson and Nelson Agholor. But that was a nasty performance by the franchise quarterback. Hopefully his one touchdown throw helped some owners forget his four turnover game… He should get most, if not all, of his weapons back but he is not the safest play, even with the NFL's easiest remaining schedule. However, it is Miami. If in a tough situation, Wentz is serviceable. It would help if Lane Johnson and Jeffery came back though.
Detroit Lions
Injury
Golden Tate (Q-Concussion)
Evan Engram (Q-Foot)
Opportunity
Sterling Shepard (WR3)
Darius Slayton (WR3)
Tate didn't leave without catching a beautiful touchdown. Unfortunately, he is on this list because of said touchdown. Tate came down hard on his head and is now questionable for next weeks slate against the Packers. If he's out, Slayton and Shepard became viable flex options as someone would need to catch passes on this offense. If Engram goes, he remains a TE1 and would see a couple extra targets if Tate doesn't suit up. Watch Tate's practice usage for the remainder of the week. If he is able to go, he's in your lineup.
Indianapolis Colts
Injury
Eric Ebron (O-Ankles)
Opportunity
Jack Doyle (TE1)
Mo Allie-Cox (TE2)
Yes, that's plural. Ebron is out the rest of the season with an injury to both ankles. It's the kind of injury one would get if they jumped out a bedroom window. But this caught most by surprise and we hope for a speedy recovery to a tight end whose career was revitalized with the Colts. Now, Doyle will take his place and will see a nice bump in targets, especially in the redzone. The tight end landscape is atrocious, so Doyle should be rostered in 10-team leagues or higher. Allie-Cox is no more than a deep league tight end play. This benefits Brissett, too, as more plays on the goal line will be opened up for designed QB run plays.
Oakland Raiders
Injury
Hunter Renfrow (O-Broken Rib, Punctured Lung)
Opportunity
Tyrell Williams (WR3)
Zay Jones (WR4)
Darren Waller (TE1)
Renfrow was really finding his groove in this offense as of late, that is until Carr set him up to be completely obliterated. He will be out the rest of the season and Zay Jones will now be afforded the opportunity to see more snaps and more targets, however, is a crazy flex play even in deep leagues. Tyrell should see a nice target share like he saw in the beginning of the season. Let's hope because since Week 8, Williams has been a dud. Waller has also been somewhat disappointing after a terrific start to the year. He is still seeing a nice dose of targets but hasn't done much with them lately. This injury should have Waller seeing more targets downfield and in the middle, which will make him the biggest benefactor from this injury.
Miami Dolphins
Injury
Albert Wilson (Q-Ribs)
Opportunity
Devante Parker (WR2)
Parker is the only skill position player you want on this team. Let's leave it at that. With Preston Williams out and Albert Wilson's status up in the air, Parker is a reliable WR2 with WR1 upside simply due to target share and the offensive gameplan.
Denver Broncos
Injury
Courtland Sutton (P-Ankle)
Opportunity
Phillip Lindsay (RB2)
Noah Fant (TE2)

Fant has flashed upside and if Sutton is out, he becomes a nice TE1 play due to the open hole of targets. Yes, a TE1. Have I ever mentioned the tight end landscape is atrocious? Lindsay would be a weekly RB1 if he were involved more in the passing game. However, he stays in the safe RB2 range with nice RB1 upside. I say all this, but don't worry Sutton owners. Courtland Sutton will be playing next week as this injury is extremely minor.