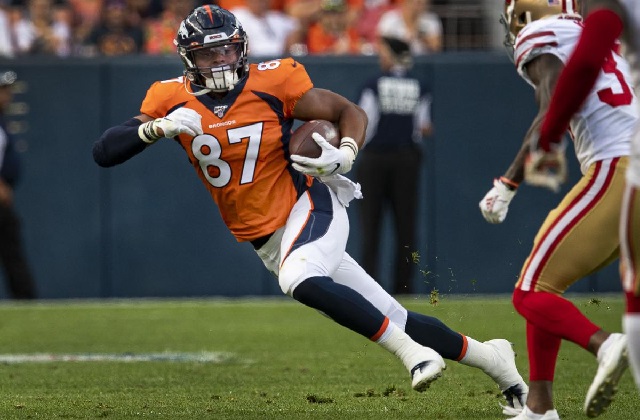 Written by Michael Morrow
19 November 2019
Week 11 was very interesting. Started off with a bang – over the head – on Thursday night… too soon? Then the Ravens dismantled the Texans, leaving owners of Deshaun Watson and DeAndre Hopkins befuddled. The Falcons won convincingly on the road and kept Christian McCaffrey out of the end zone… although I don't feel bad for anyone who owns him, the guy still put up 24.5 points. The Rams look horrible on offense and hiring's of McVay coordinators this offseason is sure to take a 100% drop. To wrap it all up, Mahomes leads the Chiefs to a victory on Monday night in Mexico City.
Here are some great options for week 12 that you can stream for players on bye or stash for your stretch run.
Quarterbacks
Jeff Driskel (4%) – DET – 21.3 avg.
Hear me out… if you're a Matthew Stafford owner, or simply just need a streaming option for Week 12, Jeff Driskel is not a bad play. His first start against the Bears wasn't something to write home about, but after Stafford became a late scratch Driskel went into Chicago and held his own, posting 269 yards with one touchdown and one interception. This past weekend against Dallas, a defense that has ranked in the top 10 against QBs, Driskel threw for 209 yards, 2 touchdowns, and added 51 yards on the ground. He is not going to go out and get you 400 and 4 touchdowns, but he can get you solid numbers this week against a Redskins defense that ranks in the bottom half of the league against QBs this season.
Sam Darnold (12.3 %) – NYJ – 13.6 avg.
When this guy said the Jets still have a chance at the playoffs before their game against the Giants, I thought he was seeing ghosts again. However, Colin Cowherd's favorite player has put together two solid games in a row, posting 523 yards, 6 touchdowns (1 rushing), and 1 interception in that span. If you need any more convincing, Darnold's next three games are against the Raiders, Bengals, and Dolphins.
Running Backs
Bo Scarbrough (0.1%) – DET – 11 avg.
When Kerryon Johnson went down for the season I recommended back up Ty Johnson. Johnson, to say the least, has been a disappointment for fantasy owners who picked him up and played him… perhaps not expecting the numbers Johnson put up, but at least somewhere close. Bo Scarbrough was signed Saturday and ended up as the leading rusher for the Lions in their game against the Cowboys. His final stat line of 14 carries for 55 yards was average, however, he did find the endzone in the first quarter. I would assume with some more work in this offense over the week, Scarbrough could be a viable streaming option.
Wide Receivers
Allen Hurns (0.4%) – MIA – 3.5 avg.
With rookie Preston Williams sidelined for the season, Hurns steps into the number 2 receiver role behind Devante Parker. Hurns has been productive throughout his career in Jacksonville and Dallas, so Ryan Fitzpatrick knows this is a guy he can trust going forward. The Dolphins presumably will be playing from behind a lot going forward, so grabbing a number 2 wide receiver on a team that will provide a lot of volume for pass catchers is worth it, especially in deeper leagues.
Chris Conley (16.5%) – JAX – 7.7 avg.
I recommended D.J. Chark and Chris Conley in week 1, and here I am recommending Conley again. With Nick Foles returning in his first game since week 1 the Jaguars did not look… good. However, Conley had 8 targets, catching 6 of them and turning that into 58 yards. Conley has been boom or bust this season, but the volume has been there – he averages 5.4 targets per game. Look for the Jaguars to figure it out going into their next game, grab Conley in deeper leagues.
Tight Ends
Noah Fant (14.2%) – DEN – 5.5 avg.
As a first-round draft pick this year, Fant really got off to a slow start. He averaged 2.5 receptions per game and never exceeded 38 yards through his first 8 games as a pro. However, in his last two games he has posted 175 yards and a touchdown. He has been targeted 15 times – 11 of which came this past weekend – and even carried the ball twice, yes, I know, it was for -7 yards, but there is a clear push to get Fant the ball more often. I sound like a broken record, but this is the thinnest position in fantasy… so any Tight End with ANY upside is worth a waiver claim.