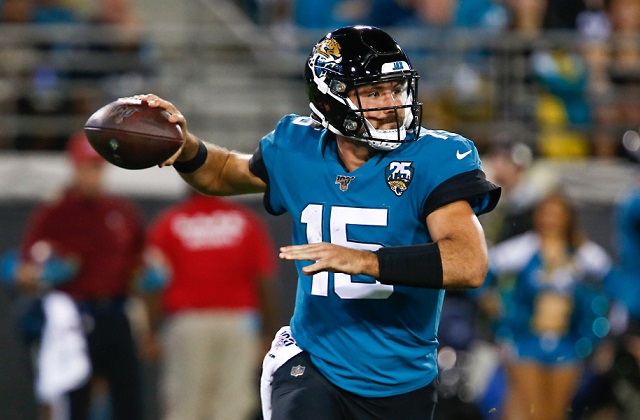 Written by Chris Hexter
31 October 2019
I've noticed as I write, I try so hard to stay away from picking the easy matchups (Miami, Arizona) and the tough matchups (Patriots, 49ers). Although you'll see I failed with that (see QB-Sit), I try to pick matchups and players that may be less expected. Obviously we wouldn't start a Fitzpatrick against the Patriots defense. However, maybe we would spot-start a Fitzpatrick against the Jets crumbling defense. What I'm saying is, I hope these picks are making you think, helping you answer weekly roster questions, or at the least, ponder different scenarios.
You see, the thing about fantasy is that we have no clue what will happen every week. You can trust another person to tell you what they think or you can trust A.I. to run statistical processing. Hell, you can trust a road sign like it was a good omen (I've done this with John Brown Road… it didn't work). Whatever you decide to go with, I am happy that at least you're considering our articles in your decision process and that more often than not, you pick us over a road sign. Now, with all that said, shall we get into our Week 9 starts?
Starts
QB - Gardner Minshew | Jacksonville Jaguars (vs. Texans)
This should be a close game over in London and Minshew will come out a top quarterback. No J.J. Watt with a poor secondary? I'll take Minshew who has been nothing short of awesome this season. I'm still surprised by his lack of ownership in most leagues (under 60% in ESPN leagues). He will throw at least a pair of TDs and should add some nice rushing stats. He should be owned in all leagues.
RB - Le'veon Bell | New York Jets (@ Dolphins)
Yes, Bell has not been as great as most fantasy owners would have liked over the past couple weeks, however, he has a great matchup not only this week but all the way up until Week 14; he's a trade target of mine in all leagues. The Jets have been horrific, but matchups persevere. Gase will put the ball in Bell's capable hands and let him do what he does. Don't be surprised when he has a top ten finish.
WR - Kenny Golladay & Marvin Jones | Detroit Lions (@Raiders)
A Twofer! Although I think it'll be more of a GollaDAY, Jones deserves to be up here too. At no point this year have the two decided to have a good game together. However, this week will be the first week they both score a touchdown… in the same game! The Raiders have been below average in the passing game (no Gareon Conley too) and the Lions will abandon the run and put the game in Stafford's hands.
TE - Zach Ertz | Philadelphia Eagles (vs. Bears)
Ertz has not been the top three tight end that you drafted him as. But this Sunday, he will give owners his best week of the year. This is actually risky, which is weird to say. Ertz has been overshadowed by Goedert, but he has not been a consistent weekly threat. Sure he will vulture a few touchdowns but this is not an every week thing people! Trust the talent of Ertz and the fact that he plays over ninety percent of snaps and leads the Eagles offense in targets. Don't be afraid of the Bears' defense either, they have been back-half against tight ends. Don't bench Ertz.
D/ST - Cleveland Browns (@ Broncos)
On paper this defense has a lot of talent, but has been lackluster throughout this season. Maybe they just need a confidence booster? Well, it'll be this week. All they have to do is travel to Denver and face Brandon Allen in his first career start as a professional. They will be a great fill in for the week. I shouldn't have to say any more.
Sits
QB - Lamar Jackson | Baltimore Ravens (vs. Patriots)
The Patriots have been incredible against opposing quarterbacks. Plain and simple. Although they haven't played against a QB like Jackson, this isn't a matchup I would be willing to take a shot on. Jackson will end up outside the top 15 this week against the best fantasy defense.
RB - Damien Williams & LeSean McCoy | Kansas City Chiefs (vs. Vikings)
Another Twofer?! Our lucky day. Unless you are these two. We don't know who the true back is here and it seems like the Chiefs don't know either. If you are willing to risk playing one, more power to you. But unless injury strikes, these two will share the backfield and we just won't know who will have the good game. Oh yeah, and they play the Vikings. Look elsewhere if you can.
WR - Courtland Sutton | Denver Broncos (vs. Browns)
I love Sutton, he's been the one consistent bright spot for the Broncos thus far. But if you tell me Julio Jones or Deandre Hopkins have to catch passes from Brandon Allen? I'd probably stay away, at least for the first week. Now, I know it's hard to bench someone like Sutton and in most cases, maybe you can't. But temper expectations and do not be surprised if he busts this week.
TE - Jason Witten | Dallas Cowboys (@ Giants)
One bright spot on the Giants defense is their ability to cover the tight end. Dallas should be able to target their wide receivers fairly easily and Ezekiel Elliott should have himself a day. I don't see enough to go around in this Cowboys offense, especially with a tough matchup at tight end. I would stray away from Witten, who has not seen a decent target share over the past few weeks, and look for a play like Herndon (if he goes) or Jonnu Smith.
D/ST - Los Angeles Chargers (vs. Packers)
This should be a high scoring game if the Chargers offense is clicking. The back and forth in this game should make it enjoyable for fantasy owners, however with that the defenses suffer. Aaron Rodgers has kicked it into high gear over the past two weeks and Davante Adams may be making his return. I would avoid both defenses in one of the highest scoring games this week.