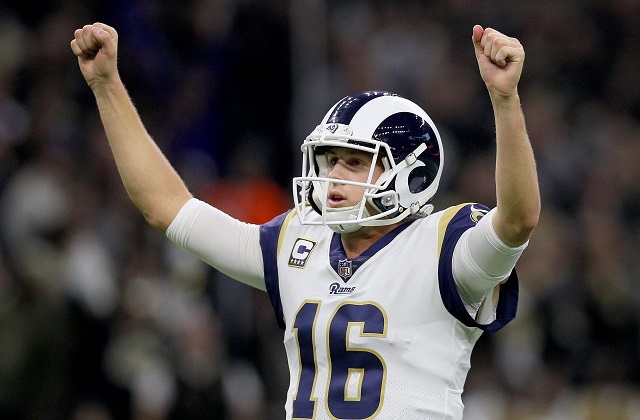 Written by Chris Hexter
17 October 2019
Don't you love when the Patriots defense ends up as a top 10 scorer? Good thing I didn't play against them. It seems as if every week I see a fantasy football coach look at a player on the waiver wire and say, "I could've had them on my team! I could have won!" AH, got to love fantasy football. This is why we do it, the ups and the downs. Anyways, here we are. To make us feel better, let's look forward to Week 7!
Starts
QB - Jared Goff | Los Angeles Rams (vs. Falcons)
Yes, back to back weeks with my quarterback start of the week facing off against the Atlanta Falcons. But this needs to be done. Not because of this juicy matchup against a secondary that is allowing an absurd 23.7 points to the quarterback position. Not because the Rams have incredible talent on offense. But because Goff is due and some of us are thinking of benching him. The QB landscape can be tough for some of us but don't get cute and play a Minshew over Goff… at least this week. Goff will have his best fantasy output of the season this week.
RB - Josh Jacobs | Oakland Raiders (vs. Packers)
Take out last Monday's game and Week 1 and the Packers are the worst defense against the run. They allow over 21 points per game on average to running backs. Enter: A guy who is averaging 4.9 yards a carry. Give me some Josh Jacobs this week in the hopes that Gruden says "Let's use our best offensive weapon!" The Packers can get off to a lead and you hope the Raiders don't go away from the run. But, I'll take that gamble and go further as to say Jacobs is a top-15 back this week, easily.
WR - Courtland Sutton | Denver Broncos (vs. Chiefs)
The Broncos are game planning to run the ball early and often against the Chiefs. Everyone is now. But the Chiefs will get to go home in a primetime divisional matchup. They will get ahead in this game and the Broncos will be forced to throw more than they would like. Sutton should continue his amazing target share and that's what I like about this. He's safe. Even if the Broncos throw a minimal amount, Sutton will get his. It's a good matchup where Sutton will find the end zone.
TE - Hunter Henry | Los Angeles Chargers (vs. Titans)
He's back and with a vengeance! Henry dominated on his return with an 8/100/2 stat line. Now, will he repeat this? No. But the Titans are among the worst in covering the tight end. Henry will benefit from the Titans defense focusing on Keenan Allen and the tailbacks, not to mention that Mr. Rivers loves throwing to the tight end. He's talented, targeted heavily and has a great matchup, what's more to say? Oh, right. Play him!
D/ST - San Francisco 49ers (vs. Redskins)
No? I didn't say sit them last week… okay I did. And yet I still talk up Goff as my start. But the 49ers defense has shown everyone after last week's performance that they are legit! Among the top of the league in sacks and snagging a turnover in each game thus far, now they get the Redskins. So… into your lineup they go!
Sits
QB - Phillip Rivers | Los Angeles Chargers (vs. Titans)
Rivers is not the quarterback we as fantasy owners brag about, but he can be a nice play in certain weeks. Well, not this week. Rivers is an incredible QB but for fantasy purposes he can be a bit hit or miss as he sometimes likes to throw the ball to the other team. Rivers will have modest yardage with a couple interceptions in Week 7 while the Chargers try to get their run game going.
RB - Kerryon Johnson | Detroit Lions (vs. Vikings)
Johnson's Monday night game was salvaged by a touchdown but otherwise was a stale night. This raises some flags. Green Bay was supposedly a plus matchup for the running back but he was bottled up with 34 yards on 13 carries. His carry total was another red flag as the Lions were up the majority of this game. Johnson is also averaging 3.3 yards per carry this year, ew. I love his talent, but the Lions need to give him the Lion's share of the carries (pun most definitely intended). Accounting for the red flags and Minnesota defense, I am scared for Johnson's upcoming outing.
WR - Terry McLaurin | Washington Redskins (vs. 49ers)
Scary Terry has been great thus far. However, this week against the 49ers defense I don't see the Redskins finding much room anywhere on offense. Plus, with the new head coach, running the ball will be the main priority for this team and although McLaurin had a great game last week (against the Dolphins), that won't happen this week. Lower your expectations for Terry this week.
TE - T.J. Hockenson | Detroit Lions (vs. Vikings)
Yes, another Lion. Truth is, I think they win this game against the Vikings after that disappointing (and highly controversial) loss to the Packers. I love his usage in the redzone, but Hockenson is not coming down with the touchdowns. The Vikings have a good defense with hyper-athletic linebackers. Hockenson will disappoint owners.
D/ST - Philadelphia Eagles (vs. Cowboys)
I think the Cowboys are tired of hearing about their recent demise and what better way than to take it out on their divisional rival. Add in that the game is in Dallas and a primetime matchup, I like the Dallas offense. Dak won't throw an interception and instead throw for at least three touchdowns (almost my start at the QB position). You don't want the defense allowing teams to throw all over them. Put Philly on the bench. (Hot take: Eagles will allow their first 100 yard rusher this week).