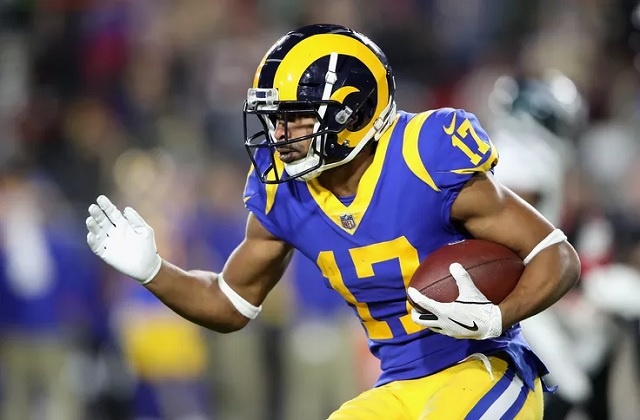 Written by Chris Hexter
08 October 2019
Pittsburg Steelers
Injury
Mason Rudolph (O-Concussion)
James Washington (Q- Shoulder)
Jaylen Samuels (O-Knee)
Opportunity
James Connor (RB2)
It was a scary moment for Steelers fans after Mason Rudolph looked to have been out for a serious amount of time. Fortunately, he was helped off the field by his teammates (the cart's battery died, much like the Steelers hopes for this year) and was diagnosed with a concussion and nothing worse. The injury to Roethlisberger already meant downgrade of the Steelers offense, but Devlin Hodges? This could turn out like a Gardner Minshew or Kyle Allen situation, but I won't bet on that. The offense is downgraded yet again. The positive take away here is that Connor should be heavily utilized in both the running and passing game so that Hodges doesn't have to make mistakes. Connor should be in your lineups as an RB2 and Samuels had his knee scoped and will be out for about a month. What about JuJu? He should be hyper targeted, but he will not see any of the downfield passes we once knew and loved. He still has the talent to consistently put up WR2 numbers, especially with wideout James Washington possibly missing their next contest.
New York Giants
Injury
Evan Engram (Q-Knee)
Wayne Gallman (D-Concussion)
Sterling Shepard (O-Concussion)
Opportunity
Golden Tate (WR3)
The injury bug hit the Giants hard. There is talk that Barkley will be available for Thursday night's game, but I highly doubt this. Why risk him against the Patriots? Shepard has already been diagnosed with a concussion and will be out for more than just this week. With Evan Engram also on the report, we can see a lot of Golden Tate, in a game where we expect the Giants to play catch up. He should be a PPR machine. Engram was seen running at practice on Tuesday, but this is a sprained MCL we are talking about. I don't like his chances of him suiting up and if he does, sadly, you might have to play him due to the incredible talent in a scarce position. But it is a situation to monitor. With no Gallman, I don't know who to trust in this backfield and neither should you. I would recommend you avoid this offense this week. However, if Engram and Barkley play and you don't have better options, you play them.
Kansas City Chiefs
Injury
Patrick Mahomes (Q-Ankle)
Sammy Watkins (Q-Hamstring)
Opportunity
Denard Robinson (WR4)
Meecole Hardman (WR4)
Byron Pringle (WR4)
We'll start with this… Mahomes will play. Sammy Watkins essentially missed the entire game on Sunday night and Pringle stepped up in the first half, but that was it. The thing is, any given week; one of these guys can have a monster game. This is a cycle I want no part of. Obviously, you start Mahomes every week, but this team is looking like a dart throw until Tyreek comes back. McCoy left a stinker on the field last week. I love the talent, but Shady will be a stud or dud week in and week out. If I had to choose, Damien Williams is probably the safest play on this team at the moment (obviously, excluding Mahomes), but is only a weekly flex play.
New England Patriots
Injury
Julian Edelman (Q-Chest)
Josh Gordon (Q-Knee)
Phillip Dorsett II (Q-Hamstring)
Rex Burkhead (Q-Foot)
Opportunity
James White (RB2)
Sony Michel (RB2)
That is a lot of names! Edelman and Gordon, however, are near locks to play on Thursday night. This is a short week so monitor these players closely. If one or more of these players don't play, James White and Sony Michel will be fine plays on Thursday night. Michel should already get a hefty workload in this game as the score is projected to lean heavily in favor of the Patriots. James White should see a few carries but with one of the wideouts missing, he will be designed around and should return nice numbers in your flex, especially in PPR leagues. Play Michel regardless, and play White with confidence if one these players are to miss Thursday night's quick turnaround.
Baltimore Ravens
Injury
Mark Andrews (Q-Foot)
Opportunity
Hayden Hurst (TE2)
Mark Andrews has been great for fantasy, but this foot injury is not going away. He played half of the game and that number won't go up if he can't participate in a full practice. Play Andrews if he plays, we won't get cute. However, if he misses time Hayden Hurst will be a sneaky play. Hurst is a super athletic tight end and had established a nice connection with Lamar in their rookie seasons. Hurst would automatically become a TE2 with the chance to perform as a low-end TE1. Monitor this closely, especially if you are weak at tight end.
Los Angeles Rams
Injury
Brandin Cooks (Q-Concussion)
Opportunity
Cooper Kupp (WR1)
Robert Woods (WR2)
We should see what his status will be on Wednesday. But for now, if Cooks misses time then Kupp remains a strong WR1. The interesting opportunity here is Woods. Woods was drafted to be more than he has been (to say it nicely) in fantasy drafts. With this injury, Woods can easily return to what we thought he was. He should be a nice play next week against a strong San Francisco defense. Gurley will still be a focus for defenses with Kupp now earning a spot in that category as well. Woods has a chance to perform in this game and I think you can play him in your flex.
Carolina Panthers
Injury
Christian McCaffrey (Q-Cramps)
Opportunity
Reggie Bonnafon (RB2)
Christian McCaffrey is playing and fantasy owners should start him with a smile on their faces. Reggie Bonnafon did a nice job filling in for McCaffrey after he left with cramps. The backup showed the Panthers that maybe they can rest their superstar running back for a play or two. The Panthers have been riding McCaffrey and that won't change, but this is important because if McCaffrey misses any time, Bonnafon will be a nice RB2 upside play. The rest of the pass catchers on the Carolina offense would also get a bump up in targets and would warrant Moore and Olsen solid plays with Curtis Samuel having more boom potential. But anyways, play McCaffrey.
Arizona Cardinals
Injury
David Johnson (Q-Back)
Opportunity
(Chase Edmonds RB3)
Kingsbury noted that Johnson is not a lock to play on Sunday against a juicy matchup against the Falcons. This screams Chase Edmonds to me. If Johnson is not good to go by Sunday, Edmonds will get the full workload and could easily perform as a high-end RB2. He had an impressive stat line against the Bengals last week (8/68/1) and was involved in the passing game as well. Edmonds is a waiver wire addition you need to pick up, especially if you need the running back help or you are the David Johnson owner. However, if Johnson does suit up against the Flacons, it is hard to play Edmonds with confidence.