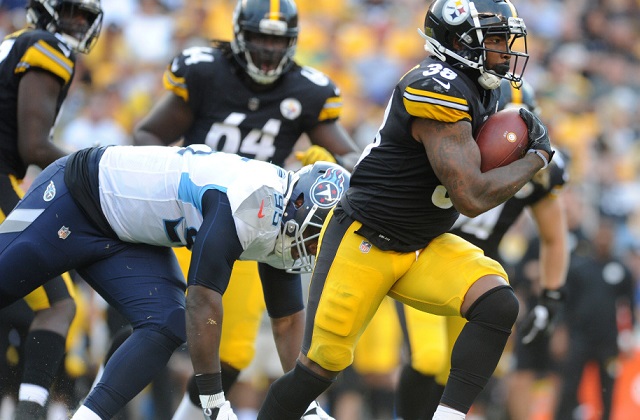 Written by Cam Harper
03 October 2019
The bye week monster is beginning to take hold of fantasy football leagues. Last week it was the Jets and the 49ers that had the off week. This week it is Miami and Detroit. Fortunately, there haven't been too many fantasy relevant players that have had to hit the bench. However, with the increase in teams and talent that will be off in the coming weeks, that leaves us fantasy players needing to look for other options to fill out our lineups.
My goal is to start digging a bit deeper for my recommended starts. Not just players with good matchups, but players that most people wouldn't necessarily think of. I'll start that trend this week.
Start 'Em QBs
Jacoby Brissett, Indianapolis Colts (@ KC)
We all know how the story goes. The Chiefs are led by the high-powered Mahomes attack and are going to get ahead early, or at least by the second quarter. This leaves the opposing team having to play from behind all game and having to throw the ball. Last week we saw Stafford succeed. This week it will be Brissett. Brissett is actually the #10 QB and might be available on your waiver wire. Don't be afraid plug him into your lineup this week.
Kyler Murray, Arizona Cardinals (@ CIN)
The Bengals can't do much of anything right this season. Their defense is allowing nearly 20 point per game to opposing quarterbacks, and they are struggling against the run as well. Murray should be able to accomplish whatever he wants to against a team that is likely going to remain winless after Week 5. Murray's legs should keep his floor high enough that his ceiling is well worth any risk.
Jameis Winston, Tampa Bay Buccaneers (@ NO)
Whatever Bruce Arians is doing in Tampa Bay is working as Winston lit up the Rams in LA for nearly 400 yards and 4 TDs. I'm looking to right my wrong from last week, as I categorized Winston as a sit prior to his monster game. The Saints haven't been great against the pass in 2019. Russell Wilson, Deshaun Watson, and Jared Goff have all put up good numbers against them. Look for Winston to join that club after Week 5.
Sit 'Em QBs
Marcus Mariota, Tennessee Titans (vs BUF)
If he plays the Bills, put him on your bench. The Bills have one of, if not the best defenses in the NFL. The Bills defense kept them in the game against the Patriots by themselves. They also held Tom Brady to under 4 fantasy points. Tom Brady is a much better quarterback than Marcus Mariota. Mariota is a sit in all leagues.
Kirk Cousins, Minnesota Vikings (@ NYG)
I know you're tempted, but don't fall for the trap. Kirk Cousins against the Giants should be a slam dunk for a breakout performance, but we thought the same thing against the Raiders. The Vikings are likely going to continue to run the ball with Cook as much as possible, minimizing the damage that Cousins can produce through the air. Unless the Giants get out ahead early, Cousins is probably going to be a bust again.
Baker Mayfield, Cleveland Browns (@ SF)
Despite the Browns having their best game of the season in week 4, Baker still didn't manage to put up QB1 numbers. He only threw for 1 touchdown and 342 yards, while Nick Chubb ran the ball all over the Ravens defense. Baker hasn't put up QB1 numbers once this season, and it's difficult to imagine he does against the 49ers who have been stingy against the pass. The 49ers also had two weeks to prepare for this matchup, as if it could get much worse for Baker.
Start 'Em RBs
Jaylen Samuels, Pittsburgh Steelers (vs BAL)
The Steelers got creative on Monday night, utilizing Samuels in every way possible. He ran it out of the backfield, received passes, ran a wildcat offense, and even "threw" the ball. Their offensive strategy worked as the offense put up nearly 30 points in their first win of the season. The Steelers are likely going to remain creative as they attempt to minimize risk with Mason Rudolph. Connor has been battling an ankle injury this week, so Samuels could see an even larger role in the offense this week. If you're in a sticky spot at running back, try putting Samuels in your lineup.
Devonta Freeman, Atlanta Falcons (@ HOU)
Freeman has gotten back on track the past few weeks as the Falcons finally realized that Ito Smith is bad. Freeman has seen an increase in touches and, more importantly, catches out of the backfield. This is appealing as the Texans have allowed more receptions to running backs than any other team this season. Look for the Falcons to find ways to get the ball to Freeman.
Darrel Williams, Kansas City Chiefs (vs IND)
I'm not sure how viable Darrel Williams is going to be for the rest of the season, but he's great while Damien Williams in out! Lesean McCoy and Williams have provided a ton of points out of the Kansas City backfield, and that likely won't stop against the Colts. The Colts defense is allowing roughly 5 yards per carry to opposing backs. Not that it would make a difference as the Chiefs can do whatever they want on offense apparently. Darrel should be a safe RB2 this week.
Sit 'Em RBs
Todd Gurley, Los Angeles Rams (@ SEA)
Todd Gurley hasn't been the Todd Gurley we have become accustomed to. He has yet to rush for 100 yards in a game and he is averaging less than 3 receptions in 2019. He plays a Thursday night game in Seattle, who are holding opposing teams to just 79.5 yards on the ground. It's a hard pill to swallow, but Gurley might be a matchup-dependent back in 2019. You probably can't afford to take him out of your starting lineup, but it might be time to start considering it.
Derrick Henry, Tennessee Titans (vs BUF)
This is a really bad matchup across the board for the Titans. The Bills have held teams to under 85 yards per game on the ground, while also providing one of the best defenses against the pass. This might not be so bad for Henry if he had more than 5 receptions on the year. With a touch team to run against and little to no action in the passing game, Henry is heading for a rough outing on Sunday.
Josh Jacobs, Oakland Raiders (vs CHI, in London)
I'll admit Josh Jacobs has been much better than I anticipated entering the season. In fact, the Raiders have been much better than anticipated. Jacobs is averaging 5 yards per carry, which is nothing to sneeze at. Unfortunately, Jacobs has a mere 3 receptions and isn't seeing the goal line work that fantasy owners would like. He's facing the Bears defense that is holding backs to 3 yards per carry and just 60 yards total. Similar to Henry, the lack of work in the passing game is going to lead to a dud in Week 5.
Start 'Em WRs
Courtland Sutton, Denver Broncos (@ LAC)
I was wrong about Sutton heading into the season. He's been great for the Broncos, averaging nearly 8 targets per game and putting up respectable numbers against the Jaguars, Packers, and Bears. The Chargers have a stingy pass defense themselves, but if Sutton has done well against better defenses, I don't see why he can't succeed again. Maybe Sutton is the matchup proof WR that nobody expected this season.
Adam Thielen, Minnesota Vikings (@ NYG)
I know I said that Cousins is a sit this week, but Thielen is still Cousins favorite target against one of the worst pass defenses in the league. Thielen still received six targets against the Bears, despite connecting on just two. It's very possible that nobody else in the passing game succeeds, but Thielen should have a nice bounce-back game in Week 5. If not, it's time to hit the panic button.
Julian Edelman, New England Patriots (@ WAS)
As I highlighted earlier, the Bills defense is just insane, so they obviously held Edelman to a dud last week. The Redskins are no Bills, not even close. The Redskins passing defense is part of the bottom-half of the league, allowing over 250 yards per game through the air. They have particularly struggled covering the slot receiver, also known as Edelman's home. Edelman is a safe WR2 this week.
Sit 'Em WRs
Tyrell Williams, Oakland Raiders (vs CHI, in London)
Williams has scored a touchdown every game this season, yet he is averaging 37 yards per game the last three weeks. While I wouldn't write him off as a touchdown-or-bust player yet, his matchup in London against the Bears isn't going to help his case. The Bears have been extremely stingy on defense, allowing just 4 touchdowns through the air. Look for another flex option this week.
Terry McLaurin, Washington Redskins (vs NE)
The Patriots defense is scary. The defense has allowed 0 touchdowns through the air. Actually, the Patriots defense has yet to allow a touchdown at all through four weeks, which is unheard of. Scary Terry is still recovering from a hamstring injury and is the most likely to be covered by Stephon Gilmore. It's doubtful that McLaurin continues his streak of 5 receptions and a touchdown.
Corey Davis, Tennessee Titans (vs BUF)
Davis had a great game against the Falcons, scoring 20.1 fantasy points. However, Davis is playing the Bills this week, who have held teams to under 200 yards per game through the air and have conceded just three touchdowns all season. Don't get too fancy with Davis this week. He belongs on the bench in every league.
Come and follow me @CamHarperr to hear my daily take on fantasy news!