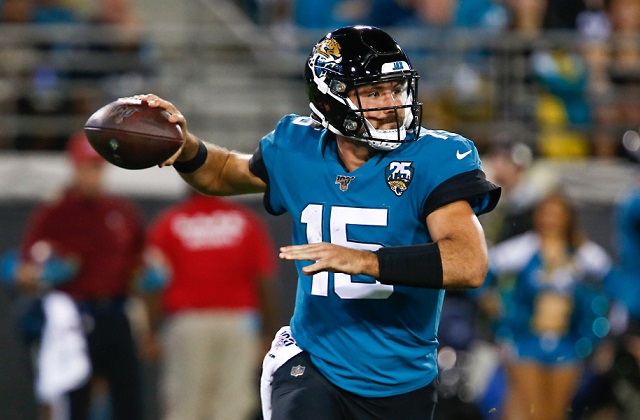 Written by Michael Morrow
01 October 2019
What a Week 4! It was certainly exciting, but also weird week of NFL football. Six teams in ESPN's "Power Rankings" went down. The Raiders, Buccaneers, Panthers, and Jaguars all won impressive games… oh, and the Cleveland Browns are in first place in the AFC North – what a time to be alive.
Last week I mentioned how 69% of my waiver picks this season have had successful outings the following week. I'm going to go ahead and say that I define successful as 17+ for QBs, 10+ for RBs, 8+ for WRs, and 5+ for TEs. The pickings on the waiver wire are getting pretty thin, this is where you can start looking at handcuffs, taking risks on players coming off injury/suspension, and finally dropping Antonio Brown. Below is a chart showing players the week they were recommended and what they did the following week.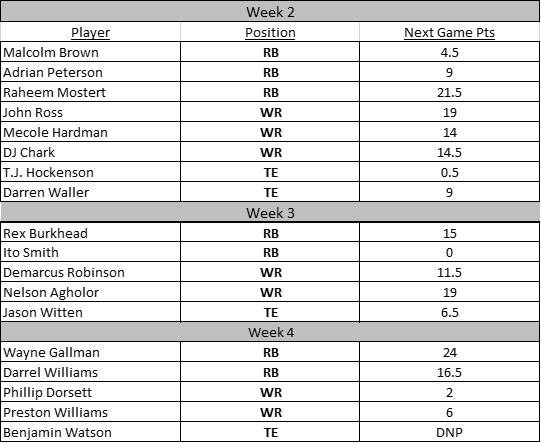 With no further ado, here are my Week 5 waiver wire targets.
Quarterbacks
Gardner Minshew II (14.3%) – JAX – 16.2 avg.
"If Minshew is good, I'm only drafting cool quarterbacks idc about arm talent or reading defenses are you COOL" - @TylerIAm
2019 has not been a good year for quarterbacks or their fantasy owners. Some notable signal callers sitting out right now are Drew Brees, Ben Roethlisberger, Cam Newton, Mitch Trubisky, Sam Darnold, and now possibly Josh Allen… not to mention the whole Andrew Luck retirement thing. Minshew really came out of nowhere, and I'm sure like many others, I just thought he was an awesome dude that dressed funny and would be a great meme. However, the dude has been serviceable since taking over as the starter for the injured Nick Foles. Minshew has been in the middle of the pack in terms of position rank but has remained consistent scoring between 15-17 in each of his four games this season. He takes care of the ball and is fun to root for, grab him and plug him in your lineups until you get your guy back.
Running Backs
Jaylen Samuels (19.2% owned) – PIT – 5.2 avg.
Let's face it, this Steelers team is just not the same without Ben Roethlisberger. Mason Rudolph has been a serviceable back up and even had a great game last night against their division rivals, however, no one should expect that type of production week in and week out. Samuels on the other hand was utilized in a variety of ways. He took snaps in the wildcat, he "threw" passes (3/3 for 31 yards), and caught 8 passes. He logged a total of 83 yards and scored a touchdown, it was also his running mate James Conner's best game this season. If the Steelers plan to use Samuel in this way going forward he should be an immediate add in every league.
Dontrell Hilliard (1.4% owned) – CLE – 6.1 avg.
With Kareem Hunt suspended for the Browns first 8 games this season Hilliard has stepped up as a change of pace back to Nick Chubb. Hilliard has primarily come in as the third down back and in passing situations, he's even found the end zone twice this season. If the Browns offense can keep up the pace going into their Monday night game against San Francisco, Hilliard can be an intriguing plug and play option.
Wide Receivers
DeVante Parker (7.5% owned) – MIA – 7.5 avg.
Yes, two weeks in a row I am suggesting you pick up a Dolphins player. Parker has always been an intriguing fantasy option, however, he has never really lived up to his expectations. Not counting an embarrassing loss to the Patriots in Week 2, Parker has put up at least 56 yards in each contest this season. Josh Rosen almost had this team resembling something that looks like a football team in the first half this past weekend against a pretty solid Charger's defense. Look for Parker and Preston Williams to be big parts of the Dolphins – who are going to play from behind, a lot – passing attack going forward.
A.J. Brown (6% owned) – TEN – 9.5 avg.
Like I said, weird week. A.J. Brown hasn't gotten the target volume you want to see in your lineup – however, he's made the most of his opportunities averaging 22.3 ypc and scoring 2 touchdowns. The talent is there, and it appears that he is developing a good rapport with Marcus Mariota. I wouldn't plug Brown in your lineup right away, but he is certainly worth a roster spot.
Michael Morrow