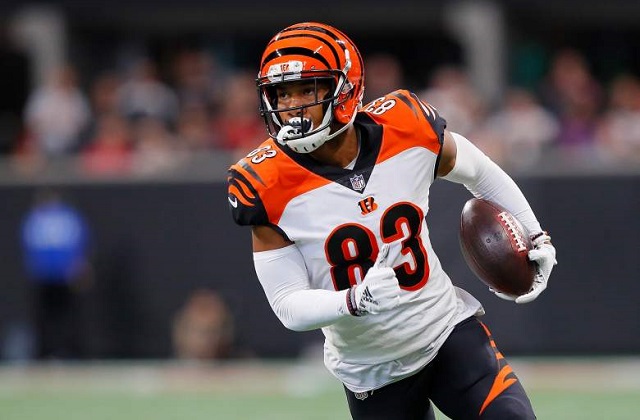 Written by Cam Harper
26 September 2019
At this point, you likely have a good idea of where your team is going to stand by the end of the year. Either your team is looking like a championship contender, a playoff grinder, or a full-blown dumpster fire. But even if your team is that full-blown dumpster fire, there can still be hope. Grind the waiver wires and look for those good matchups.
There's a lot of good matchups this week. Bad ones too. Here is my list of the players that should start and sit in your lineup this week:
Start 'Em QBs
Philip Rivers, Los Angeles Chargers (@ MIA)
Rivers has been respectable this season, posting nearly 19 points per game. He's played against the Colts, Lions, and Texans who all have respectable defenses. Miami does not. At this point, any player that is lining up against the Dolphins should be an automatic start. Even the Cowboys backup running back, Tony Pollard, had a big game. Rivers might be a top-5 option this week.
Dak Prescott, Dallas Cowboys (@ NO)
This is the fourth week in a row that I'm listing Dak as a start, and I haven't been wrong yet. Dak looks good this season. He looks comfortable in the pocket and is finding the open guy. He's not just a game manager anymore. It is going to help that the Saints defense hasn't looked great. The Saints have conceded 10 touchdowns this season. Expect Dak and company to score some points.
Matthew Stafford, Detroit Lions (vs KC)
Would you have believed that Stafford would be a better fantasy quarterback than Aaron Rodgers, Baker Mayfield, Philip Rivers, and Jared Goff after three weeks? Stafford has a favorable matchup against the Chiefs. Mahomes is obviously going to score a ton of points, leaving the Lions trailing early. The Lions are going to have to chuck the ball to stay in the game. We might get to see vintage Stafford for a week.
Sit 'Em QBs
Baker Mayfield, Cleveland Browns (@ BAL)
Week 4 presents another bad matchup for Baker. He didn't fare well against the Rams last week, nor the Jets or the Titans the previous two weeks. It's been a rough year for Mayfield as he's thrown just 3 TDs. The Ravens have held opposing quarterbacks to just 15 points per game this season. Baker is going to have to sit this one out.
Josh Allen, Buffalo Bills (vs NE)
Take Josh Allen out of your lineup just as fast as you put him in last week. Allen is facing the Patriots defense who has smothered teams this season. The Patriots have allowed just 17 points all season. Allen's legs might make him relevant but limit your expectation this week.
Jameis Winston, Tampa Bay Buccaneers (@ LAR)
Winston has been a matchup-dependent start so far, and this matchup isn't good. The Rams are one of the defenses in the league that quarterbacks don't want to play against. They've held Cam Newton, Drew Brees, and Baker Mayfield in check so far. Wait Winston out this week, and then put him back in the lineup Week 5.
Start 'Em RBs
Austin Ekeler, Los Angeles Chargers (@ MIA)
This might be the last week of Ekeler being a RB1. News broke last night that Melvin Gordon is returning on Thursday, leaving Ekeler as the complementary option in the backfield. However, Gordon won't be playing this week, leaving Ekeler to feast on the worst defense in the league. He's a must start in every league.
Derrick Henry, Tennessee Titans (@ ATL)
Derrick Henry has been great this season despite a rough outing against the Jaguars. He has a touchdown every game, and they are even using him more in the passing game (a couple catches a game is better than none). Marlon Mack and Dalvin Cook had great days running the ball against the Falcons this year. Expect the touchdown streak to continue in this matchup.
Marlon Mack, Indianapolis Colts (vs OAK)
Marlon Mack has surprised everyone this season as the clear workhorse back in Indianapolis. He's averaging over 20 touches a game with a phenomenal 4.9 per carry. The Raiders have given up roughly 27 points per game to running backs in 2019. This leaves Mack as a high-end RB2 for Week 4.
Sit 'Em RBs
Phillip Lindsay, Denver Broncos (vs JAC)
It appears that while Lindsay is still the lead back in Denver, they are giving the ball to the guy with the hot hand. Lindsay didn't necessarily play better last week, but he did get a pair of goal line scores. He's averaging 3.6 yards per game this season with an upcoming matchup against the Jaguars. The Jags just held Derrick Henry to 41 yards last week. It's tough to trust Lindsay in a bad matchup.
Sony Michel, New England Patriots (@ BUF)
Michel has been awful this season, averaging just 2.4 yards per carry. Michel lost some work to Rex Burkhead last week, and now James White is back in the mix. Belichick is going to feed the ball to the hot hand, and that's definitely not Michel right now. The Pats are also against one of the best defenses in the league this week. Leave Michel on the bench for Week 4.
David Montgomery, Chicago Bears (vs MIN)
It looks like Montgomery is the top back in the windy city, however, he hasn't been great. He's averaging about 15 touches per game and 4 yards per carry, leaving him as a solid flex player. He goes up against the Vikings defense who has been good against the run. Montgomery will likely be a matchup-dependent player for the rest of the season and Week 4 is one of his bad matchups.
Start 'Em WRs
Tyler Boyd, Cincinnati Bengals (@ PIT)
Boyd is averaging 11 targets per game in 2019 as the Bengals continue to look to him early and often without AJ Green in the lineup. The Steelers have been gashed through the air all season, especially out of the slot. The Steelers don't seem to have an answer for defending the slot as Devin Bush continues to be a liability in coverage and the safeties continue to struggle. Tyler Boyd runs his routes primarily out of the slot.
Sterling Shepard, New York Giants (vs WAS)
Daniel Jones has given the Giants a new offense! The Giants were able to actually move the ball and score points last week. This obviously helps the entire offense, including Sterling Shepard who saw 7 receptions for 100 yards and a touchdown against the Bucs. Start Shepard against the Redskins, as they have struggled to cover slot receivers as well.
Terry McLaurin, Washington Redskins (@ NYG)
Scary Terry is the first player to ever catch five passes and score a touchdown in the first three games of his career. It's going to become four this week as he faces the terrible Giants pass defense. The Giants defense is ranked dead last in passing yards allowed per game. It should be another good day for McLaurin.
Sit 'Em WRs
Stefon Diggs, Minnesota Vikings (@ CHI)
Diggs is on the sit list again as the Vikings have another tough matchup… again. He is averaging just 4 targets a game and has 6 catches all year. Yikes. It's hard to imagine the Vikings moving the ball at all if Cousins continues to struggle. This could be a rough outing for everyone wearing purple on Sunday.
Mike Evans, Tampa Bay Buccaneers (@ LAR)
Mike Evans had an awesome day last Sunday, reeling in three touchdowns in the first half! He probably won your game last week. This week is going to be different. The Rams are ranked 4th in the league in pass yards allowed per game, and Evans is likely going to be covered by Talib. Don't be surprised if he struggles again in Week 4.
John Brown, Buffalo Bills (vs NE)
John Brown is going to be lining up against arguably the best shutdown corner in the league right now, Stephon Gilmore. Gilmore held Robby Anderson to just 3 catches for 23 yards and Juju Smith-Schuster to 6 catches for 76 yards. John Brown isn't as good Juju, but he's certainly better than Anderson. It's reasonable to expect around 4 receptions for 50 yards, but that's about it. Don't start Brown unless you're desperate.
What have you thought of my Start 'Em Sit 'Em articles this season? Do you love them or hate them? Let me know on Twitter @CamHarperr!