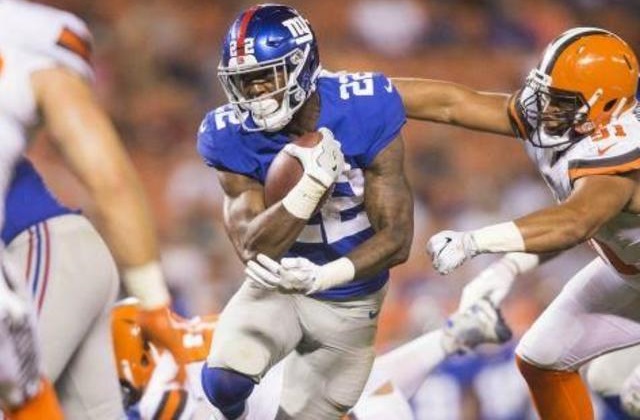 Written by Michael Morrow
24 September 2019
Alright readers, after three great weeks of football I have recommended 13 players that you should have rostered or played the following week. Of those 13 players, nine went on to have successful outings in their next game. To put it in perspective, 69% of the time, it works… every time. Below is a chart showing players the week they were recommended and what they did the following week.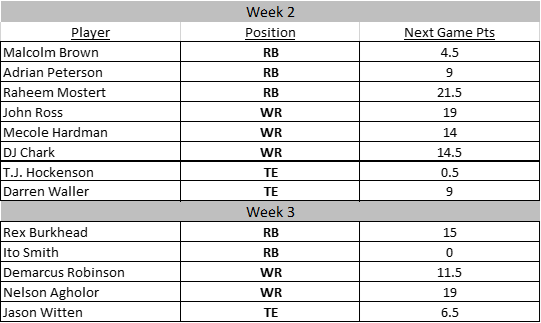 Here are my recommendations for Week 4
Running Backs

Wayne Gallman (1.2% owned) – NYG – 3.8 avg.

Surprise, surprise. With Saquon Barkley exiting Sunday's contest against the Buccaneers with a high ankle sprain, Gallman is in line to take over as RB1 in New York. Obviously, you can't expect the production from Gallman that you would get from Barkley, but he should be a serviceable fill-in for 4-8 weeks. If this was last year, I would not be recommending Gallman as your top priority, however, rookie Daniel Jones had an impressive game Sunday and could revitalize this offense, if not the entire franchise. Keep an eye on the Giants throughout the week – by the time you're reading this I'm betting they've signed another back to give them depth behind now-back-up Elijhaa Penny.

Darrel Williams (2.5% owned) – KC – 4.2 avg.

Williams stepped up big time for the Chiefs this past Sunday in their win over the Ravens. With Damien Williams sidelined with a knee injury and LeSean McCoy exiting with an ankle injury, Darrel Williams got 14 touches (9 rush, 5 receptions) and turned that into a productive 109 yards. Anyone in the Chiefs starting lineup is someone to target in fantasy, monitor the situations of Damien Williams and LeSean McCoy heading into Detroit before inserting Darrel Williams into your starting lineup.
Wide Receivers

Phillip Dorsett (11.4% owned) – NE – 14.2 avg.

Perhaps one of the most "under the radar" fantasy players this season so far, Phillip Dorsett has quietly put together solid outings in two of three games this season. Dorsett had a monster week one with 95 yards and two touchdowns, however, the addition of Antonio Brown led many to believe he would be the odd man out. With perhaps the fastest trip through Massachusetts since Paul Revere, Dorsett is back in line for targets… and you know what I always say: targets = receptions, receptions = yards/touchdowns, = yards/touchdowns = points, points = a fantasy win.

Preston Williams (3.2% owned) – MIA – 8.5 avg.

I know, last week I recommended a 37-year-old robot, and this week I'm recommending a Miami Dolphin. Going off my very complicated formula about targets noted above, Williams had 12 of them this past game against the Cowboys. Yes, I know he only caught four of them, but those four went for 68 yards. Williams also nearly hooked up with new starter Josh Rosen for a touchdown – a play many thought should've been challenged. Williams is a big body who will give Rosen a big target in the red zone.

A rare "Do Not Pick Up" note, you're welcome - Taylor Gabriel (3% owned) – CHI – 11.2 avg.

While watching the Monday night game against the Redskins all I could think of was "here we go again, 5 people in my league are going to put a claim in for Taylor Gabriel." Do not, I repeat, do not pick up Gabriel – and if you do, do not make him a priority. But why do I say, "here we go again?" Well, this happened last year. Gabriel exploded in week four against Tampa where he grabbed seven passes for 107 yards and two touchdowns… he also finished the year with one more 100+ yard game and wouldn't score again.

Tight End

Benjamin Watson (1.6% owned) – NE – 0 avg. (has not played)

At literally the thinnest position in fantasy right now I tried really hard to find someone with at least some upside instead of a one-week-wonder. Benjamin Watson signed with the Patriots in May following the retirement of Rob Gronkowski. Watson himself had also retired and had been taking a prescription testosterone supplement which is why the 38-year-old started the season with a four-game suspension. Watson has always been a solid fantasy contributor, which is why he should be on your radar upon his return in Week 5. Expect Watson to give Brady another option in the short passing game and in the red zone.