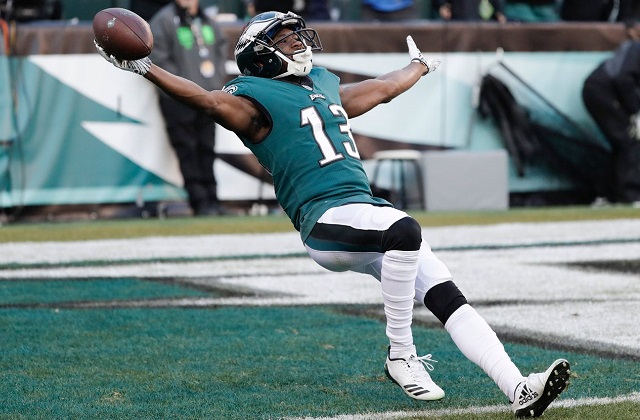 Written by Michael Morrow
17 September 2019
Week 3 of the NFL season is already upon us and the waiver wire is going to get thinner and thinner every Wednesday. Last week's picks for the waiver wire did pretty well outside of T.J. Hockenson and Malcom Brown, hopefully you were able to grab someone and plug them in for some easy points.
Running Backs
Rex Burkhead (11.6% owned) – NE – 8.8 avg.
While Burkhead is clearly behind James White as the Patriots receiving back, that hasn't stopped him from putting up some pretty nice numbers in his first two games. Burkhead is fourth on the team in targets, just one behind James White, and is part of an offense that just looks unstoppable right now. Yes, I know they played the AAF-level Dolphins, but still.
Ito Smith (9.3% owned) – ATL – 4.3 avg.
I have been patiently waiting on the second-year man out of Southern Miss to breakthrough, and I feel like it's close! Starting back Devonta Freeman has been ineffective in the running game, averaging only 2.2 yards per carry through his first two games. Meanwhile Smith has averaged 6.3 yards per carry and was a big spark in the Sunday night game against the Eagles when he scampered for 28 yards down to the 12 yard line of the Eagles… and then Matt Ryan did his classic "Oh no! The Redzone" and threw an interception. I'd expect Smith to be in line for more carries as the Falcons try to solve their run problems.
Wide Receivers
Demarcus Robinson (1.1% owned) – KC – 16.3 avg.
Last week I recommended Robinson's teammate Mecole Hardman, this week I recommend grabbing Robinson! In an absolutely historic performance by Patrick Mahomes no one benefitted more than Robinson as he caught touchdowns of 39 and 44 yards on his way to 6 catches for 172 and two scores. It doesn't appear like the Chiefs are going to miss a beat without star wideout Tyreek Hill and fantasy owners should be trying to grab ANYONE in this offense.
Nelson Agholor (4.3% owned) – 11 avg.
With injuries to both DeSean Jackson and Alshon Jeffery, go grab Agholor and plug him in immediately. With the absence of two receivers, Agholor was targeted 11 times, reeling in 10 of those for 107 yards and a touchdown. He nearly had two touchdowns in this game but was drilled by Falcons safety Ricardo Allen on a sensational play. Grab, and start, Agholor this weekend!
Tight Ends
Jason Witten (18.6% owned) – 9.3 avg.
I must be crazy. Yes, I am recommending (if you REALLY need it) Jason Witten for your fantasy team in 2019. The tight end turned robot broadcaster turned tight end again is off to a pretty great start this season with a score in each of his two games. He won't blow you away in the receptions or yards department, however, red-hot Dak Prescott seems to really trust him in the red zone. In a position that's always thin, Witten may be a diamond in the rough.