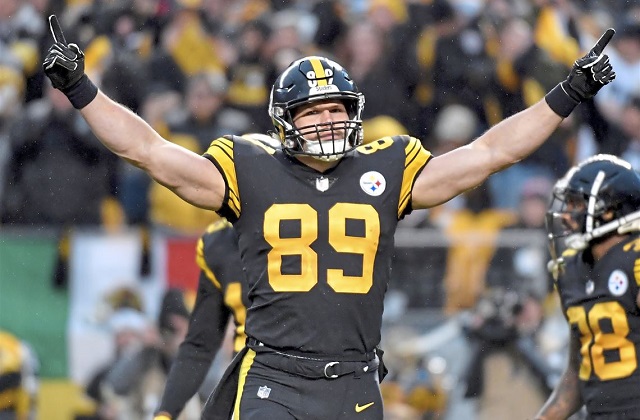 Written by Chris Hexter
17 September 2019
Pittsburg Steelers
Injury
Ben Roethlisberger (O-Elbow)
Opportunity
Mason Rudolph (QB2)
Vance McDonald (TE1)
James Washington (WR3)
Big Ben is out for the remainder of the season after an MRI confirmed he would need season-ending surgery. Mason Rudolph looked decent in his 2019 debut; coming off the bench and throwing for two touchdowns (both to McDonald) and one interception. Rudolph is a low end QB2 in this Steelers offense that is still trying to find their groove. There are plenty other quarterbacks I would rather start than Rudolph. Roethlisberger's elbow wasn't helping Vance McDonald out either, however Rudolph decided to use his elbow, and rightfully so, to target McDonald in the endzone. Bless the elbow of Rudolph, which will not hinder JuJu Smith-Schuster's heavy target volume and James Washington will be worth the roster spot in deep leagues, as their connection in college and pre-season is enough to garner hope.
Injury
James Connor (Q-Knee)
Opportunity
Jaylen Samuels (RB2)
When Connor missed some games last season, Jaylen Samuels showed up. Even without Roethlisberger, the running back in Pittsburg will have a lot of usage. So, if Connor is to miss time again, look for Samuels to show up and give you RB2 numbers. Watch this situation closely, if you are the Connor owner, make sure you have Samuels on your bench ready to go if a game time decision is to occur. However, according to reports, the injury is not serious so the expectation is he will be on the field on Sunday.
New Orleans Saints
Injury
Drew Brees (O-thumb)
Opportunity
Teddy Bridgewater (QB2)
Drew Brees has a torn ligament in his thumb and will need surgery. It has been a while since anyone has talked about a starting quarterback in New Orleans not named Brees. But, here we are. Step up, Teddy Bridgewater! Bridgewater has high-end QB2 ability. Keyword: has. However, we haven't seen Teddy play a large role since… 2015? Wait, so we haven't seen him in a starting role since he was 23? We have only seen Bridgewater start 1 game (2018) since his injury back in 2015. Why trust him? Well, I believe Bridgewater has something to prove and if he is not afraid to keep the ball from time to time, he can provide decent QB2 numbers. This does, however, slightly bump down Alvin Kamara and Michael Thomas, who vastly benefited from Brees' presence (don't get cute, play them). Consider rostering Bridgewater only in two quarterback leagues – for now.
Buffalo Bills
Injury
Devin Singletary (Q-Hamstring)
Opportunity
Frank Gore (RB2)
Frank Gore does not age. There is a chance this hamstring keeps Singletary out of their next contest against Cincinnati, or at best, limited snaps. The fountain of youth himself will see more volume in either case so, I see Gore as a solid RB2 against the Bengals who just got torched by the 49ers running backs. Even if he is inefficient, his touchdown upside is too good to pass up. If Singletary is out, flex Gore.
Kansas City Chiefs
Injury
Damien Williams (Q-Knee)
LeSean McCoy (Q-Ankle)
Opportunity
Darwin Thompson (RB2)
Here is Thompson's post-week one news… two snaps, one touch and only worth consideration if something is to happen to Williams or McCoy. Anyways, week two is in the books and both Williams and McCoy are battling injury… oh hey, fantasy football, you're back! Thompson may be thrust into a starting role in the high-scoring Chiefs offense and if this is the case, Thompson has to be rostered and considered a spot in your flex position. You want the starting running back in KC! However, it does look like McCoy's MRI came back showing no serious damage, so we can expect a high chance he will be on the field for the Chiefs next contest. Monitor this closely, it may come down to a Sunday game time decision.
Philadelphia Eagles
Injury
Alshon Jeffery (Q-Calf)
Desean Jackson (Q-Groin)
Opportunity
Nelson Agholor (WR2)
A rough night of injuries plagued the Philly wide receiver corps on Sunday night. Jeffery left with a calf injury and never returned. And the same occurred with Jackson but with a groin injury. The two will probably be limited or even held out of a few practices this week, so it is something to monitor. I expect Jackson to play and for Jeffrey to get an MRI. If one or both wide outs miss next week's game, Nelson Agholor will see another target happy game. If both play however, Agholor could still be a WR3. Watch this development throughout the remainder of the week.
Update: It is reported that DeSean Jackson will be sidelined for at least two weeks with an abdominal strain. This isn't the same injury they listed him for on Monday's report. Nonetheless, this benefits Agholor greatly as he will be featured outside of Alshon, who is still nursing a calf injury. Agholor is a solid WR3 with upside.
Dallas Cowboys
Injury
Michael Gallup (O-Knee)
Opportunity
Randall Cobb (WR3)
Amari Cooper (WR2- Fringe WR1)
Gallup was enjoying a fantastic second year campaign in the first two games. However, that will have to continue at a later date as Gallup is slated to undergo arthroscopic surgery to trim his meniscus. While his knee is being filleted, Randall Cobb will step into the WR2 position in Dallas and the way Dak is playing, should warrant Cobb as a flex in deeper leagues.
New York Giants
Injury
Sterling Shepard (Q-Concussion)
Opportunity
Evan Engram (TE1)
This is important to watch as Cody Latimer is in the concussion protocol as well, but Shepard is trending in the right direction. He was cleared to practice without contact. Still, the only way he will be able to play is if an independent neurologist clears him before Sunday. If he is not on the field, expect Evan Engram to receive a lot more looks, especially since Daniel Jones will be their starter this week. I expect Engram to perform as a top-3 tight end and be the safety blanket for the rookie QB.
Carolina Panthers
Injury
Cam Newton (Q-Ankle)
Opportunity
Will Grier (QB3)
Christian McCaffrey (RB1)
Just recently reported, Cam Newton missed practice on Tuesday due to re-aggravating his ankle. To be honest (as a Panthers fan), I don't know how much this hurts the receivers or McCaffrey. We have yet to really see Will Grier play in a real NFL game but he can't be as off-target as Cam has been. Even if Grier is not the starter and it goes to Kyle Allen, they can't possibly throw the ball as poorly as Cam has. If Cam does not play, I wouldn't downgrade Moore, Samuels and even Olsen against a very beatable Arizona defense. McCaffrey will still be the focal point and maybe the receivers can actually get the ball thrown to or around their hands. Whichever QB takes the reigns if Newton is absent, will play better than Cam, but is not likely to be ready to be granted a spot on your roster (yet).