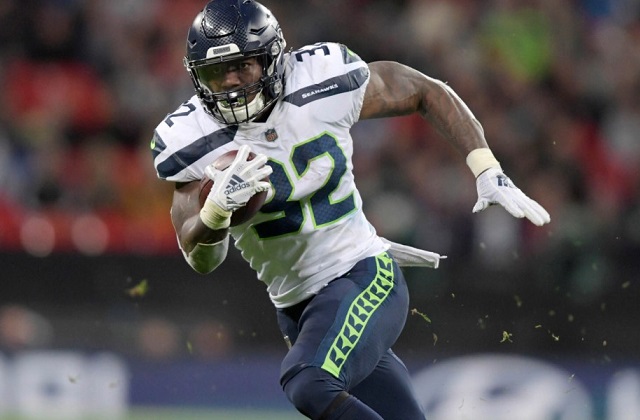 Written by Cam Harper
12 September 2019
Hopefully everyone reading this did well in your matchups last week. If not, Week 2 provides the opportunity to set the ship straight. Week 1 was a bit of a weird one with so many unexpected players having a huge week. Maybe this week will be more normal. Or maybe not.
Here are my quick hits on players that belong in your lineup, and the players that should ride the bench.
Start 'Em QBs
Lamar Jackson, Baltimore Ravens (vs ARI)
Lamar Jackson had a HUGE game against the Dolphins, and he's heading back to Baltimore in Week 2 for their home opener. Jackson has another favorable matchup in Week 2 against the Patrick Peterson-less Cardinals. Ride out the momentum on the Lamar train and expect another big week.
Dak Prescott, Dallas Cowboys (@ WAS)
Dak finally showed the he can be a legitimate quarterback, not just a game manager with Zeke in the backfield. Dak put up 33.4 points in Week 1 as he obliterated the Giants defense. Dak also plays another favorable matchup against the Washington Redskins in Week 2. There's no reason to take him out of your starting lineup.
Philip Rivers, Los Angeles Chargers (@ DET)
I was hyping up Philip Rivers all offseason with his ridiculously low ADP in drafts. He just has way too many weapons on his offense to not succeed, even if Hunter Henry is out for a few weeks. The Lions just let rookie QB Kyler Murray score 15 points in five minutes to tie the game. There's no way that they stop veteran QB Philip Rivers and company.
Sit 'Em QBs
Kyler Murray, Arizona Cardinals (@ BAL)
Kyler Murray had himself a good outing against Detroit, scoring over twenty points in his debut. However, he's on the road in Week 2 against a much better Ravens defense. The Ravens are going to abuse the Cardinals offensive line and be in Murray's face all game. There's a good chance that the Cardinals get down early, which could lead to some garbage time points, but it seems risky banking on that. Don't play him this week and wait for a more favorable matchup.
Baker Mayfield, Cleveland Browns (@ NYJ)
Baker didn't have a great start to the season in Week 1. He threw three interceptions in what was expected to be an easy matchup. The Jets boast a better defense that caused Josh Allen all kinds of issues last week. It's possible that the Cleveland offense starts living up to their preseason hype, or maybe the Browns will always be the Browns.
Kirk Cousins, Minnesota Vikings (@ GB)
Kirk Cousins only threw the ball ten times last week. That's right, ten times in 2019. Maybe the Vikings are truly going to commit to a run-first offense this season. The Packers showed us that their defense might be legit. If that is actually true, and the Vikings don't want to throw the ball, that's not good news for Cousins owners. He's a lock on the bench until further notice.
Start 'Em RBs
Chris Carson, Seattle Seahawks (@ PIT)
Carson caught the ball six times last week and was the clear lead back for the Seahawks. Pittsburgh usually has a solid run defense, but they didn't do great against the Patriots. Even if the Pittsburgh defense has a bounce-back week, Carson is going to continue to get most of the touches out of the backfield. Volume is king in fantasy football.
Mark Ingram, Baltimore Ravens (vs ARI)
I had Mark Ingram listed as a start 'em last week and he had himself a game, scoring two touchdowns and rushing for over 100 yards. He has another favorable matchup in Week 2 where the game script should be in his favor. As long as the Ravens get up early, expect to see a lot of Mark Ingram.
Austin Ekeler, Los Angeles Chargers (@ Det)
While it would be ridiculous to expect Ekeler to repeat the performance he had last week, it's not unrealistic to say he has RB1 upside against the Lions. The Lions gave up 25.7 points to David Johnson last week, and like I mentioned with Philip Rivers, the Cardinals don't have nearly the same caliber offense as the Chargers. If Melvin Gordon is on the sidelines, there's going to be a lot of Ekeler to go around.
Sit 'Em RBs
Aaron Jones, Green Bay Packers (vs MIN)
I feel like I'm repeating myself from last week. Aaron Jones is going to be a sit again against the stout Vikings rush defense. Worse yet, Aaron Jones might not be the stud we were hoping for this season. Jamaal Williams was featured a lot as the third down back against the Bears. If Jones continues to share the backfield, he's going to be extremely matchup dependent this season. That's not good for a guy that likely cost a third-round pick.
Phillip Lindsay, Denver Broncos (vs CHI)
The Bears defense took off right where they left off last season. The Bears held the Packers to just ten points in Week 1 and held Aaron Jones to just 39 yards. If Lindsay didn't have a good game against the Raiders, there's no reason to believe he's going to do well against the Bears.
David Montgomery, Chicago Bears (@ DEN)
This pick isn't just a Week 2 sit, this is a sit until he proves otherwise. Mike Davis was on the field for more of the game than Montgomery, including the final drive. If the Bears don't trust him to be on the field during important scenarios, he is just a game script dependent flex player. We are only going to see a lot of him if the Bears are up late in the game, and even that is a maybe. Until he shows us anything different, he belongs on the bench.
Start 'Em WRs
Tyrell Williams, Oakland Raiders (vs KC)
Here is my sneaky pick for the week. Tyrell Williams actually had a pretty good game against the Broncos. He had six catches for 105 yards and a touchdown. The Chiefs defense gave up 26 points to the Jaguars without Nick Foles for most of the game. The Raiders aren't going to win this week, but they are going to have all game to throw the ball. Expect another solid week for Tyrell.
DJ Moore, Carolina Panthers (vs TB)
I placed DJ Moore in my "sit" category last week, so I'm going to right that wrong by placing him in the "start" category this week. DJ Moore converted ten targets into seven catches for 76 yards against Aqib Talib. While the Bucs looked much better against the 49ers, nobody on the 49ers is nearly as talented as DJ Moore. This could be the breakout game we have been waiting for.
Brandin Cooks, Los Angeles Rams (vs NO)
Brandin Cooks didn't have the week we were hoping for against the Panthers. Cooper Kupp and Robert Woods got their fair share of targets, but Cooks seemed to get left out of the party. Expect him to have a bounce back week against his former team. The Saints tend to struggle against speedy receivers, as seen by his 6 catches for 114 yards and a TD against the Saints last season. Cooks should be a safe play this week.
Sit 'Em WRs
Emmanuel Sanders, Denver Broncos (vs CHI)
Sorry Emmanuel, your time on the start list was short lived. Sanders looked great last week, especially considering he tore his achilles less than a year ago. But the Bears are coming to Denver this week, and that's not good for anybody. They held Davante Adams to just 7.6 points last week. If Davante and Rodgers can't score against the Bears, I promise that Flacco and Sanders won't either.
Robby Anderson, New York Jets (vs CLE)
Unless Robby Anderson has the best matchup ever, he belongs on the bench. After last week, he still only has seven games with more than five receptions in the last two seasons. Sam Darnold isn't playing Monday due to illness, and the Browns held Corey Davis to zero catches in Week 1. There are too many reasons to not start Anderson this week.
Josh Gordon, New England Patriots (@ MIA)
I'm going out on a limb on this one, but it feels like there are too many mouths to feed in New England, even against the Dolphins terrible defense. The Patriots offense features Antonio Brown, Julian Edelman, James White, Rex Burkhead, and Sony Michel. There are just too many options for Tom Brady to throw the ball to. Antonio Brown is going to take over as wide receiver numero uno, which should push Gordon back to WR3. I could be wrong on this one, but I just feel like he isn't going to be very involved.
Follow me on Twitter @camharperr! Let me know who's on your start/sit list for the week!