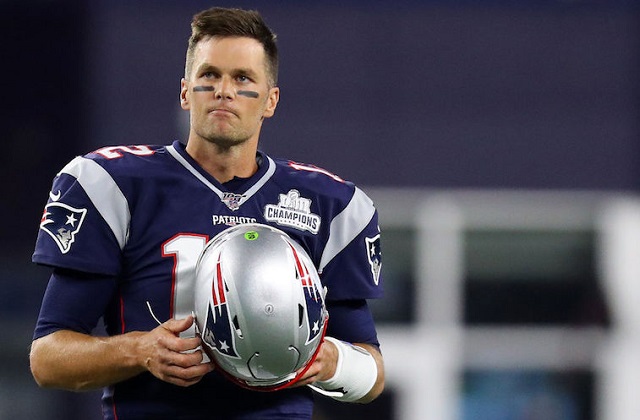 Written by Joe Buttgereit
12 September 2019
Week 1 is in the books, and it was a wild one. A lot of surprising performances, shocking duds, and an overall difficult week to predict.
Don't be alarmed! Week 1 is always the most difficult to predict as we have no real "current" data to assess. Everything we're basing our predictions on is preseason games (everyone runs a vanilla game plan) and last season (players improve/worsen/change teams/etc.). Until we get real, in-season statistics and trends to base our predictions and rankings, stick with your plan and your draft.
But now, we have one whole week to assess; time to dive into the research. As we try to find who we should buy/sell from the Week 1 surprises, it's also a good time to remind everyone not to fall trap to some of the outrageous performances last week. Don't make impulsive moves because Davante Adams only put up five points. Or because Devonta Freeman only had 31 yards from scrimmage with a fumble. Don't panic.. yet.
For now, here's my Start/Sits for Week 2:
Starts
QB – Tom Brady | New England Patriots (at Dolphins)
This may seem like the very impulse I'm telling you to avoid. Or it may be arguably the best quarterback in NFL history playing against arguably the worse defense in NFL history. The Dolphins are fresh off allowing Lamar Jackson/Robert Griffin III to throw six touchdowns in just 26 attempts against them.
It's pretty evident the Dolphins are tanking for the 1st overall pick in the 2020 draft, and the Patriots are notorious for running up the score against inferior opponents. I think the Patriots will look to make another statement this week and try to outdo Baltimore's Week 1 performance against Miami.
RB – Matt Breida | San Francisco 49ers (at Bengals)
Attempt #2 at starting a San Francisco back. But, with Tevin Coleman set to miss some time, and Jerick McKinnon on the IR, Breida's door is wide open for a lot of touches. We're all still waiting on the Kyle Shanahan offensive breakout performance from the 49ers, but I feel like they're getting closer.
They have a lot of guys on that offense that just don't have many reps with each other; either due to injuries, new acquisitions, rookies, etc. As the players get more and more comfortable with each other, I think we can expect some promising things from this offense. For now, Breida is the most established back on the team and will be given enough volume to return good fantasy value.
WR – D.J. Moore | Carolina Panthers (vs Buccaneers)
Moore didn't get off to a great start, simply due to the fact that Cam Newton didn't get off to a great start. Christian McCaffrey took over the offense in Carolina's loss to the Rams on Sunday. Newton played poorly, thus making every receiver on the Panthers fantasy irrelevant.
That'll change this week. In a Thursday Night matchup with Tampa Bay, Newton and Moore will have a bounce back game. McCaffrey will still get his, but there will be enough points, and enough offense, to go around.
TE – Mark Andrews | Baltimore Ravens (vs Cardinals)
Yes, I'm banking on a repeat TE1 performance from Andrews. He may not necessarily re-create 20+ fantasy points, but 80+ yards and another score is certainly doable. In fact, I'll guarantee it. The Ravens looked like the '07 Patriots on Sunday, and while I don't expect that to continue, I don't think we gave their offense enough credit this year.
The matchup is also screaming TE1 overall potential. The Cardinals were split open by rookie T.J. Hockenson to the tune of six receptions (nine targets) for 131 yards and a touchdown. After feasting on a weak opponent in Miami, Andrews will see another TE1 performance this week against Arizona.
D/ST – Los Angeles Chargers (at Lions)
The Chargers were a bit of a disappointment defensively in their win over the Colts on Sunday. Marlon Mack led the league in rushing yards, and TY Hilton split the defense for two scores. A defensive matchup against Jacoby Brissett looked good on paper, but the Colts offensive line is dominant and made it difficult for the Chargers to do any damage along the defensive line.
Detroit, however, does not have a dominant offensive line. They struggled for most of the second half to move the chains against a putrid Arizona defense without star cornerback Patrick Peterson. In six second-half drives (not including overtime), the Lions ran 31 plays, for 141 yards (just 4.55 Y/P). Outside of one 10-play, 82 yard touchdown scoring drive, they punted on all five other series, running four or less plays in four of those five.
Sits
QB – Baker Mayfield | Cleveland Browns (at Jets)
I'm a little concerned with injury when it pertains to Mayfield this week. Whether he hurt his throwing wrist, or suffered a concussion, it should be something we monitor throughout the week. I'm not comfortable trotting him out against a much improved Jets' defense this week on the road.
Tennessee seemingly had an answer for everything Mayfield threw at them, intercepting him on three of four drives in the second half, and putting the game away in the meantime. The Jets made things very difficult on an improved Bills' offense in Week 1, and coming home while looking to avoid falling to 0-2, I think the Jets' defenders will come out with something to prove on Monday Night.
RB – Phillip Lindsay | Denver Broncos (vs Bears)
I mean, it's the Bears. Enough said, right? This has as much to do with game script as it does with matchup, however. We saw what the Broncos are on Monday Night; bad. The Bears are coming off a loss on opening night and can't afford to fall to 0-2 in a tough NFC North.
If the Bears jump out to an early lead (they should), it will be tough for Lindsay to get the volume necessary to provide any sort of fantasy value against an already stingy defense. The Packers showed us last week that there is not much running room against Chicago, so look for Lindsay to receive very few carries, and not enough work in the passing game to bring value to your fantasy team.
WR – Jarvis Landry | Cleveland Browns (at Jets)
The ol' "Sit this quarterback, so obviously sit the receivers, too". This holds true for all Cleveland receivers not named Odell Beckham, Jr. He is a superstar and will get his, regardless of what the defense does to stop it. Landry, on the other hand, relies on short and intermediate completions and has not been able to do much after the catch of late.
The Jets' defense is a very sound group of good tacklers. They'll be able to keep Landry in front of them and tackle him upon the catch. Without the YAC, Landry is pedestrian, at best. He may be able to provide WR3/FLEX value in PPR; but with the sheer amount of volume in today's passing game, even his PPR value has taken a hit.
TE – Vance McDonald | Pittsburgh Steelers (vs Seahawks)
In what should have been an "abandon-the-run-entirely-and-throw-every-play" type of game, McDonald only managed to see four targets in Sunday's loss to the Patriots. The Steelers made it clear that the tight end is not a top-3/4 option in Pittsburgh, thus his value should reflect that.
With a backup running back that disguises himself as a tight end, two good receivers, and a starting running back that makes plays in the passing game, it's tough for McDonald to see the ball. He needs touchdowns to provide fantasy value. Considering he may only get five touchdowns or less on the season, it's hard to pick and choose when that week might be. Against a group led by star linebacker Bobby Wagner, I'm not counting on it happening this week.
D/ST – Jacksonville Jaguars (at Texans)
For the second week in a row, I'm sitting the Jags' defense. They got cut apart last week; granted, it was Patrick Mahomes and the Chiefs, but they did not look good in any phase. They failed to force a turnover and could not touch Mahomes en route to posting the worst fantasy performance of the week (tied with the Giants).
The Houston offensive line should create some opportunity for sacks, however, Deshaun Watson showed last week that he can overcome a dreadful line and still hit the big play at any given moment. Going up against my season-long QB1 last week, now facing my season-long QB2 this week, I'm finding a streamer on the waiver wire to replace Jacksonville.
As always, you can find me @joebuttgereit on Twitter! I'm always around to answer any start/sit questions, and talk in general about everything fantasy sports!