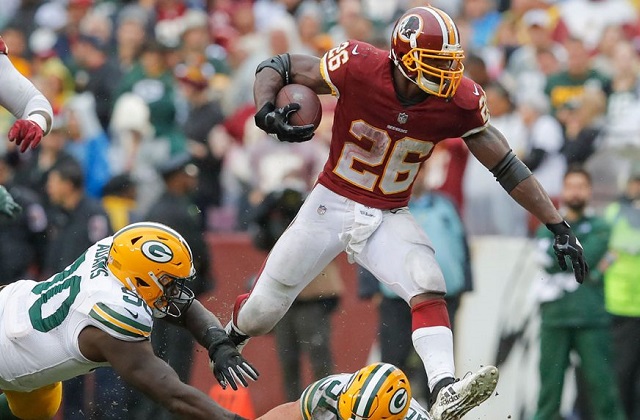 Written by Cam Harper
10 September 2019
Keep, Cut, and Acquire is back! Except this time, I'm taking over the article!
Players under the "Keep" section are players that you should "wait and see" with. It's too soon to decide on what to do with them.
Players under the "Cut" section are both players that are no longer worth rostering and players that should be traded away. For this week, the players in this section will be players to sell high. It's too soon to start dropping noteworthy players after just one week.
Players under the "Acquire" section are players that should either be added to your roster off waivers, or players that should be traded for.
So, without further ado, let's get into the list for Week 2!
Keep
Geronimo Allison, Green Bay Packers
The Packers were really bad this week. The Bears defense looks like one of the best units in the league again, even without defensive coordinator Vic Fangio. Sure, having zero targets in a game isn't great, but there's no reason to hit the panic button yet. Allisson plays in one of the better offenses in the league with one of the best quarterbacks to do it. Rodgers has said numerous times that he likes Allisson and trusts him. He plays the Vikings defense in Week 2, so don't be surprised if he struggles again this week. Look for him to bounce back in Week 3.
Sammy Watkins, Kansas City Chiefs
I thought Sammy Watkins was going to be a lock for a sell high player this week – until Tyreek got injured. Now it's just Watkins and Travis Kelce as the primary threats in the passing game for Kansas City, and I'm not sure if a price can be placed on that. Watkins might have had his best game of the season in Week 1, but he can still be very productive the rest of the season, especially if Tyreek remain on the sidelines. Hold onto Watkins and don't be afraid to plug him into your lineup every week until further notice.
Devonta Freeman, Atlanta Falcons
The Falcons game against the Vikings was a bit of a head-scratcher. The Vikings got ahead early and it felt like there wasn't much the Falcons could do for most of the game. Devonta Freeman nearly splitting carries with Ito Smith shouldn't be too much of a concern in the future. That decision likely came due to the strange game script. Devonta Freeman is clearly a much more talented back than Ito Smith. Now if that happens again against the Colts defense that was just gashed by Austin Ekeler and Justin Jackson, it's time to hit the panic button. But don't worry about that unless it happens.
Cut
Corey Davis, Tennessee Titans
One of the most important rules in fantasy football is to not overreact in Week 1. It might not be an overreaction to say trade Corey Davis while you still can. He caught zero passes on just three targets in a game where the Titans played well above average. Delanie Walker looked healthy and AJ Brown looked really good. The appeal to Corey Davis was that he was going to receive most of the targets in the offense, which no longer appears to be the case. It's not going to be pretty when the Titans come back down to Earth. If you can get a player with a lot of upside like Michael Gallup for him, pull the trigger.
David Montgomery, Chicago Bears
The biggest takeaway from the Thursday night game was that David Montgomery isn't going to play the role the Bears hinted he would. It was Mike Davis who played most of the snaps in the backfield, including the final drive of the game. It speaks volumes that the Bears trust Mike Davis more than David Montgomery. Yes, there is a possibility that Montgomery takes over the backfield as the season progresses. However, there's also a chance that Montgomery is stuck in an ugly committee all season. If you can find someone who still believes in Montgomery, I would trade him for a player like James White or Duke Johnson, especially if you belong in a PPR league.
Allen Robinson, Chicago Bears
The second Bears player to make the cut list. Robinson had a great game. He had 7 catches for 102 yards on 13 targets. He legitimately could have had over 200 yards if Trubisky didn't play so bad. However, it's hard to believe that he will continue to be the target monster he was for Week 1. Trey Burton didn't play, and Anthony Miller wasn't involved as he missed most of the preseason with an injury. As those two become more involved, Allen Robinson will likely fall into low end WR2 or flex territory. Trading for a player like Cooper Kupp would be great value and provide a much safer floor.
Austin Ekeler, Los Angeles Chargers
This is your classic sell high scenario. Ekeler had over 150 yards from scrimmage and three touchdowns. That isn't going to happen again. Sure, he has legitimate RB2 potential as long as Melvin Gordon remains on the sidelines, but his stock will plummet once Melvin Gordon returns. Now I'm not saying to go and trade Ekeler for peanuts. However, if someone is willing to part with a James White or a Chris Godwin for him, that's a deal that you should take.
Acquire
Adrian Peterson, Washington Redskins
Derrius Guice is out again with another knee injury, which means that the Adrian Peterson train is back on the tracks! While Peterson has never had a major role catching the ball, he still provides value as he is going to see 15-20 touches a game. He might be a little matchup dependent, but he's a capable back with RB2 upside. He belongs on a team in all leagues.
TJ Hockenson, Detroit Lions
Are you a Hockenson believer now? He had nine targets and turned them into 131 yards and a touchdown. It might have been against the poor Cardinals defense, but he's showing a ton of promise. He's a big target for Matthew Stafford and all the signs point towards Hockenson being a big part of their offensive plan. Hockenson might be the first rookie tight end to have a breakout year. Go get him before it's too late.
John Brown, Buffalo Bills
It feels like every year John Brown does well and then he gets injured. Brown was the unquestioned #1 WR for the Bills in week one, as he saw nearly 30% of the targets from Josh Allen. It's unlikely that the Bills throw the football 40 times a week, especially if Devin Singletary starts getting more involved in the rushing game. But even if that number drops to 30 attempts, Brown is more than viable if he's receiving 7 or 8 targets per game. He's worth rostering until he inevitably gets injured again.
Todd Gurley, Los Angeles Rams
Todd Gurley looked really good in Week 1 against the Panthers. He showed that he still has the speed we all know and love from the past couple of years. He totaled over 100 yards and was the only back to catch a pass, even if it was only one. The real concern here is that Todd Gurley only received one carry inside the twenty, and that carry was called back with a holding call. It was Malcolm Brown who was toting the rock inside the red zone and got two touchdowns.
I believe that if Gurley continues to show that he still can play, the Rams will continue to give him the ball. He's just too talented to have on the sidelines. The touchdowns are going to come. If the Gurley owner in your league is panicking, trade him your fourth-round pick and reap the rewards in the playoffs.
Michael Gallup, Dallas Cowboys
The Cowboys offense looked really promising, especially Michael Gallup and Dak Prescott. Dak looked like a real quarterback, even if it was against the Giants defense. Michael Gallup has looked great all offseason and that transitioned into Week 1 with a massive performance. Gallup has massive upside this season and his price will still be pretty cheap. Test the waters on this one. If you can get Gallup for a Dede Westbrook or an Emmanuel Sanders, take it and run.
The Packers
This one might be a stretch, but you're looking for the owner that has Rodgers, Aaron Jones, or even Davante Adams and is worried after Week 1. That owner likely lost Week 1, especially if he had Davante. The Packers are obviously going to bounce back and have big games. Check and see if you might be able to snag one of these players below their normal value.
Follow me on twitter @camharperr and let me know who you have been trying to trade for!