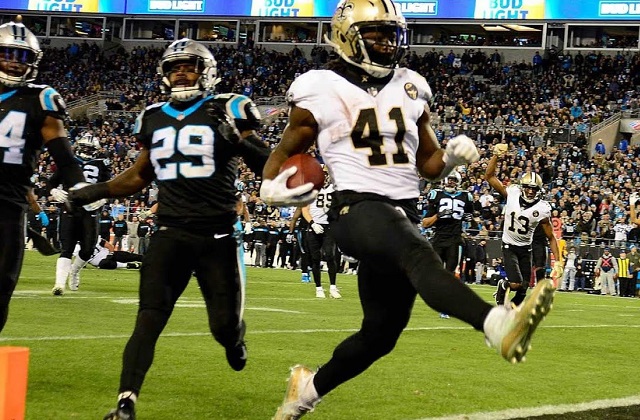 Written by Ben Muell
08 August 2019
Over the last 3 years almost 40% of touchdowns have come when the ball is inside the 5 yard line (I5Y). Predicting who will score is always pretty tough, knowing where TDs are scored from is a starting point.
In 2018, on rushes from I5Y running backs and quarterback scored about 44% of the time. If it was a wide receiver, a tight end, or Chargers DE Melvin Ingram carrying the football, then they scored about 28% of the time. This is called "lagniappe" aka the 13th donut when you only ordered a dozen. So be happy with what you get and don't try to predict because I'll be tossing these carries aside.
The NFL league leaders in carried I5Y in 2018 were:
Rank

Team

Player

Pos.

Attempts

TD

Cash %

Rush %

1

LAR

Gurley

RB

22

11

50%

73%

2

NYG

Barkley

RB

18

6

33%

69%

3

PIT

Conner

RB

17

9

53%

74%

4

CAR

McCaffery

RB

16

6

38%

59%

5

SEA

Carson

RB

16

7

44%

80%

6

NO

Kamara

RB

14

10

71%

40%

7

NO

Ingram

RB

14

4

29%

40%

8

TEN

Henry

RB

14

7

50%

54%

9

CHI

Howard

RB

13

6

46%

72%

10

IND

Mack

RB

13

6

46%

68%

11

NE

Michel

RB

13

4

31%

41%

12

TB

Barber

RB

13

5

38%

68%

13

CINC

Mixon

RB

12

6

50%

80%

14

DET

Blount

RB

12

4

33%

71%

15

DAL

Elliott

RB

11

2

18%

69%

16

JAX

Fournette

RB

11

5

45%

69%

17

KC

Hunt

RB

11

5

45%

38%

18

CLE

Chubb

RB

10

5

50%

50%

19

OAK

Martin

RB

10

4

40%

53%

20

SF

Morris

RB

10

2

20%

50%

Red highlights indicates the player is on a new team for 2019.

Cash % = the % of times they scored when they play carries the ball inside the 5 yard line.

Rush % = the players' % of overall team carries from inside the 5 yard line.
True Goal Line Backs
What should be fairly obvious is that "good" offenses will have more carries from inside the 5. Some teams are predictable and have their guy near the goal line. 13 backs received about 60% of their team's carries I5Y:
| | | | | | | | |
| --- | --- | --- | --- | --- | --- | --- | --- |
| Rank | Team | Player | Pos. | Attempts | TD | Cash % | Rush % |
| 1 | AZ | Johnson | RB | 9 | 6 | 67% | 100% |
| 2 | CINC | Mixon | RB | 12 | 6 | 50% | 80% |
| 3 | SEA | Carson | RB | 16 | 7 | 44% | 80% |
| 4 | PIT | Conner | RB | 17 | 9 | 53% | 74% |
| 5 | LAR | Gurley | RB | 22 | 11 | 50% | 73% |
| 6 | CHI | Howard | RB | 13 | 6 | 46% | 72% |
| 7 | DET | Blount | RB | 12 | 4 | 33% | 71% |
| 8 | NYG | Barkley | RB | 18 | 6 | 33% | 69% |
| 9 | DAL | Elliott | RB | 11 | 2 | 18% | 69% |
| 10 | JAX | Fournette | RB | 11 | 5 | 45% | 69% |
| 11 | IND | Mack | RB | 13 | 6 | 46% | 68% |
| 12 | TB | Barber | RB | 13 | 5 | 38% | 68% |
| 13 | CAR | McCaffery | RB | 16 | 6 | 38% | 59% |
This group accounted for 36% of the rushing workload and TD production around the endzone in 2018. Which is great! Aside from the Chicago, Tampa Bay, and to a degree the Detroit job we know that every name on this list is a safe bet to perform as an RB1 or RB2.
QBs I5Y
Running backs dominated the carries but some teams rely on their QB quite a bit.
Deshaun Watson in Houston (44%), Jared Allen in Buffalo (31%), Dak Prescott in Dallas (25%), Lamar Jackson in Baltimore (23%), Sam Darnold in New York Jets (22%), Carson Wentz in Philadelphia (20%) and Cam Newton in Carolina (19%) are used as battering rams adding to their appeal. While these carries won't hurt the prospects of Zeke, McCaffary and Bell it does change how we value Lamar Miller, the running back units in Baltimore, Buffalo and Philadelphia.
Some teams don't use their QB at all: Russell Wilson in Seahawks, Andrew Luck in Indianapolis, Matt Stafford in Detroit, Andy Dalton in Cincinnati, and Rosen in Arizona (this may change). This is a positive for guys like Chris Carson, Marlon Mack, CJ Anderson, Joe Mixon, and David Johnson.
I5Y Carries Up for Grabs & New Faces
With new coaches, draft picks and free agents knowing who will get the I5Y carries is important because it sets a floor for the running backs. Luckily, there are a couple of situations that we can hazard a guess at what will happen.
In Atlanta and Detroit the answers appears to be simple. The Falcons' new (and returning) Offensive Coordinator Dirk Koetter likes to use one guy. So the early lean has to be Devonta Freeman as the goal line back. The Lions used human bulldozer LeGarrette Blount near the goal line and brought in CJ Anderson most likely to fill the same role.
Matt Nagy, Andy Ried, and Freddy Kitchens all like to use one guy near the goal line. All potentially will have potent offenses. Two positives for fantasy owners. Questions arise though when we look at the depth chart. In Chicago, it's a battle between rookie David Montgomery or Mike Davis. Size-wise they're almost identical. Will the vet get Jordan Howard's 13 goal line carries or the rookie? Matt Nagy had no qualms about using Kareem Hunt as a rookie we'll remember. Kansas City and Cleveland have interesting situations. Both teams fed Hunt and Carlos Hyde their I5Y carries to start last season but youngins' Nick Chubb and Damien Williams are entrenched as the starters. Although, this isn't much of a concern since Hunt won't be suiting up until late October and Hyde, now on his 4th team in 3 seasons, might be done. Expect Montgomery (if he doesn't fumble), Chubb, and Williams to reach pay dirt.
New head coach Bruce Arians and Adam Gase both have decisions to make. Peyton Barber got all the important carries last season in Tampa. Bruce, dating back to his days in Arizona, like to use one goal line back. So you figure it's Barber's gig to lose. Meanwhile in the Meadowlands, Le'veon Bell was just paid to be the guy. But Adam Gase can be fickle. He never gave Kenyan Drake, who outsiders considered their best back, much run in Miami. Hopefully, Bell and Barber will be the main backs.
Technically, I have to include New Orleans in this section. Alvin Kamara and Mark Ingram split 28 carries I5Y evenly last year. First, just imagine if Kamara got all the action near the endzone… Snap back to reality. New guy, Latavious Murray, has proven to be a goal line machine during his career so expect him to handle some of the load.
The Question Mark Backs
Last year the Ravens use a combo of Buck Allen and Alex Collins at the goal line with some success early in the season. Enter Lamar. who seemed to take over those duties later in the year. What does this mean for Mark Ingram who's been reliable by the endzone?
A Philly Quagmire could be the name of a sandwich or how you describe Doug Pederson's running back situation. The Eagles had five guys score TDs from I5Y last season. Four are still on the roster (Wentz, Adams, Clement, and Smallwood). In the off season, they added running backs Jordan Howard and rookie Myles Sanders. Who knows how this shakes out.
With Jimmy Garoppolo returning from injury Kyle Shanahan's offense in San Francisco could be ready to explode. This probably places Tevin Coleman, who was the goal line back more or less in Atlanta, first in line for Alfred Morris' 10 I5Y carries. Though Matt Breida handled 6 carries himself, scoring twice. Plus they had the option to release Jerick McKinnon back in April. So do we see a two or three way split in the workload?
The "This But That" Backs
Buffalo
LeSean McCoy has been on the decline. But they drafted Devin Singletary and signed Frank Gore. The offense might not have enough juice to create a single fantasy viable RB if they are sharing carries.
Denver
Expect Phillip Lindsay and Freeman to continue to share redzone time.
Green Bay
These carries should go to Aaron Jones but Jamaal Williams will get some opportunities. Rodgers should have to have more than his one carry.
Houston
Lamar Miller is their lone (RB) ranger now that they cut D'Onta Foreman. But the team lives and dies with Watson.
Los Angeles Chargers
While Melvin Gordon scored 3 TDs on 3 carries last season, surprisingly Austin Ekeler led the Chargers in carries with 5. Gordon's hold out has to affect his goalline carries (right?). Plus the Chargers have redzone weapons galore at receiver so it's no wonder that rushing carries down near the end zone were limited.
Miami
Of course Kalen Ballage and Kenyan Drake have been listed as Co-Starters. But with concerns along the line there might not be enough carries to even worry about it.
Minnesota
Dalvin Cook will be the guy but it's worth knowing Alexander Mattison's name. The 3rd round selection out of Boise State is described as North-South runner who knows how to finish near the endzone.
New England
If Bill Belichick ever commited to one back that guy would assuredly be a first round selection. But we'll settle for a whole bunch of opportunities for Sony Michel, James White and rookie Damien Harris. Let's just hope that James Develin doesn't vulture away 4 more scores like he did in 2018.
Oakland
Jon Gruden drafted Josh Jacobs to be the guy in Oakland. But Doug Martin is still hanging around so these opportunities could be shared.
Washington
The run-heavy attack will feature both Adrian Peterson and Derrius Guice. But they will most likely be facing stacked boxes and the offensive potential might be limited because of the QB position.
Questions, comments, suggestions, and other feedback on this piece are always welcome. Follow me on twitter @b_muell for takes on my mildly depressing Skins, Caps, Terps, and O's as well as funny memes.