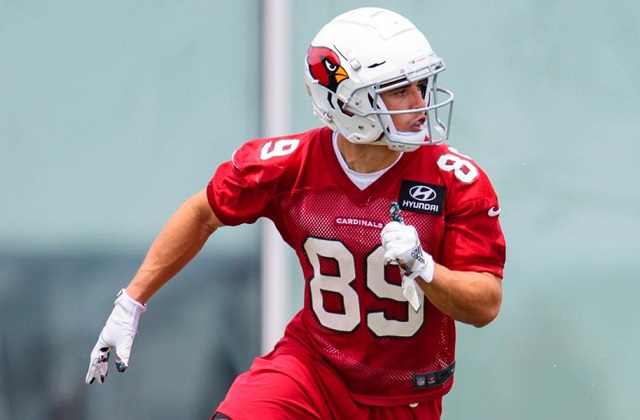 Written by Michael Bower
13 July 2019
A friend of mine recently asked me which of the Arizona wide outs I would want for Fantasy. I asked him Dynasty or Redraft, to which he replied "either". Ugh. Tough one. Rookie Quarterback and a trio of Rookie Wideout's do NOT make for a promising corps, however there may be some promise so let's dig in.
Andy Isabella
He might be slight of frame, but his statistics aren't. At only 5'9", Isabella led all collegiate receivers in 2018 with 1,698 yards. That's great, but playing at UMASS, what kind of competition did he play against? Irrelevant. He dominated most opponents, and when faced against a D-1 opponent this past year (Georgia) he tallied 15 catches for 219 yards and 2 touchdowns. Still worried about him playing against better talent? He has speed to play in the slot with sure hands, and that being said his skill set is similar to Marquise (Hollywood) Brown who played with new starting QB Kyler Murray at Oklahoma.
Dynasty Outlook: I feel like Isabella has the potential to be the next Julian Edelman. I wouldn't overdraft him, but he has a potential to be a long term WR2.
Redraft Outlook: A productive and steady slot WR has the potential to help out a rookie QB and I feel like he will be the most productive Arizona WR this season.
Hakeem Butler
You really couldn't find a completely different player from Isabella then Hakeem Butler. He is much bigger (6'5") but not nearly as productive in college (Iowa State) with only 1 year over 1,000 yards (1,318 in 2018). It was interesting to see him fall in the 2019 draft as many fantasy analysists had him pegged as one of the top wide receiver prospects. Well, that's why we aren't general managers and just play a game (about a game). Could it be his late breakout age or lack of production? Maybe, but then why was DK Metcalf drafted higher? Either way, Arizona got a steal with a physical specimen that has the potential to be a red zone nightmare and putting up over 1,000 yards at Iowa State is no joke, as they aren't a dominant passing school. Butler looks to have the make-up of a stud, but don't over draft him.
Dynasty Outlook: Another that most likely will be a career WR2, but I don't see much this year.
Redraft Outlook: Depth/bye week fill in only. Will probably snag a few TD's, but will likely be better in bestball than redraft.
Kevin White
Yes, he is still in the league. Can he resurrect his career in the Air Raid Offense? Good question. As an NFL player, he has had more trips to the IR then touchdowns scored. His college vs NFL stats are amazing. At West Virginia, he had (23 games) 144 receptions for 1,954 yards and 15 touchdowns. In the NFL, he has (14 games) 25 receptions for 285 yards and 0 touchdowns. Ouch. Maybe what he needs is a step back from the spot light, a chance to get healthy and acclimate himself in an offense. As a 1st round draft selection (7th overall), you are expected to produce immediately. Unfortunately, injuries have relegated his production to the back burner. I think maybe one day he can be a productive NFL receiver, but with the youth on the roster it may not be here.
Dynasty Outlook: Worth a stash if you have the room.
Redraft Outlook: You can spend your money better elsewhere.
Larry Fitzgerald
Larry the Legend is my favorite player that doesn't play for my favorite team (Philadelphia). A consummate professional, Larry is surely entering his last season in the NFL. Aside from being a great person, we can also say that Fitz is the model of consistency and reliability, playing in 234 out of a possible 240 games in his career. That is amazing considering how brutal the wide receiver position can be. Hall of Fame credentials aside, what can we expect from Larry this year? After his lowest yardage total in 2018 (734 yards), I honestly don't expect much more production wise. He will be a great mentor to the younger receivers, but that might be it, aside from a solid game or two. We will miss you Fitz!
Dynasty Outlook: Sell now and get what you can.
Redraft Outlook: Can be a solid WR3 or potential WR4/bye week fill in for your team.
Keesean Johnson
How did the Fresno State product fall to the 6th round? Everything I have heard in the offseason is that he is the most "NFL ready", so why the fall? He has the size (6'1"), speed (4.6 40 at the combine), and collegiate production (275 receptions, 3,463 yards and 24 TD's). So what gives? It appears that one of the only knocks on him is that he lacks elite speed, but the aforementioned Larry Fitzgerald was never a burner and he turned out well. I feel that a year with Larry Legend will benefit him.
Dynasty Outlook: Because of the draft capital Arizona spent on other receivers, he should be cheap or relatively free. For sure worth a stash.
Redraft Outlook: Move on.
Christian Kirk
For starters, I love Christian Kirk. But that is not the issue here. The issue is, does Kliff Kingsbury love him? I mean, he is not a Kingsbury selection, although Kirk did play at a somewhat similar style of offense at Texas A&M. Oddly, every year in college his production waned (yardage wise):
| | | | | |
| --- | --- | --- | --- | --- |
| Year | Games | Recptions | Yards | TDs |
| 2015 | 13 | 80 | 1,009 | 7 |
| 2016 | 13 | 83 | 928 | 9 |
| 2017 | 13 | 71 | 919 | 10 |
| | 39 | 234 | 2,856 | 26 |
He also had 23 carries for 120 yards in his career. In his rookie season, he tallied 590 yards on 43 receptions (68 targets) with 3 touchdowns before a broken foot ended his season in week 13. I think Kirk will be a productive receiver and has a possibility to be Arizona's #1 this year, but more likely their #2.
Dynasty Outlook: He is a worthy receiver to have, but I feel like he is a career WR2 that will finish his career elsewhere
Redraft Outlook: Can be a solid late round WR3 with WR2 upside in your draft.
I hope my outlooks helped to clear up a murky Arizona Receiving corps. Hit me up on Twitter @Thembower85 and make sure you check out the Dynasty Rewind!