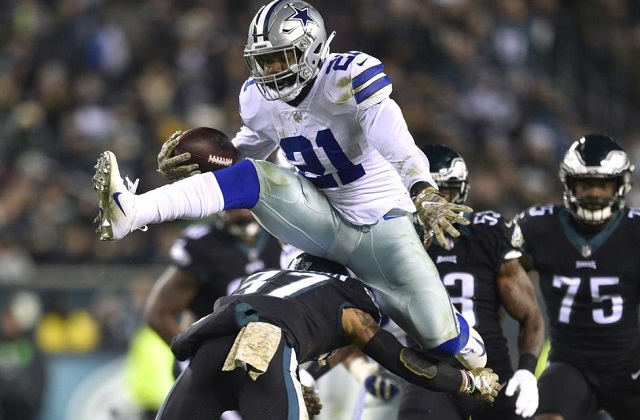 Written by Cam Harper
26 June 2019
Everyone gets excited over having the first pick. There's just something special about having your choice of the best player and being able to say that you control your destiny this draft. It almost gives you a feeling of power. But who is worth the first pick in 2019? Who's worth leading your team to the winner's circle? In my opinion, there's three legitimate candidates for the top spot. Let's look at why each player is worth considering for your top pick.
Cam's other Fantasy Outlook 2019 articles: NFL Teams to Avoid | Old Faces, New Places
Ezekiel Elliott, RB, Dallas Cowboys
Ezekiel Elliott might be the most consistent fantasy player in 2019. There's little risk to this pick. Elliott has proven that his work on the field is as good as it gets. Excluding 2017 (He was suspended the first six games), Elliott has achieved nearly 2,000 yards from scrimmage every year. The Cowboys still boast one of the better offensive lines in the league, and now have an extra weapon in Randall Cobb. Cobb and Cooper should be able to open the field for Dak Prescott and Zeke.
In 2018, the Cowboys finally decided they'd allow their stud back to get involved in the passing game. He had 95 targets last season, more than his previous two seasons combined. Even with Amari Cooper and Randall Cobb on the team, don't expect to see Zeke receive fewer targets. Zeke is a dynamic player who poses a threat to score whenever he touches the ball. Even if he does see a decrease in touches, there's no way that Zeke only scores six touchdowns on 304 rush attempts again. Elliott touched the ball 51 times in the red zone last season, making five or six more touchdowns this season more than realistic. That would easily compensate for a decrease in targets.
What's the catch? For the most part, there really isn't one. Elliott is in the fourth year of his rookie deal, with at least one more year left on his rookie contract. I don't see a Le'Veon Bell situation happening in Dallas this year. The only other issue I could see arising is Elliot's actions off the field. Elliott should not be punished for what happened in Vegas, but if he is, even a one game suspension takes him off the throne for the first pick. If nothing serious occurs, there's nothing that's going to slow Zeke down in 2019.
Saquon Barkley, RB, New York Giants
Saquon Barkley is literally my one exception to avoiding players on bad teams, and nobody can deny that what Saquon did in 2018 was anything short of a miracle. He managed to gain over 2,000 yards from scrimmage behind a bad offensive line with a bad quarterback. Saquon touched the ball 352 times last season, including an impressive 91 receptions. Both numbers could go up as the offense lacks any other real threat. There's a real opportunity for Saquon to see over 400 touches with over 100 receptions this season. There's reason to be excited, especially in PPR leagues.
However, there's literally nobody else on that offense worth paying attention to. Golden Tate and Sterling Shepard (two slot receivers) will now be lining up for a regressing Eli Manning to throw to. Saquon will have the pleasure of facing even more defenses with seven or eight players in the box. Saquon managed a league-leading 16 rushes of 20+ yards in 2018, including 5 rushes for 50+ yard scores. It's just not feasible for that to happen again with how poor of an offense he is playing on. If his touchdown total drops from 15 touchdowns to around 10, it'll be difficult for Saquon to repeat as the best fantasy back in 2019.
Alvin Kamara, RB, New Orleans Saints
Alvin Kamara is the running back with the most potential to be the next running back with a 2,000-yard season. He's an explosive weapon who truly epitomizes the meaning of being a threat to score whenever he touches the ball. However, Kamara still doesn't have the backfield to himself. Latavius Murray is in town and will likely take over the Mark Ingram role. Even if it is just inside the red zone, Murray will limit Kamara's touches near the goal line, limiting his touchdown appeal.
However, Kamara shouldn't see a difference in the receiving game. Kamara has been very consistent catching the ball, posting 81 receptions in his first two seasons. It's fair to expect him to see identical volume in 2019 as well. Kamara will also reap the rewards of playing in one of the best offenses in the league. Sean Payton is the perfect coach for Kamara to maximize his production on the field. Drew Brees is still an elite quarterback with weapons like Michael Thomas and Jared Cook to throw to. It's impossible for defenses to place too much focus on any of the players on that offense.
The biggest concern for Kamara is going to be volume. Kamara didn't have a single game in 2018 with over twenty carries. He only ran the ball for over 100 yards a single time, and that was one of the games that Ingram was suspended. It's hard to picture Sean Payton giving Kamara full control of the backfield. Even if Murray were to get hurt early, the Saints would find another back to take his place. This will inevitably place on ceiling on what Kamara is able to accomplish in 2019. Also, worth noting, there were four games in 2018 were Kamara scored under 10 points. All these games occurred when Ingram was in the lineup. Picking Kamara at 1.01 could run the risk of a few underwhelming games.
Who Should You Pick?
There's no real answer to who should be picked at number one this season. This isn't 2013 when Adrian Peterson was easily the number one pick, or 2018 with Todd Gurley. All these options are good options. All these options have a ton of upside. There's no one player to rule them all. However, if I had to choose one, Ezekiel Elliott is my favorite player heading into 2019. He offers the least downside of the candidates while offering the most consistency. Drafting a bust at numero uno is almost impossible to recover from, and Zeke is the least likely to be a bust in 2019.
Disagree with my thoughts or want to have a discussion? Follow me on Twitter @CamHarperr and let me know what you think!