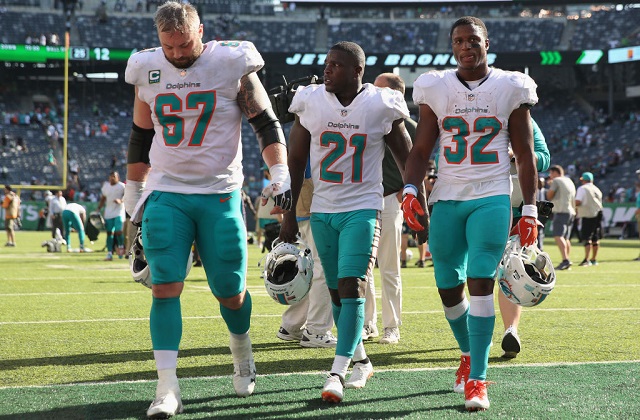 Written by Cam Harper
30 May 2019
There is a saying that goes something along the lines of "A player is only as good as his team". This could not be more true. If a team has an all-pro running back but no offensive line to run behind, the running back isn't going to succeed. Obviously, this impacts fantasy football as well. No matter how good a player is, if his team doesn't provide the opportunity to succeed then he's not going to. And after all is said and done, the number one rule in fantasy football is that opportunity is king.
Cam's other Fantasy Outlook 2019 articles: NFL Teams to Avoid | Who to Draft at #1
Here are six teams that you won't want to touch on draft day:
Miami Dolphins
The Dolphins are a bad football team and the top candidate for the #1 pick in the 2020 draft. The defense that was ranked 29th in the NFL in yards allowed per game (391.1) didn't really improve. Neither did the 31st ranked offensive line per pro football focus. Josh Rosen moves from the 32nd ranked offensive line to the 31st, how lucky for him. DeVante Parker and Kenny Stills are both okay, but neither is great. The best player that was on their offense in 2018 is Kenyan Drake who finished the year as the RB14. The Dolphins are going to be a matchup-dependent team without a lot of upside. The players on this team are going to have a limited ceiling, so only draft them if there is clearly no better option.
New York Jets
Welcome in the new Cleveland Browns. Here's a brief run down of the Jets offseason: General Manager Mike Maccagnan spent over 100 million dollars on free agents to improve the team. He is then given the sole responsibility of selecting a new coach and selects Adam Gase. He oversees the draft and selects player that fit his mold for the team. Then the Jets fire Maccagnan and make Adam Gase the interim GM. What a circus. There's now a chance that their best player, Le'Veon Bell, is going to be traded before the season starts. Did I mention that their best fantasy position player in 2018,Robby Anderson, was ranked 104 overall? I wouldn't touch the players on this team with a ten-foot pole.
Buffalo Bills
It's just not a good year to be a team in the AFC East – unless you are the Patriots. The Bills have the same problems as the rest of their AFC East brethren. Their offensive line was ranked 26th in the NFL per pro football focus. The addition of Cody Ford should help, but it isn't going to make a drastic difference. The top two running backs on the team are 30-year-old LeSean McCoy and 36-year-old Frank Gore. LeSean McCoy is coming off the worst season of his career and Frank Gore just doesn't have the juice anymore. Zay Jones isn't a bad receiver, but it might be hard for Josh Allen to get him the ball when he's running for his life again. The only player I see that has decent upside is Josh Allen, but that's only if he can run the ball like he did last season.
Arizona Cardinals
The addition of Kyler Murray is exciting. I think that Kyler Murray could become a special player in the NFL, and he has the potential to be a fantasy stud as a duel threat QB. David Johnson is still one of the better backs in the league as he managed to finish the season as a top ten RB in PPR leagues. But that offensive line is just so bad. They added tackle Marcus Gilbert from the Pittsburgh Steelers, but he has only played 12 games in the last two seasons due to a plethora of injuries. It's going to be the same problem as last year where Kyler is going to be running for his life, and David Johnson is going to have nowhere to run. If Kyler Murray gets hurt, and there's a good chance he will, this team instantly becomes unusable from a fantasy standpoint.
Denver Broncos
I might take some flak for this one (pun intended), but the Broncos aren't the team to beat anymore. They have a mediocre offense and a decent defense with playmaking abilities. The Broncos are likely going to be without Emmanuel Sanders to start the season, and that is going to leave Joe Flacco throwing the ball to DaeSean Hamilton and Courtland Sutton. Philip Lindsay is going to see more stacked boxes until Joe proves that he can beat teams through the air, and that hasn't happened in a few years. Combined with a subpar offensive line, they just don't have a good recipe to win games and stay competitive. The same rule applies to the Broncos as it does to the Dolphins, if you can find similar talent elsewhere, it might be a good idea to take it.
Baltimore Ravens
I'll admit I could be wrong on this one, but I just don't see the Ravens having a dynamic offense in 2019. The Ravens haven't had a relevant fantasy player since Steve Smith, and that was back in the beginning of the 2016 season. The Ravens have used a running back by committee approach since the departure of Ray Rice and that likely won't change this season. Mark Ingram is going to take most of the touches in the backfield, but Gus Edwards did well down the stretch last season and will likely see at least five to ten touches per game. As I stated in my last article, Lamar Jackson threw for over 200 yards in just one game last year. Unless he gets much better, Baltimore's receivers are going to stay on the waiver wire. The Ravens are an exception to my rule of don't draft players on bad teams. The Ravens are a good team, and they are going to win games. But they are a really bad team for fantasy football.