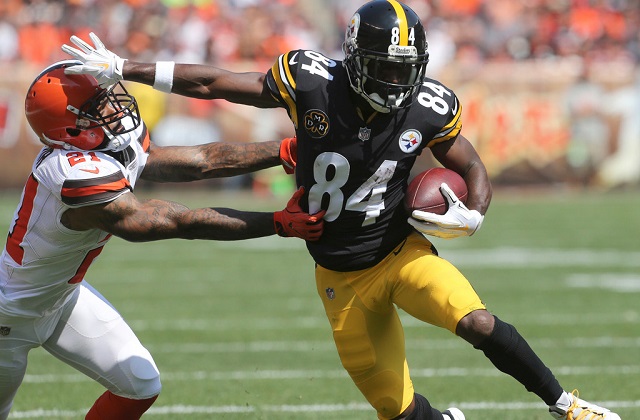 Written by Cam Harper
11 June 2019
The 2019 season got off to a hectic start with some big names moving around. I don't remember a year when so many elite position players moved their talents elsewhere. Obviously, this has a big impact in the fantasy football realm. With drafts only a couple months away, now is the time to get a head start on your competition. I'm here to tell you what to expect from this years' biggest free agency transfers.
Cam's other Fantasy Outlook 2019 articles: NFL Teams to Avoid | Who to Draft at #1
Antonio Brown, WR, Oakland Raiders
Antonio Brown has been a top-five fantasy receiver for six straight years. He's literally been the definition of Mr. Reliable. That reign comes to an end in 2019. AB has been the beneficiary of having a Hall of Famer at quarterback for his entire career. There have been so many instances where Roethlisberger makes a perfect pass that only AB could make a play on. AB might be a great player, but Derek Carr is no Big Ben. The Raiders lack a proven secondary weapon on their offense, so AB is going to continue to see his standard double and triple coverage. Will Carr be able to make those throws into coverage? Only time will tell.
2018 Stats: 104 receptions, 1,297 yards, 15 TDs
2019 Projected Stats: 95 receptions, 1,200 yards, 8 TDs
Le'Veon Bell, RB, New York Jets
Le'Veon is the second former Steelers stud to find a new home. I'd be lying if I told you I wasn't a bit concerned about his outlook for 2019. He moves from having one of the best offenses in the league to one of the worst. Without a true number one receiver on the offense, Bell is going to see seven or eight defenders in the box on most plays. Adam Gase, a noted running back hater, doesn't do Bell any favors either. Last season, Kenyan Drake touched the ball a whole 120 times as the Dolphins lead back. While there's not a lot of competition for touches in the Jets backfield, it's still a bit concerning. If Bell can stay on the field, and he receives a healthy number of touches, he can still be very productive. However, his days as the best back in fantasy are likely behind him. I'll use his stats from 2017 for reference as literally anything would be better than his 2018 campaign.
2017 Stats: 321 carries, 1,291 yards, 9 TDs; 85 receptions, 655 yards, 2 TDs
2019 Projected Stats: 260 carries, 1,030 yards, 6 TDs; 75 receptions, 690 yards, 4 TDs
Odell Beckham Jr, WR, Cleveland Browns
There are two sides of the coin here for OBJ. On one side, OBJ joins a much better offense with way more talent around him. There's a real possibility that the Cleveland Browns look like last year's Chiefs. If the new head coach, Freddie Kitchens, finds creative ways to move him around the offense, he could see a lot more one on one matchups this year. On the other side of the coin, there's more mouths to feed in the Cleveland offense. OBJ is joining Jarvis Landry, David Njoku, Nick Chubb, and Kareem Hunt. Everyone is going to see their fair share of touches, which could mean fewer touches for OBJ. If the Browns offense performs as expected, that shouldn't be a problem. The Cleveland offense is primed for a breakout year, and everyone on that offense is going to be worth owning in most leagues.
2018 Stats: 77 receptions, 1,054 yards, 6 TDs
2019 Projected Stats: 95 receptions, 1,420 yards, 9 TDs
Kareem Hunt, RB, Cleveland Browns
Kareem Hunt is in an interesting position this season. Most importantly, he's suspended for the first eight games of the season, making him more of a stash player in your draft. Nick Chubb is also in that backfield, and he was a top 10 back once he took over the starting job in week 7. As a more versatile back, I can see the browns using Hunt as the third down back and leaving Chubb with the starting role once Hunt returns from suspension. Unless Chubb gets hurt, Hunt likely isn't going to be more valuable than a flex player this upcoming season.
2018 Stats: 181 carries, 824 yards, 7 TDs; 26 receptions, 378 yards, 7 TDs
2019 Projected Stats: 50 carries, 230 yards, 2 TDs; 35 receptions, 350 yards, 1 TD
Jared Cook, TE, New Orleans Saints
Jared Cook had his best season to date with the Raiders last season, and now he has Drew Brees as his quarterback. The Saints haven't had a fantasy relevant tight end since Jimmy Graham was traded to Seattle. Cook gives the Saints a reliable number two option behind Michael Thomas. Cook should open the Saints offense a bit more this year, allowing players like Kamara to continue improving. Cook probably won't be as good as Jimmy Graham was, but a top-five tight end is a real possibility.
2018 Stats: 68 receptions, 896 yards, 6 TDs
2019 Projected Stats: 85 receptions, 980 yards, 7 TDs
Mark Ingram, RB, Baltimore Ravens
From a fantasy standpoint, it's so difficult to get excited about the Ravens. They play old school football: pound the rock and play great defense. This could be a positive for Ingram, as he should see a lot of touches this year. As a team, the Ravens ran the ball 541 times (more than anybody else last season) for a team total of 2,441 yards. Ingram will likely share some touches with Gus Edwards, but that might not be a big deal due to the sheer volume of touches he is expected to get. Expect Ingram to be a solid RB2 with RB1 potential some weeks.
2018 Stats: 138 carries, 645 yards, 6 TDs; 21 receptions, 170 yards, 1 TD
2019 Projected Stats: 220 carries, 1,020 yards, 8 TDs; 28 receptions, 210 yards, 1 TD
Tevin Coleman, RB, San Francisco 49ers
This signing was a great move by the 49ers, but it's not great for Tevin Coleman. He joins a backfield with two other quality backs in Matt Breida and Jerick McKinnon. The 49ers might utilize their backs similar to the way the Bears used Jordan Howard and Tarik Cohen. Kyle Shanahan is known to be a creative coordinator, and having three backs gives him a lot of opportunity for creative schemes. The 49ers will be a better team in 2019, but that doesn't mean they will be contenders. They'll be playing from behind and will need to throw the ball a lot, which could lead to additional touches for Coleman. Still, unless the 49ers show otherwise, it'll be difficult to start any of the guys in this backfield.
2018 Stats: 167 carries, 800 yards, 4 TDs; 32 receptions, 276 yards, 5 TDs
2019 Projected Stats: 115 carries, 540 yards, 2 TDs; 40 receptions, 360 yards, 3 TDs
Golden Tate, WR, New York Giants
This one was a bit of a head-scratcher. The Giants essentially swapped out OBJ for Golden Tate, leaving Eli Manning with another slot receiver on the team. Eli Manning isn't exactly a stud anymore and that change isn't going to help him. The Giants are likely going to be a run-first offense and only throw the ball if necessary. It's challenging to expect anything great coming from their passing game. Golden Tate isn't getting younger and has been playing through reoccurring injuries the past few seasons. Golden Tate is maybe a flex option this year, but even that might be generous.
2018 Stats: 74 receptions, 795 yards, 4 TDs
2019 Projected Stats: 75 receptions, 680 yards, 4 TDs
Nick Foles, QB, Jacksonville Jaguars
The Jaguars finally got a solid quarterback! However, in their quest to find a starting option under center, they seem to have forgotten that even the best quarterbacks need somebody to throw to. Leonard Fournette hasn't been spectacular with a career total of 3.7 yards per carry. Marquise Lee and Dede Westbrook aren't exactly studs at wide receiver, and the offensive line is okay at best (ranked 22nd in 2018 per Pro Football Focus). Nick Foles has the potential to be the Jaguars franchise quarterback, but don't expect anything crazy in 2019.
2018 Stats: 5 games played, 141 completions, 1,413 yards, 7 TDs, 4 INTs
2019 Projected Stats: 270 completions, 3,020 yards, 18 TDs, 11 INTs
Joe Flacco, QB, Denver Broncos
I'm just not crazy about the Broncos this season. The offensive line still isn't great, although the signing of coach Mike Munchak should help. Emmanuel Sanders is the only significant threat in the passing game, but he's coming back from a torn achilles. Players typically aren't the same after that injury (see Victor Cruz). Flacco has thrown the ball for over 4,000 yards only once in his career, and he was surrounded by a much better offense on that team. Joe Flacco isn't really an upgrade from Case Keenum and we are going to see that this year. Expect him to put up similar stats to Keenum this year.
2018 Stats: 9 games started, 232 completions, 2,465 yards, 12 TDs, 6 INTs
2019 Projected Stats: 345 completions, 3,300 yards, 19 TDs, 9 INTs