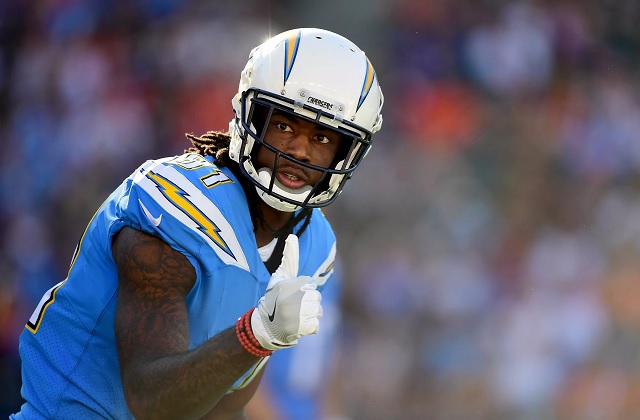 Written by Michael Bower
10 June 2019
Jumping from the college level to the NFL, most players need some time to adjust, be it 1 year or 2. Identifying those players is crucial for your dynasty team so you do not overpay for them. Let's take a look at some potential break out candidates.
Mike Williams, WR, Los Angeles Chargers: Big Mike Williams (6'4" 220 lbs) could come with a big price tag at this time next year. While he only has 54 career receptions (89 Targets) for 759 yards and 10 TD's, the loss of Tyrell Williams and another year working with Philip Rivers should pay dividends. Although he has Keenan Allen on the opposite side of him, Allen is more of a possession receiver, with a career 12.4 yards per reception. Williams is a big down field threat that has the potential to be a Red Zone monster.
Curtis Samuel, WR, Carolina Panthers: A benefit to having Samuel on your roster is his added ability as a rusher- 12 career carries, 148 yards and 2 TD's. With Devin Funchess gone and Torrey Smith a potential trade or cut candidate, Curtis, with DJ Moore on the opposite side, looks to have a stellar year. Even if Cam's shoulder isn't completely healthy, all he has to do is flip the ball out to Samuel and he can use his speed to do the rest. Samuel isn't as big of a household name as Mike Williams to the average dynasty player (yet) so buy low now. (Career receiving statistics - 54 receptions (91 targets) 609 yards, 11.3 average, 5 TD).
Josh Rosen, QB Miami Dolpins: Ladies and Gentlemen, Josh Rosen is taking his talents to South Beach. Not by choice. Why is he on this list? Simple. Ryan Fitzpatrick is going to be fantastic for 3 games, then turn into, well, Ryan Fitzpatrick. Head Coach Brian Flores brought Offensive Coordinator Chad O'Shea, and that means installing the quarterback-friendly New England offensive system. Rosen now has a fresh start with no pressure (at the moment) so he can ease into this transition with a new team. While he had a poor rookie season (3-10 record, 11-14 TD/INT ratio), he was no slouch at UCLA, throwing for almost 10,000 yards in 3 seasons, coupled with 59 TD's (to 26 INT's). Rosen won't be an immediate starter for you, but can pay off as soon as next season.
Derek Barnette, DE, Philadelphia Eagles: We all know that Reggie White was one of the greatest defensive ends of all time. Who broke his school sack record at Tennessee? Derek Barnett did. While he only has 7.5 sacks through 2 NFL seasons, Philadelphia lost Chris Long to retirement and Michael Bennett to a trade. This means no more rotation for Barnett, and with his torn pectoral healed, he will be a force to be reckoned with.
Kenny Young, LB, Baltimore Ravens: Gone are CJ Mosley's career 398 solo tackles. In is the former UCLA product Kenny Young. Sliding into the starting MLB position, Young should have the potential to rack up a huge number of tackles considering Baltimore's "old school" i.e., running-the-ball approach to playing football. Game flow like that necessitates a dominant LB and Young has every chance to be that guy, despite only collecting 40 tackles (solo) in 3 games started (16 played) last season.
D'Onta Foreman, RB, Houston Texans: In fantasy speak, Lamar Miller is a JAG (Just A Guy), albeit a productive one. And he is standing in the way of D'Onta Foreman. However, the Texans did not draft a running back this past draft, so this bodes well for Foreman's future. Foreman is big and sturdy (6'1", 236 lbs), and as a senior at Texas rushed for 2,028 yards. He can bulldoze opponents and is surprisingly nimble for his size. If his achilles is 100%, look for him to steal Miller's job.
Dante Pettis, WR, San Francisco 49ers: The 49ers were injury plagued last season, and Pettis was no exception. Although many people in the dynasty community are expecting Deebo Samuel, I disagree. Pettis was a complete stud at Washington, making Jake Browning look like John Elway. Pettis has a slight size advantage (6'1" to 5'11") over Samuel, and more time spent with Garoppolo over two off seasons, this should mean better rapport and more targets for Pettis.
I hope you enjoyed my list of break out candidates for the 2019 season. Make sure to be polite when trading, and have fun this season! Hit me up on Twitter @Thembower85 and check out my podcast, The Dynasty Rewind!