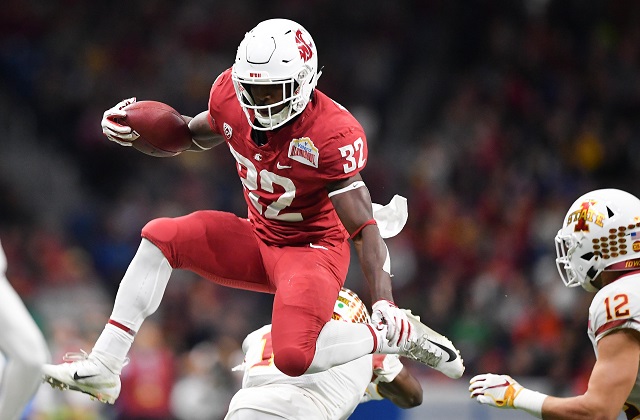 Written by Michael Bower
03 June 2019
Like your finances, in dynasty fantasy Football you have to plan for the future. Sometimes, you have to take a chance and stash a player on your taxi squad or on IR with the hope that one day they can be a spot start or possible starter. Let's take a look at some potential stashes.
James Williams, RB, Kansas City Chiefs: The Chief's running back situation is an odd one, for sure. Sitting atop their depth chart is Damien Williams followed by reliable but not explosive Hyde. After that, not much. However, the Chiefs did add former Washington State running back James Williams as an undrafted free agent. Watching him play and looking at his stats, he almost reminds me of Damien as he is as good of a runner as he is a receiver, but isn't elite at either. At Washington State, he amassed 2,977 total scrimmage yards and 27 Touchdowns on 518 plays. The splits are fairly even as well - 1,540 rush yards and 1,437 receiving yards. The Chiefs do not seem 100% committed to Damien despite saying otherwise, and he only has 733 career rushing yards over 5 NFL seasons (compared to 893 receiving yards.) James is younger, bigger (6'1" vs 5'11") and cheaper. So stash James in case Damien and Carlos Hyde don't work out.
Matt Lacosse, TE, New England Patriots: Gronk retired, ASJ can't stay healthy and isn't productive and Ben Watson is suspended the first 4 games of the year. The rumors that New England was going to trade for Kyle Rudolph don't appear to be true, so who can Tom Brady throw to? What about 6'6" 255 LB Matt Lacosse! While not have great statistics after spending the first three years of his career with two different teams (New York Giants and Denver Broncos), if there is a team that can get the most out of any player, it's New England. For his career, Lacosse has 27 receptions (41 targets) for 272 yards and 1 touchdown. While not stellar, time in New England with the GOAT could hopefully pay dividends.
Justin Watson, Wr, Tampa Bay Buccaneer:- While the Bucs have two phenomenal wide outs in Mike Evans and Chris Godwin, Watson was no slouch in college and has great untapped potential. With Desean Jackson heading to Philadelphia, the former Penn Quaker should have his time to shine. Check out some of his collegiate stats and where he fits into Penn's record books: 286 receptions (1st), 3,777 receiving yards (1st), 33 receiving touchdowns (1st), 4,116 all-purpose yards (1st), 34 total touchdowns (2nd). Pretty impressive, although some will knock it because Penn is not a power 5 school. It doesn't matter now. He is in the NFL and has a shot, so take some risk for high upside.
Jamal Custis, Wr, Kansas City Chiefs: The Chiefs are somewhat devoid for pass catchers at the moment, and 6'5" Jamal Custis could get a shot in camp. With Sammy Watkins, DeMarcus Robinson and Mecole Hardman currently being listed as their top 3 receivers, there is no reason to think the former Syracuse receiver shouldn't get a shot. Not to mention the Chiefs forked over $100,000 in guaranteed money for him to sign, which is believed to be the most for an undrafted WR in the last 2 drafts (per Adam Schefter). While his collegiate stats are far from impressive - 64 rec, 1,048 yards and 8 TD's, he has a shot in an explosive offensive so he is worth a taxi stash.
Jaleel Scott, Wr, Baltimore Ravens: A 6'5" 215 lb 2018 4th round draft pick, Scott is another big body who has a shot to earn a roster spot and playing time. After spending last season on the injured reserve, the New Mexico State product should be healthy enough for camp. Even after drafting Hollywood Brown and Miles Boykin, the Ravens receiver corps is still pitiful with Willie Snead leading the way. Ouch. Take a flier on the big guy and hope for some solid play in the preseason.
I know some of these guys can be a risk, but sometimes you have to take these steps to bring it home. Even if they never play a game for you, but you use them as a trade chip for another piece to build a contender, isn't thee taxi stash worth it? Let me know what you think on Twitter @Thembower85 and check out my podcast the Dynasty Rewind (@dynastyrewind) available on most podcast platforms!