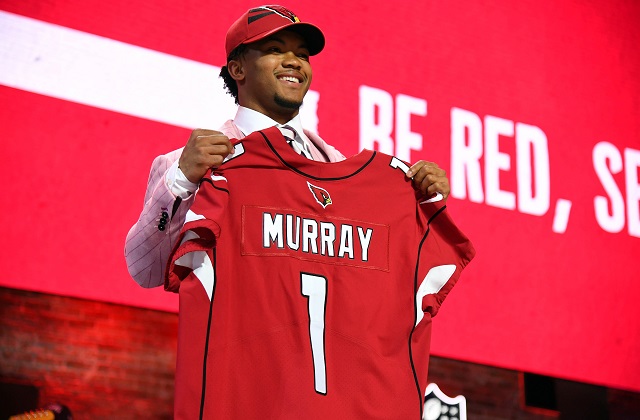 Written by Cam Harper
10 May 2019
It's never too early to talk fantasy football. With the 2019 NFL draft recently completed, it's time to begin diving into what the new guys can do. Here's my list of the potential top ten fantasy rookies and realistic expectations for what they can do for your fantasy team.


1. Josh Jacobs, RB, Oakland Raiders
The good: Josh Jacobs should be a lock to begin the season as the bell cow for the Raiders.
The bad: Josh Jacobs should be a lock to begin the season as the bell cow for the Raiders.
All jokes aside, Josh Jacobs is landing in a spot where he should be the unquestioned lead back, especially with Isaiah Crowell done for the year. Unfortunately, even with their recent improvements, the Oakland Raiders aren't going to be a good team in 2019. Per Pro Football Focus, the Raiders had the 28th ranked offensive line in the NFL for 2018, and it likely isn't going to get much better in 2019. Combined with a defense that gave up over 6,000 yards, that's not a good recipe for a breakout year. Derek Carr could be Jacobs saving grace with the number of checkdown passes he will receive.
Projected Stats: 220 carries, 920 yards, 7 TDs; 40 receptions, 330 yards, 1 TD


2. David Montgomery, RB, Chicago Bears
Welcome in Jordan Howard's replacement. Montgomery had a very similar playing style to Jordan Howard while playing for Iowa if you throw in a touch of elusiveness. Montgomery showed ability to consistently squeeze a couple extra yards out of his runs – something that Jordan Howard failed to do. Last year Howard ran for 935 yards and 9 TDs. With 270 touches now missing from the offense, I'd expect that stat line to be achievable for Montgomery.
Projected Stats: 200 carries, 910 yards, 8 TDs; 25 receptions, 225 yards


3. N'Keal Harry, WR, New England Patriots
This is a great spot for N'Keal Harry to land. He's not the fastest guy on the field, but he's a big target that knows how to get his hands on the ball. Sounds a lot like that Hall of Famer who just retired. Harry does have to compete with Josh Gordon and Demaryius Thomas for consistent playing time, but that might not be too difficult. Thomas is on the back end of his career and hasn't had a good season in three years and Gordon hasn't been the same since 2013. If Harry can earn the #2 spot behind Edelman, expect big things from the rookie this year.
Projected Stats: 65 receptions, 815 yards, 7 TDs


4. Kyler Murray, QB, Arizona Cardinals
Murray is going to begin his fantasy career in an interesting position. The Cardinals are a bad football team. The offensive line gave up 52 sacks last season and the run defense was an atrocity. Despite this, I believe that Murray is going to thrive in his rookie campaign. Duel-threat QBs are always fantasy relevant and Murray ran for over 1,000 yards and 12 TDs last season. The Cardinals defense is going to give up a lot of points in 2019, which could turn into a lot of garbage time for Murray. If Murray can stay healthy, we might see a repeat of the 2012 RG3.
Projected Stats: 320 completions, 3,900 yards, 25 TDs, 15 INTs; 130 carries, 780 yards, 8 TDs


5. Dwayne Haskins, QB, Washington Redskins
I believe Dwayne Haskins could be the best QB in the 2019 draft class. Haskins destroyed the Big Ten last season with 50 touchdown passes. That's no fluke. Haskins is a pure pocket passer and, given time, can light up any defense. Derrius Guice will be returning this season and that should alleviate some of the pressure on Haskins. If players like Jordan Reed and Trent Williams can stay healthy, we might just see a dynamic offense in Washington this season.
Projected Stats: 335 completions, 4,050 yards, 29 TDs, 18 INTs; 20 carries, 65 yards, 1 TD


6. DK Metcalf, WR, Seattle Seahawks
Metcalf is an athletic freak. I can't remember the last time I've seen somebody that big run a 40 time that fast. His 6'3 frame should make him a constant threat inside the red zone as well. However, most of DK's big plays in college were him running a streak past everyone. He hasn't displayed the ability to get in and out of routes at an elite level. With Doug Baldwin no longer suiting up for the Seahawks, it gives Metcalf a clear shot at becoming a starter week 1. But until he proves that he can efficiently run a route other than a streak, it's hard to raise his ceiling too high.
Projected Stats: 55 receptions, 730 yards, 9 TDs


7. Mecole Hardman, WR, Kansas City Chiefs
I don't believe that Mecole Hardman is a top-ten rookie this year. But with Tyreek Hill's status in jeopardy, it could result in the Georgia product having a lot of playing time in Andy Reid's offense. Hardman has a similar playing style to Tyreek Hill and should fit nicely into one of the most dynamic offenses in the NFL. If Tyreek is out, Hardman easily becomes a WR2 in all formats. Opportunity is king in fantasy football.
Projected Stats: 60 receptions, 790 yards, 6 TDs


8. Paris Campbell, WR, Indianapolis Colts
Andrew Luck is going to have a big year in 2019 and the rookie out of Ohio State is going to be a part of it. Campbell is a lock for the slot receiver role and should see a fair share of opportunities in this offense. With defenses already having to focus on TY Hilton, Devin Funchess, and Eric Ebron, Campbell should get a lot of 1 on 1 looks this year.
Projected Stats: 50 receptions, 690 yards, 3 TDs


9. T.J. Hockenson, TE, Detroit Lions
The Lions made it obvious what they are looking to do with the #8 pick in the draft. The lions are likely going to run a power running scheme with Hockenson and Jesse James at TE. This should provide Hockenson with frequent opportunities in 2019. Stafford likes big targets in the red zone (Anquan Boldin had 8 TDs in 2016) and Hockenson fits that bill. At the very least, Hockenson should be a TE2 with a lot of upside.
Projected Stats: 47 receptions, 575 yards, 9 TDs


10. Marquise "Hollywood" Brown, WR, Baltimore Ravens
Is this Desean Jackson I see!? Let's look. Hollywood didn't land at an ideal location for a breakout rookie season and his small build (5'9, 166 lbs) doesn't help him. He has the skillset to be a good player in the NFL, but his size limits him to what he can do. The Ravens don't care though. They just want him on the field so that defenses can't stack 9 guys in the box. Lamar Jackson should be able to throw him a few 60+ yard scores this year, so he should at least stay relevant. Sounds like Desean Jackson 2.0 to me.
Projected Stats: 44 receptions, 710 yards, 4 TDs