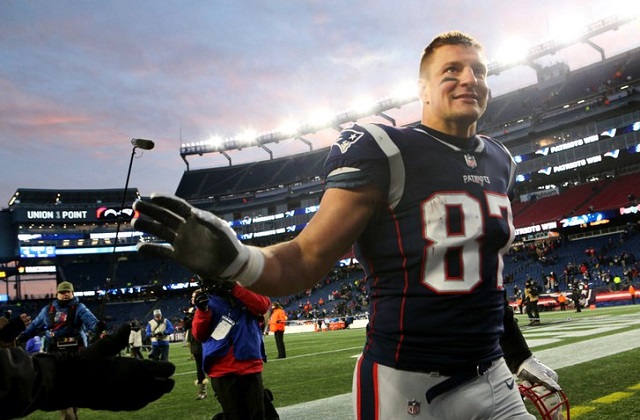 Written by Todd Lewys
04 April 2019
My, how fast things can change in the NFL.
A trade here, a free agent signing there - then a stunning retirement, seemingly out of nowhere - and voila, the fortunes of several teams changed in an instant.
Take the Super Bowl Champion New England Patriots, for example. One minute, Tom Brady's blind side was protected, and he had a go-to receiver in all-world tight end Rob Gronkowski. Now, Gronkowski has called it career - and tackle Trent Brown has signed with the Oakland Raiders.
To top things off, star defensive end Trey Flowers signed as a free agent in Detroit, further depleting New England's already thin talent pool. Tom Brady must be shaking his head in disbelief. Seems that The Greatest of All Time will have to be the Greatest Overcomer of All Time to make the playoffs, let alone win another Super Bowl.
Then, there are the Pittsburgh Steelers, another perennial NFL power.
Gone from Steeltown are Antonio Brown and Le'Veon Bell, a pair of playmakers who once combined with QB Ben Roethlisberger to make Pittsburgh's offense on of the most feared in the NFL. Can RB James Conner and WR Juju Smith-Schuster fill the void they left behind? Can Big Ben be as productive without his two offensive studs? Only time will tell.


Time might be up for the Steelers, as their AFC North rival, the Cleveland Browns, added two huge pieces to an already potent offense in WR Odell Beckham Jr. and RB Kareem Hunt. They figure to be prime targets for QB Baker Mayfield, who already had WR Jarvis Landry to play pitch and catch with. Add in an already-stout defense, and Cleveland appears poised to win 10-plus games in 2019.


Recent moves by the Oakland Raiders and Denver Broncos in the AFC West also figure to make things interesting.


No doubt, Raiders QB Derek Carr can't wipe the smile from his face. With T Trent Brown protecting his blind side and WR Antonio Brown eviscerating opposing secondaries, Carr figures to be far more productive. The additions of LB Vontaze Burfict and S Erik Harris on defense will also help Jon Gruden's group on the defensive side of the ball. In short, the Raiders should be way more competitive.


The same applies to their AFC rival, the Denver Broncos. With strong-armed Joe Flacco in at QB and the gritty but inconsistent Case Keenum out, the Broncos' offense will automatically be better. That will allow Denver's defense to get more rest, making them even tougher to play against.


In the AFC east, the New York Jets appear poised to move up a rung or two with the additions of star RB Le'Veon Bell and WR Jamison Crowder on offense and CB Brian Poole and LB C.J. Mosley on defense. The Jets' offense - which will be led by promising second-year QB Sam Darnold - figures to be more productive, while and already strong defensive will be even stronger.


With established powerhouses like New England and Pittsburgh looking vulnerable and previous also-rans such as the Raiders, Broncos, Browns and Jets making key acquisitions, the balance of power is changing in the NFL.


And with more teams in the process of making moves to get better, the 2019 NFL season figures to be very interesting, indeed.