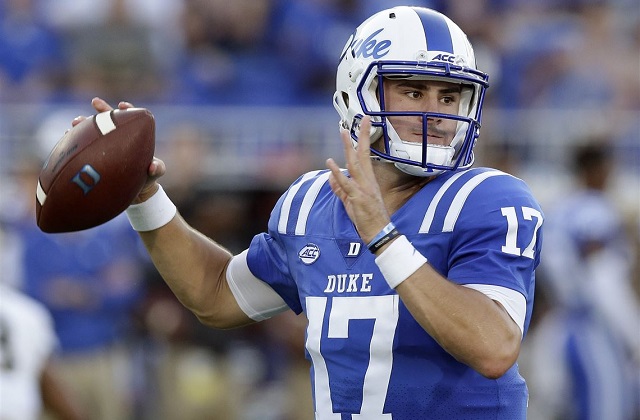 Written by Michael Bower
18 February 2019
The NCAA Senior Bowl is the only "All-Star" game I actually enjoy watching. In the Pro Bowl, players are just there for the experience or money and usually just mail it in. Admittedly, I do not watch other All-Star games because, well, I just don't care. But the Senior Bowl has an "it factor" to it that I just love. These players are getting a chance to shine on a national stage and either rise or fall in the 2019 draft, and they will need it because this draft class is the largest ever. Without further ado, here are some of my studs, duds and takeaways from the 2019 Senior Bowl!

Will Grier - QB, WVU
Grier was given the start for the South squad and had good mobility and zip on his passes, but will his skill set transfer to the NFL? He passed for 7,354 yards at WVU, and while he has good pocket mobility, he gives you virtually nothing in the rushing game.

Ryquell Armstead - RB, TEMPLE
Good vision and powerful running helped Armstead collect 2,812 yards through 4 years at Temple, but only 175 receiving yards on 29 receptions. Most NFL offenses want a back with more versatility, unless you are paired with Lamar Jackson running an run-pass option. Is Armstead a backup NFL running back, camp body, or future Alliance of American Football star?

Dexter Williams - RB, NOTRE DAME
Inconsistent would describe his Senior Bowl as he only averaged 3.5 YPC on 11 attempts, though adding 1 touchdown. After Josh Adams left Notre Dame this past season, William almost hit 1,000 yards on the season, falling only 5 yards short (9 games). I didn't see much burst or explosiveness to tell me he is a feature back, and he also underwhelmed in the receiving game in his career, catching only 162 yards on 22 receptions in 4 years (with 2 touchdowns.)

Penny Hart - WR, GEORGIA STATE
I constantly heard how Hart had "a great week" and to finish it off, he had a whopping 7 yards on 1 reception. Undersized at 5'8", I don't see him transitioning to the NFL unless it's in the return game, which he did sparingly at Georgis State.

Trace McSorley - QB, PSU
I am admittedly a Penn State fan, and I love McSorley. He is a much better collegiate QB then Hackenberg, but that does not translate to NFL success. McSorley looked uncomfortable under center and has a tendency to be inaccurate. However, , he does have some running ability, and I could see him as Lamar Jackson's backup in Baltimore as they have a similar style of play.

Andy Isabella - RB/WR, MASSACHUSETTS
Small school, small stature (5'10"), big numbers. And the speed to match. Isabella was clearly the best wide out on the field, catching all 7 of his targets for 74 yards and a score, adding 1 carry for 14 yards. Collegiately, he amassed 3,526 yards on 231 receptions (15.3 average) with 30 touchdown, ran for 342 yards on 40 attempts (8.6 average) with 2 touchdowns, and also returned 23 kicks for 443 yards (19.3 average) with 0 touchdowns. So if you want versatility, Isabella has it. Unlike Penny Hart, he has the production and versatility to go with a bit more size. He just strikes me as someone that is the perfect fit for the Patriot's offense.

Gardner Minshew - QB, WASHINGTON STATE
The #2 passer in the Football Bowl Subdivision should consider himself lucky that he has big stats going into the draft because he was atrocious at the Senior Bowl, finishing with 4 yards on 1 reception in 8 passing attempts. Ouch. Take his career stats with a grain of salt, however, as his 2018 4,779 yard campaign came 2 years after passing for 3,487 yards between 2016/2017. He adds absolutely nothing on the ground, rushing for 43 yards on 96 carries. On Senior Bowl day, he was either under or over throwing receivers, and I hope he proves me wrong, but a long NFL career does not appear to be in his future.

Daniel Jones - QB, DUKE
Now here is a guy I want on my team. Big (6'5", 220 LBS), and sneakily athletic (1,323 career rushing yards), Jones' head coach also coached both Manning brothers. He also has 17 career rushing touchdowns prior to adding 1 more in this game. Given a 1st round draft grade, I can see Jones sitting for a year or two before being put into the starting role. Jacksonville, anyone?

Tony Pollard - RB/WR, MEMPHIS
Anyone who knows me knows I have a man crush on Tony Pollard. While Darrell Henderson got all the hype and attention, Pollard is the most versatile player on any field he steps foot on. He was the best running back on the day, finishing with 60 yards on 8 carries (1 touchdown) and 2 catches for 13 yards (4 targets). Pollard has great burst and vision, and can cut on a dime after catching the ball. At Memphis, Pollard amassed 2,233 scrimmage yards on 243 plays, averaging 9.2 yards per play with 18 touch downs. Additionally, he averaged 30.1 yards per kick return on 87 returns for 2,616 yards (7 touch downs). Slide him up your boards now!

Tyree Jackson - QB, BUFFALO
Unpolished, but a big dude with a cannon for an arm. Standing 6'7" and weighing 245 LBS, Jackson has good mobility, but at this point is purely a developmental quarterback. I would love to see him in a Broncos uniform riding the pine behind Flacco for a few years learning the ropes before being put in a starting role.

Wes Hills - RB, SLIPPERY ROCK
You probably have never heard of Wes Hills or the school he played at (it's between Pittsburgh and Erie, Pennsylvania). Hills' stats are hard to come by, but he did pound his way for 1,714 on 246 carries with 17 touch downs. Productive? Yes. Big, fast, and Elusive? Yes to all three, but this was against D-II schools so a massive adjustment would be needed. He is worth the stash if in the right position.

Those are all my Senior Bowl observations, and yes, I missed some players, but I tried to select players you won't hear as much about during the draft process.
Questions, comments, hit me up on Twitter @The.mbower85.