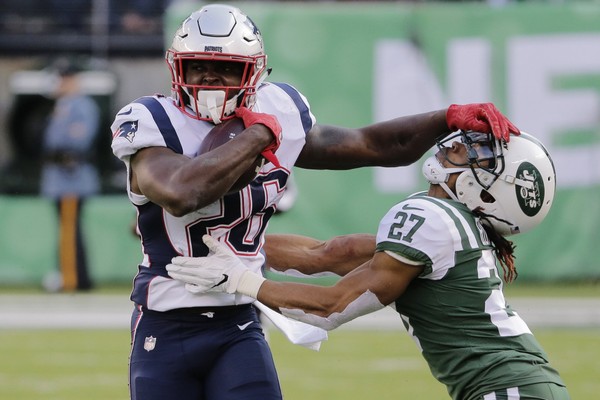 Written by John Adams
18 January 2019
If you are a NFL DFS diehard, you are probably desperately trying to separate the facts from the noise coming into this week's NFL Divisional matchups. With only four teams to choose from, you obviously have to find the best BANG for your buck. But the smart DFS players have a prime opportunity this weekend due to a combination of factors. The dismal Chiefs run defense, the Bill Belichick run philosophy and the weather report for Kansas City. This perfect storm of factors should lead to blowout performances from Pats running backs Sony Michel and James White no matter what the final score is.
Build the best lineups with the power of The Machine for Daily Fantasy Sports
First of all, the Chiefs rush defense is joke, ranking 30th out of 32 teams when it comes to stopping the run. Look no further than the last time the Patriots matched up against Kansas City in mid-October. Sony Michel lit up K.C. for 106 yards and a pair of touchdowns, racking up more than 22 fantasy points. And don't forget James White, he caught five balls for 53 yards and rushed six times for 39 yards. When the dust finally settled, New England finished the day with 173 rushing yards.
If you need more evidence, just look at Week 16. Seattle ran over the Chiefs defense gouging them for 210 yards on the ground and even Doug Martin managed to gash them for 100 yards during the season finale against the Raiders.
Point number two is that the Patriots game plan will be to keep Patrick Mahomes off of the field at all costs. That means that New England will play ball control, grinding it out and eating up the clock with their potent pair of running backs. They are not looking to score too quickly, the Pats game plan has to be ground and pound.
Number three, "Baby, it's cold outside." It's expected to a very chilly 28 degrees at kickoff." The punchless Kansas City defense will be at the mercy of the Patriots. Every time Mahomes throws a quick-strike score, that means the Kansas City run defense will go back on the field with no time to catch their breath.
This makes Sunday's AFC showdown a feast for the DFS players who were bright enough to adopt the New England running attack.
Never miss ASL's latest fantasy sports news.
Send us an email at This email address is being protected from spambots. You need JavaScript enabled to view it. and list the sports you are interested in (NFL, NBA, MLB, NHL) to start receiving ASL's newsletter.