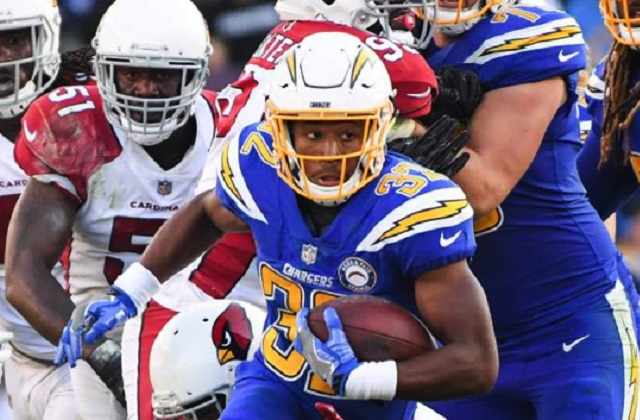 Written by Ernesto Delgado
11 December 2018
I hope you were either enjoying a bye week or have advanced through the first round of playoffs. Either way, I advise you to resist big changes from your lineups and rely more on the players who brought you this far. An injury from here on out can either help you or ruin your chances to the final round. As always, it is important to stay on top injury reports and team depth charts to optimize your chances to the finals. With this report, you'll find players designated with a letter (D, O, Q) use the following key to identify each one:
D: Doubtful
Q: Questionable
O: Out
Injury report:
Carolina Panthers
Injury
Cam Newton (shoulder) Q
Opportunity
TE Ian Thomas TE2 (+)
WR Curtis Samuel and D.J. Moore WR3
The Panthers have been struggling mightily. They have now lost their fifth game in a row. Not because of the players, but because of Cam Newton's health. Recently, he's been missing all but the last day of practice. When asked about the health of his shoulder, Newton responded, "I can't confirm nor deny that I'll have a procedure in the offseason." Furthermore, in the past two games, he has completed a total of two touchdowns and has recently posted a 10.9 (PPR) game-the worst game of his season. With his accuracy dwindling, it's difficult to trust a QB like this in the playoffs, but we can expect a heavy usage out of tight end Ian Thomas and CMC, as they'll be used in the short passes. At this point in the playoffs, owners can safely drop Devin Funchess and rely on Curtis Samuel and rookie D.J. Moore as nothing more than a flex option.
Build the best lineups with the power of The Machine for Daily Fantasy Sports
Pittsburgh Steelers
Injury
 QB Ben Roethlisberger (elbow) Q
After an incredible, toe-tapping catch into the end zone by Smith-Shuster, Big Ben left early into the locker room with a rib injury. In his place, backup QB Josh Dobbs struggled against the Raiders defense by just being able to complete 24 passing yards and 15 rushing yards. What appeared to be a big concern for fantasy owners was later diminished, as Ben returned to play late in the fourth quarter with a very close comeback win. In addition, Mike Tomlin stated after the game that Ben could've returned to play a few series earlier, but the flow of the game prevented it. He should be ready to play the Patriots' 17th-ranked defense next week.
LA Chargers
Injury
RB Melvin Gordon (knee) Q
RB Austin Ekeler (stinger) Q
Opportunity
RB Justin Jackson RB2 (+)
With Melvin Gordon recuperating from a MCL sprain, Austin Ekeler was set to lead the backfield again. He was running well against the Bengals as he caught 2-of-5 targets and rushed for 66 yards and a touchdown. Unfortunately, his production was soon put into a halt as he suffered a stinger, a neck injury that sidelined him for the remainder of the game. On Monday, it was reported that he is having trouble moving his neck and is considered "extremely doubtful" to play against the Chiefs on such a short week. The Chargers are hoping that Melvin Gordon can suit up, but if he isn't able to, Justin Jackson will find himself in a potentially high-scoring game as the lone running back.
Kansas City Chiefs
Injury
WR Tyreek Hill (heel) Q
RB Spencer Ware (shoulder, hamstring) Q
Opportunity
WR Chris Conley WR2
RB Damien Williams RB2
Through strains and hurdles, the Chief's dynamic offense was able to pick up a win against the Raven's stout defense. Near the end of the second quarter, Tyreek Hill and Spencer Ware were seen limping off the field and treated out in the sidelines by the medical staff. With Hill dealing with a heel injury and Ware with a shoulder injury, they both returned to play for their team during the second half. At the end of the day, Hill was able to compile 139 yards on 14 targets while Spencer Ware rushed 15 times and caught all 5 of his targets for 129 yards. On Monday, it was confirmed that Hill's heel is not a serious injury and considered "day to day". Although Hill should play against the Chargers at less than 100 percent, Ware is someone that should be monitored throughout the week, as he suffered a hamstring injury late in the game. We should expect them both to miss a couple of days of practices, but owners are advised to pick up Chris Conley and Damien Williams as insurance. If any setbacks were to occur on a short week, Conley and Williams should be the primary players to see an increase in snaps and targets.
Buffalo Bills
Injury
RB LeSean McCoy (hamstring) Q
Opportunity
RB Chris Ivory RB3
RB Isaiah McKenzie RB4 (+)
McCoy has been struggling all season long, which may partly be due to the unstableness at the quarterback position, but he has been nothing more than a desperation flex option for owners. To add to the strain, he suffered a hamstring injury on the Bills' first offensive drive and was later ruled out in the second half against the Jets. With him sidelined, Ivory and McKenzie split the work, but McKenzie shined in the backfield as he was used in the passing game and rushed for a touchdown. On Monday, McCoy's MRI confirmed he suffered a strain and is considered "day to day". With Detroit visiting them on Sunday, Chris Ivory should see the bulk of the carries as a touchdown-dependent flex option if McCoy is unable to suit up. Aside from Josh Allen, the whole Bill's offense is a team that should be avoided, as consistency is an aspect they lack.
San Francisco 49ers
Injury
Pierre Garcon (knee) O
Opportunity
WR Marquise Goodwin WR4
WR Dante Pettis WR3 (+)
What a year it has been for Kyle Shanahan and the 49ers. Having lost Jerick McKinnon and Jimmy Garoppolo to an ACL injury, Shanahan is now placing Garcon on IR. Aside from Kittle, Goodwin and Pettis are now the primary receivers to own for the rest of the season in this offense. Dependent on matchup, Goodwin will be more of a boom-or-bust flex play as the 49ers are featuring Kittle and Pettis in the offense more.
- - As always, follow me on Twitter: @FantasySight
Never miss ASL's latest fantasy sports news. Send us an email at This email address is being protected from spambots. You need JavaScript enabled to view it. and list the sports you are interested in (NFL, NBA, MLB, NHL) to start receiving ASL's newsletter.