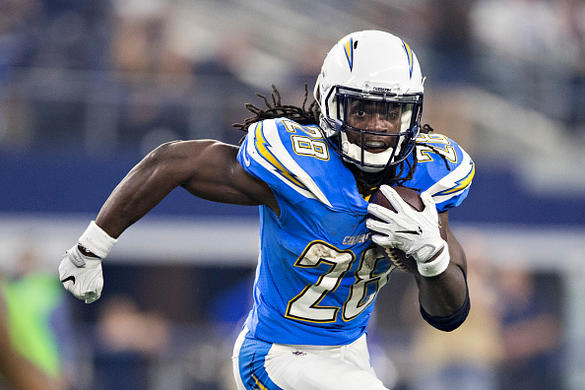 Written by Ernesto Delgado
27 November 2018
With another week in the books, we hope you gained a much needed win to clinch a spot in the playoffs. At this time, we don't need to worry about bye-weeks, back up quarterbacks or tight ends. Instead, use the waiver wire to pick up handcuffs to your most important running backs, as they will more than likely be rested and/or sidelined. More importantly, pick up their handcuffs because an injury can occur any given day. If you haven't made it to playoffs, there is one more week with a chance to make it there, and we are here to help you secure that win. As always, its important to stay on top of injuries and team depth charts to fortify your team. With this report, you'll find players designated with a letter (D, O, Q) use the following key to identify each one:
D: Doubtful
Q: Questionable
O: Out
Injury Report:
Chicago Bears
Injury
QB Trubisky (shoulder) Q
Opportunity
WR Allen Robinson WR3/4
RB Tarik Cohen RB2/3
RB Jordan Howard RB4/5
With Trubisky not suiting up on Thanksgiving Day, back-up quarterback Chase Daniel manned the position. Daniel struggled getting the ball downfield; hence, the low production from Allen Robinson, which also impacted the run game. On paper, it seemed like the Bears would have relied heavily on Jordan Howard, but this was not the case as he rushed for only 13 yards, while Tarik Cohen hauled in 7-of-8 catches for 45 yards and a TD. Trubisky's availability for week 13 is not clear, but he will be monitored throughout practice for any signs of soreness and mobility. Although it is a small sample size, with Daniel performing terribly with the deep-ball, their ground game as well as their passing game will struggle making each position difficult to trust.
Build the best lineups with the power of The Machine for Daily Fantasy Sports
Detroit Lions
Injury
WR Marvin Jones (knee) O
RB Kerryon Johnson (knee) Q
Opportunity
WR Kenny Golladay WR1
RB Theo Riddick RB3
RB Legarette Blount RB4
With Marvin Jones done for the year, Kenny Golladay automatically becomes the WR1. Stafford has been struggling greatly as a QB even more so with the departure of Golden Tate, so it was nice to see Golladay end the game with 90 yards and a very close touchdown. Already thin at wide receiver, the Lions will have to rely more on Golladay, Theo Riddick, and TJ Jones against the Rams during Week 13. In the backfield, with Johnson sidelined, Blount put out a great performance. Rushing for 88 yards and 2 touchdowns against Chicago's stout defense, Blount will become a touchdown-dependent player if Johnson remains out.
Cincinnati Bengals
Injury
QB Andy Dalton (thumb) O
WR AJ Green (toe) Q
Opportunity
QB Jeff Driskel QB2
WR Tyler Boyd WR3/4
TE C.J. Uzomah TE2
WR John Ross WR4
Already losing to the Browns, The Bengals lost their starting QB to a thumb injury in the third-quarter. Andy Dalton was later placed on IR after confirming torn ligaments on his thumb. With the departure of Dalton, the Bengals will rely on Jeff Driskel and recently-signed Tom Savage as his backup. Furthermore, Driskel did play well after Dalton went down as he ended the game with 17-of-29 for 155 yards and a rushing touchdown. The Bengals hope A.J. Green is ready to suit up next week against Denver, but all receivers are somewhat difficult to trust with the change of QB.
Los Angeles Chargers
Injury
RB Melvin Gordon (knee) O
Opportunity
RB Austin Ekeler RB2/3
RB Justin Jackson RB3/4
Already dealing with ankle and knee injuries, Melvin Gordon suffered a knee injury in the third-quarter in a big lead against the Cardinals. It was later confirmed that he has a grade 2 MCL sprain and is week to week. In his absence, the backfield will be split between Austin Ekeler and Justin Jackson, with Ekeler leading the rush. This injury has come in a bad time as it is very close to playoffs and the trade deadline has passed for many owners.
Indianapolis Colts
Injury
TE Jack Doyle (kidney) O
Opportunity
TE Eric Ebron TE1
Jack Doyle was looking as his old self, catching 4-of-4 targets for 16 yards and a touchdown. Surprisingly, he left during the third-quarter and was hospitalized after beating Miami. Coach Frank Reich later confirmed that Doyle had suffered a kidney injury and will be placed on IR. This makes Eric Ebron the TE1 to own who is already Luck's safe red zone target and has 12 touchdowns this season.
Denver Broncos
Injury
TE Jeff Heuerman (ribs, lung) O
Opportunity
TE Matt LaCosse
After posting a season-high 31 catches for 281 yards with the departure of Demaryius Thomas, Heuerman left early in the second half with a back injury. It was later confirmed that he suffered 3 broken ribs and a bruised lung, ending his season. Matt LaCosse, who has been splitting the role with Heuerman, will now become the primary tight end. Catching 3-of-4 targets for 34 yards and a touchdown against the Steelers, he will look to build his rapport with Keenum in a good match-up against the Bengals who are allowing the 6thmost yards to the tight end position.
- - As always, follow me on Twitter: @FantasySight
Never miss ASL's latest fantasy sports news. Send us an email at This email address is being protected from spambots. You need JavaScript enabled to view it. and list the sports you are interested in (NFL, NBA, MLB, NHL) to start receiving ASL's newsletter.