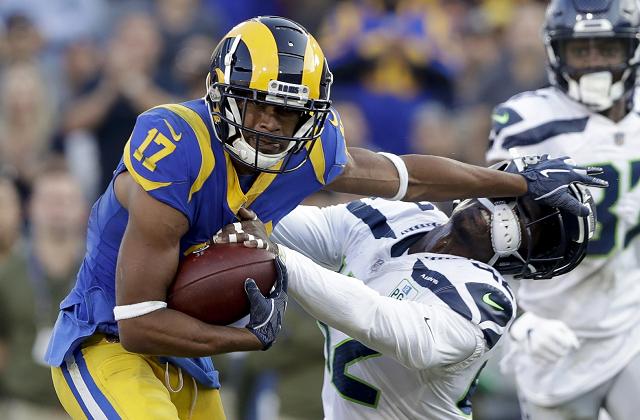 Written by Michael Morrow
15 November 2018
Cooper Kupp tore his ACL this past Sunday ending a promising season packed with fantasy production. This of course poses the question for many fantasy owners – who will replace him? And how will my current players be affected?
If you are looking for replacements, the most obvious choice could be Josh Reynolds. The 6'3 product of Texas A&M is the 4th receiver on the depth chart and will likely see an upswing in targets due to Kupp's absence. When healthy, Kupp averaged nearly 8 targets per game. Reynolds should also benefit from the ability to play inside and outside, keeping him involved in many different schemes going forward.
Gerald Everett is a guy on my radar that can help pick up the slack on those inside routes Kupp was running all season. Expect Sean McVay to adjust to his personnel and use more formations involving tight ends going forward. Also, in an interview following Sunday's game against he Seahawks, Goff mentioned to a reporter how there have been plans to get the tight ends more involved in the passing game. I prefer Everett to Tyler Higbee because of Everett's route running ability. Grabbing a utilized tight end in one of the most dominant offenses in the NFL is something to consider.
Many would think Brandin Cooks would be see the most increase in targets, yards, and touchdowns. However, I expect Robert Woods to cash in on a lot of that extra work with Kupp out for the season. Woods had his best season as a pro last year with the Rams, posting career highs in touchdowns and yards. Ten weeks into this season, Woods has already surpassed his 2017 yard total, however, he has not caught a touchdown since Week 4. With the ability to line up inside and out, expect bigger numbers – and more touchdowns for Woods going forward.
Overall, the injury to Kupp is a major blow to the Rams potent offensive attack. But frankly, the team is just too talented – and too well coached – to sputter. I expect the Rams to utilize a "next man up" attitude and not miss a beat. Fear not, Goff owners… Sean McVay has you in good hands. 
Never miss ASL's latest fantasy sports news. Send us an email at This email address is being protected from spambots. You need JavaScript enabled to view it. and list the sports you are interested in (NFL, NBA, MLB, NHL, EPL) to start receiving ASL's newsletter.