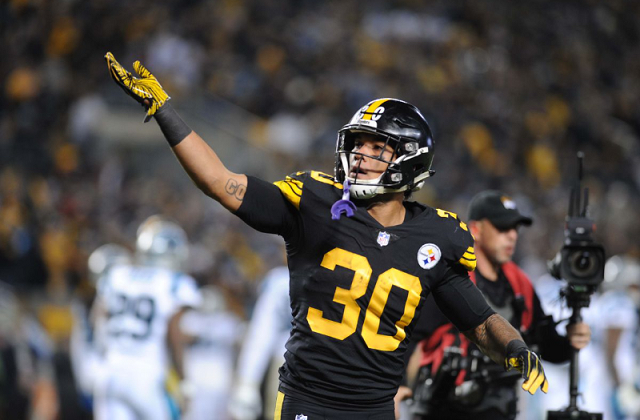 Written by Ernesto Delgado
14 November 2018
We're aware of which players to start against a bad defense and which players to bench against a good defense. Some of us stream defenses, kickers, and even quarterbacks to get the edge against our opponents. Although you can get away with streaming these positions, it is very difficult to avoid the injury bug. Especially during this time of the year, it is very important to stay on top of injuries and depth charts to fortify your team in dire needs.
The following players are designated with a letter (D,Q,O), use the following key to identify each one:
D: Doubtful
Q: Questionable
O: Out
Injury report:
Green bay Packers @ Seattle Seahawks
Injury
Sea, RB Chris Carson (hip, thigh) Q
Opportunity
Sea, RB Rashaad Penny (Flex)
Sea, RB Mike Davis (Flex)
After being pulled out of the Chargers' game, Chris Carson has yet to put in a day of practice from a hip injury. With Carson sidelined against the Rams, the Seahawk's relied on Mike Davis and rookie Rashaad Penny to take on the rushing duties. Even after rushing 11 times for 58 yards, 22 receiving yards, and a touchdown, Davis was still out touched by Penny. With only 39% of the snaps, Penny showed great elusiveness against the Rams, earning 5.6 yards after contact, 108 yards and a touchdown. On a short week before they face the Packers, Penny can be seen as a flex option with upside if Carson is unable to suit up at home.
Build the best lineups with the power of The Machine for Daily Fantasy Sports.
Pittsburgh Steelers @ Jacksonville Jaguars
Injury
Pitt, RB James Conner (concussion) Q
Opportunity
Pitt, RB Jaylen Samuels and Steven Ridley
Conner has been playing at an elite level, gaining five-100 rushing yards in the past 9 games, putting him on pace for over 2000 yards. Sadly, he suffered a concussion against the Carolina Panthers, as Mike Tomlin tried to ease his playing time after the Baltimore game. If Conner can't go, Jaylen Samuels and Steven Ridley will split the backfield carries.
Carolina Panthers vs Detroit Lions
Injury
Det, WR Marvin Jones (ankle) Q
Opportunity
Det, WR Kenny Golladay - WR2 (+)
Det, RB Theo Riddick (Flex)
Det, WR TJ Jones (Flex) (deeper Leagues)
Kerryon Johnson was unable to practice last week, but was able to suit up against the Chicago Bears. Logging in almost 90 combined yards and two touchdowns, Johnson's knee was no concern. Unfortunately, Marvin Jones was sidelined in the third quarter after being knocked out by Bryce Callahan. After the MRI report, the Lions were relieved to discover that Jones did not suffer damage to his ACL or MCL, but he will be day to day. His health will be monitored as he practices, but his targets will be split amongst Golladay, Theo Riddick, and TJ Jones if Marvin Jones is to sit out.
Cincinnati Bengals @ Baltimore Ravens
Injury
Cin, WR A.J. Green (foot) D
Bal, QB Joe Flacco (hip) Q
Opportunity
Cin, WR Tyler Boyd WR2 (+)
Cin, WR John Ross (Flex)
Bal, QB Lamar Jackson QB2 (+)
All Baltimore receivers (Flex)
Bal, TE Hayden Hurst TE2 (+)
During their bye-week, the Ravens reported that Flacco had suffered a hip injury during their matchup against the Steelers. He is currently seeking medical opinions about the severity of the issue. Surgery and/or prolonged rest are both an option at the moment. If he was to sit out, expect their first-round pick Lamar Jackson to start. Although Jackson has been gaining most of his production from his rushing abilities, he has had a bye-week to get even more comfortable with  his receivers. Initially, this change will affect all receivers; we've seen a glimpse of chemistry with TE Hayden Hurst, but its unclear to which receiver he'll connect with the most. Fortunately, the Ravens do have one of the easiest schedules for all positions during playoffs, so expect Lamar Jackson to be in many teams.
Houston Texans @ Washington Redskins
Injury
Was, RB Chris Thompson (Ribs) D
Opportunity
Was, RB Adrian Peterson RB2 (+)
Was, RB Kapri Bibbs (Flex) (match-up based)
Chris Thompson has been dealing with a rib injury and is no where close to returning, so we will continue to see Adrian Peterson as the lead rusher with Kapri Bibbs filling in as a second option.
Denver Broncos @ Los Angeles Chargers
Injury
Den, RB Royce Freeman (ankle) Q
Opportunity
Den, RB Phillip Lindsay (Flex) (+)
Den, RB Royce Freeman (Flex)
Suffering from a high ankle sprain after playing Arizona in week 7, Royce Freeman has missed two games and now had the bye week to recover. The team hopes to see Freeman suit up against the Chargers, but he will need to put in a full week's of practice to achieve that. In his absence, Philip Lindsay has received most of the carries and will continue to do so for as long as Freeman is out.
Philadelphia Eagles vs New Orleans Saints
Injury
Phi, RB Darren Sproles (hamstring) O
NO, WR Dez Bryant (Achilles) O
Opportunity
Phi, RB Josh Adams (Flex) (deeper leagues)
With Darren Sproles making a short return, Wendell Smallwood and Corey Clement were out-touched by undrafted rookie Josh Adams. Having a combined 108 yards for 16 carries, Josh Adams leads this RBBC, but neither back can be heavily relied on in this pass-first offense. Being praised of having similar talents as Jay Ajayi, Coach Doug Pederson has stated that Adams will get more carries moving forward. Adams will find himself in a difficult matchup against the Saints' rushing defense that allows 3.7 yards per carry and 80 yards per game. He is worth a pick-up in Dynasty leagues.
Similar to the return of Sproles, Dez Bryant was about to play for a high scoring offense capable of making the play offs. Unfortunately, he injured his Achilles tendon during practice. In his place, the Saints recently picked up veteran receiver Brandon Marshall, but do not expect much production from him unless an injury occurs. As it is today, the Saints will rely on elite receiver Michael Thomas, elite back Alvin Kamara, Mark Ingram, and rookie Tre'Quan Smith to lead the offensive plays. 
Kansas City Chiefs @ Los Angeles Rams
Injury
KC, WR Sammy Watkins (foot) Q
Opportunity
LA, WR Robert Woods and Brandin Cooks WR1
LA, WR Josh Reynolds (Flex)
Rams wideout Cooper Kupp is done for the year which could provide added fantasy value for Robert Woods, Brandin Cooks, and Josh Reynolds to move the sticks against the Kansas City Chiefs during Week 11.
During Week 10, the Chiefs leaned on their three-headed assault led by Tyreek Hill, Kareem Hunt, and Travis Kelce to defeat the Arizona Cardinals. With the remainder of the targets, Demarcus Robinson received two more than Chris Conley, but neither made enough of an impact to become playable. If Watkins is to remain sidelined, expect his targets to be split in the same fashion.
Oakland Raiders @ Arizona Cardinals
Injury
Oak, WR Martavis Bryant (knee) Q
Opportunity
Brandon LaFell (Flex) (deeper leagues)
Oak, TE Jared Cook TE2 (+)
Oak, RB Jalen Richard (Flex)
In the third quarter, Bryant was forced to sit out after attempting to catch a pass at the sidelines. The Raiders fear that Bryant may have torn his PCL, but they will know more after the MRI test results. With Bryant injured, the Raiders will rely even more on Brandon LaFell, Jared Cook, and Jalen Richard to handle most of the carries on their struggling offense.
New York Jets (bye)
Injury
QB Sam Darnold (foot) Q
WR Robby Anderson (ankle) Q
Opportunity
NY, WR Robby Anderson àFlex (+)
NY, WR Quincy Enunwa (Flex) (deeper leagues)
Anderson has not set foot in practice all week after sustaining an ankle injury. Listing him as Doubtful against the Buffalo Bills, Quincy Enunwa lead the team in targets, catching 4 of 8 for 18 yards. With Darnold dealing with a foot injury of his own, Josh McCown struggled against the Bills' defense, throwing for only 135 yards in a giant loss against the Buffalo Bills. The whole team will have the bye week to recover, but we can expect speedy receiver Anderson to be the favorite target for Josh McCown if Darnold needs more time to rest.
New England Patriots (bye)
Injury
NE, WR Julian Edelman (ankle) Q
NE, TE Rob Gronkowski (back) Q
Opportunity
NE, WR Julian Edelman and Josh Gordon àWR2 (+)
NE, RB James White and Sony Michel àRB2 (+)
Rob Gronkowski was sidelined once more, so it was up to Edelman, White, Michel, and Gordon to play against the Titans. Initially entering the game with an ankle injury, Edelman was able to put in a great performance against the Titans, catching 9 targets for 104 yards. Unfortunately, his hard work aggravated his ankle injury forcing him to be sidelined for the remainder of the fourth quarter. Edelman and Gronkowski will have the bye week to rest. If Gronk can not suit up, expect more targets for all receivers and especially James White.
 - - As always, follow me on Twitter: @FantasySight
Never miss ASL's latest fantasy sports news. Send us an email at This email address is being protected from spambots. You need JavaScript enabled to view it. and list the sports you are interested in (NFL, NBA, MLB, NHL) to start receiving ASL's newsletter.