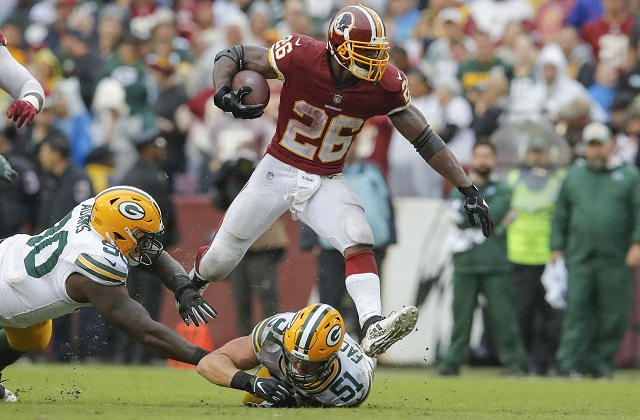 Written by AJ Schreiver
13 November 2018
RB Adrian Peterson, Washington Redskins 
Adrian Peterson continues to defy the odds and had 19 rushing attempts during Sunday's win against Tampa. The winning formula for Washington will continue to be its ground game even with the loss of three offensive linemen. It might take a couple weeks for the back up offensive line to get their feet under them, but I expect Peterson to continue to get lots of work on the ground so he is a KEEP.
WR Devin Funchess, Carolina Panthers
I have never been a Devin Funchess truther because of Cam Newton's quarterback style, but Funchess is still averaging 6 targets a game and is the big body receiver Cam can lean on. KEEP Funchess with a team that will have great defensive match-ups through the fantasy playoffs.
WR Mohamed Sanu, Atlanta Falcons
Calvin Ridley and Austin Hooper have both stepped up in the passing game for the Falcons since Week 7 as where Sanu has suffered from a steady decline in production. CUT ties with Sanu who provides no upside in an offense with a lot more options ahead of him.
RB Peyton Barber, Tampa Bay Buccaneers
Look, there just isn't a way Barber is ever going to help your fantasy team. The Bucs sorry defense and offensive line provides minimal opportunity for Barber in the run game and I think Fitzpatrick is going to enjoy his time while it lasts chucking the ball down field consistently. CUT Barber and find your worthy hand cuffs for the playoff run.
RB Rashaad Penny, Seattle Seahawks
Penny is an obvious talent and just needs opportunity, enough said ACQUIRE Penny.
WR Anthony Miller, Chicago Beers
Miller was raved about after the 2018 draft but he got out to a slow rookie start. But in the past five weeks, he has caught 16 passes, 3 of those going for touchdowns. Sunday he broke out for 122 yards making him an ACQUIRE candidate and a WR 3 for this week.
WR Maurice Harris, Washington Redskins
Maurice Harris may be a deeper find, but during the past two weeks, he has come out of no where to fill the roll we all thought the now injured Jamison Crowder would play for Alex Smith. ACQUIRE Harris who is a decent WR 3 in PPR formats with 15 receptions and 176 yards over the past two games.
Further questions? Get at me on Twitter -- @ajsports4u_ASL -- for answers, and I may feature your player on next week's Keep, Cut, Acquire.
Never miss ASL's latest fantasy sports news. Send us an email at This email address is being protected from spambots. You need JavaScript enabled to view it. and list the sports you are interested in (NFL, NBA, MLB, NHL, EPL) to start receiving ASL's newsletter.