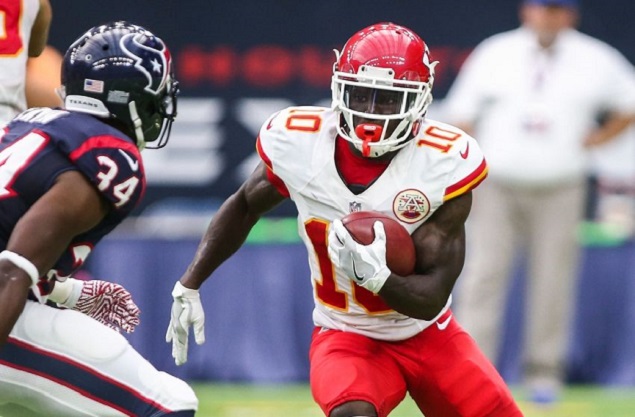 Written by Brian Murphy
18 October 2018
Here are the top 50 WRs for standard leagues in Week 7, according to ASL's Brian Murphy. Whom are you trusting to be your WR3 this weekend?
These standard ranks are updated as of Oct. 18
Other Week 7 Ranks:  Top 25 QBs || Top 40 RBs || Top 20 TEs


Build the best lineups with the power of The Machine for Daily Fantasy Sports


The Tennessee Titans-Los Angeles Chargers game will be played in London.
| | | | |
| --- | --- | --- | --- |
| Rank | Player | Team | Opp |
| 1 | Julio Jones | ATL | NYG |
| 2 | Adam Thielen | MIN | @NYJ |
| 3 | A.J. Green | CIN | @KC |
| 4 | Mike Evans | TB | CLE |
| 5 | Odell Beckham Jr. | NYG | @ATL |
| 6 | Tyreek Hill | KC | CIN |
| 7 | Stefon Diggs | MIN | @NYJ |
| 8 | Keenan Allen | LAC | TEN |
| 9 | Brandin Cooks | LAR | @SF |
| 10 | Michael Thomas | NO | @BAL |
| 11 | DeAndre Hopkins | HOU | @JAC |
| 12 | Kenny Golladay | DET | @MIA |
| 13 | Robert Woods | LAR | @SF |
| 14 | Jarvis Landry | CLE | @TB |
| 15 | Alshon Jeffery | PHI | CAR |
| 16 | Emmanuel Sanders | DEN | @ARI |
| 17 | Tyler Boyd | CIN | @KC |
| 18 | Golden Tate | DET | @MIA |
| 19 | Allen Robinson | CHI | NE |
| 20 | John Brown | BAL | NO |
| 21 | Calvin Ridley | ATL | NYG |
| 22 | Julian Edelman | NE | @CHI |
| 23 | Josh Gordon | NE | @CHI |
| 24 | T.Y. Hilton | IND | BUF |
| 25 | Devin Funchess | CAR | @PHI |

Build the best lineups with the power of The Machine for Daily Fantasy Sports


| | | | |
| --- | --- | --- | --- |
| Rank | Player | Team | Opp |
| 26 | Demaryius Thomas | DEN | @ARI |
| 27 | Marvin Jones | DET | @MIA |
| 28 | Chris Godwin | TB | CLE |
| 29 | DeSean Jackson | TB | CLE |
| 30 | Michael Crabtree | BAL | NO |
| 31 | Nelson Agholor | PHI | CAR |
| 32 | Corey Davis | TEN | LAC |
| 33 | Marquise Goodwin | SF | LAR |
| 34 | Mohamed Sanu | ATL | NYG |
| 35 | Sterling Shepard | NYG | @ATL |
| 36 | Will Fuller | HOU | @JAC |
| 37 | Taylor Gabriel | CHI | NE |
| 38 | Sammy Watkins | KC | CIN |
| 39 | Jermaine Kearse | NYJ | MIN |
| 40 | Keelan Cole | JAC | HOU |
| 41 | Chester Rogers | IND | BUF |
| 42 | Kenny Stills | MIA | DET |
| 43 | Christian Kirk | ARI | DEN |
| 44 | Keke Coutee | HOU | @JAC |
| 45 | Robby Anderson | NYJ | MIN |
| 46 | Mike Williams | LAC | TEN |
| 47 | Chris Hogan | NE | @CHI |
| 48 | Antonio Callaway | CLE | @TB |
| 49 | Albert Wilson | MIA | DET |
| 50 | Donte Moncrief | JAC | HOU |

You can follow, ask fantasy questions and yell at Brian on Twitter: @Spokes_Murphy
Never miss ASL's latest fantasy sports news. Send us an email at This email address is being protected from spambots. You need JavaScript enabled to view it. and list the sports you are interested in (NFL, NBA, MLB, NHL, EPL) to start receiving ASL's newsletter.