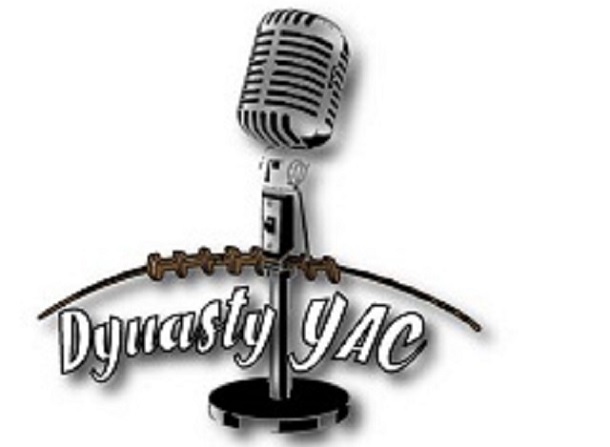 Written by Levi Andrew
02 October 2018
Episode 16 of Dynasty YAC kicks off with Levi (@LeviAndrewFF) and Pete (@_PeteLaw) discussing Week 4 in the NFL. We cover the AFC East game between the Patriots and Dolphins. Then we swing down to Nashville to talk about the Titans upsetting the Eagles in OT. We end it with some Bengals-Falcons talk and what to do with all the skill players on those two teams. We then take our weekly Devy Dive and rush through a couple of running backs. We wrap up with some buy-low/sell-high players. Hit us up on Twitter -- @DynastyYAC -- to let us know what you think.
Stitcher: https://www.stitcher.com/s?fid=206655&refid=stpr
Google: https://play.google.com/music/m/Iivikgxdefqstabtzf7fp5rs424?t=Dynasty_
PodBean: https://www.podbean.com/media/share/pb-tqszt-9b3197
iTunes: https://itunes.apple.com/us/podcast/dynasty-yac/id1408498232
Spotify: https://open.spotify.com/show/0kLXGj3waOi7mIwsKs7li2?si=tU3Dk49sSr6zVhKrirBLkw
As always, subscribe, rate and review the show. We're on iTunes, Google Play, Podbean, Spotify and Stitcher.
Intro/Outro music by Mugly "Too Trashed for Love" Find them on iTunes and Spotify.


As always, follow me on Twitter: @LeviAndrewFF
Never miss ASL's latest fantasy sports news. Send us an email at This email address is being protected from spambots. You need JavaScript enabled to view it. and list the sports you are interested in (NFL, NBA, MLB, NHL, EPL) to start receiving ASL's newsletter.