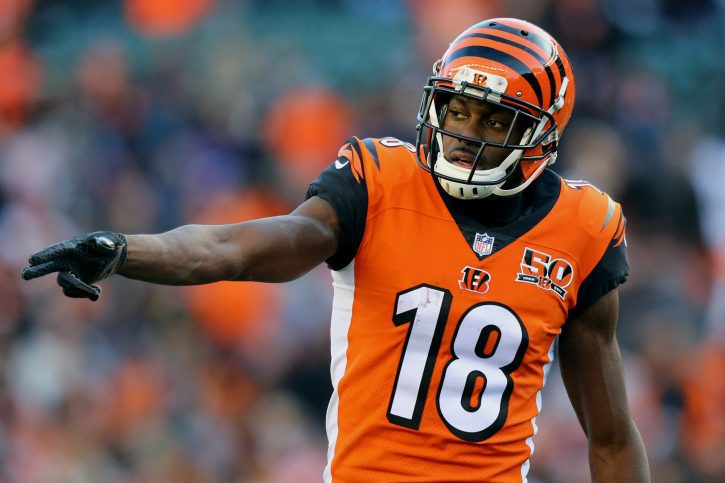 Written by Jason Ostresh
06 September 2018
Whether you play in redraft, dynasty or daily formats, it is critical to know who will outperform their projections each week to ensure you maximize your lineup contributions. Individual matchups, opposing defenses and even upcoming weather reports are often key differentiators that help determine the right play. We all know there are times when your late-round pick should be started over your big-name player, and this article will provide that kind of guidance each week.


To win your league, start by winning your draft. Draft Analyzer can make you a champion! New in 2018 - full sync to all leagues!



Stock Up
QB Ben Roethlisberger, Pittsburgh Steelers @ Cleveland Browns
Big Ben has always been a crapshoot playing away from home over the course of his career, but he reversed that trend somewhat in 2017. Ben shot out of the gate last year in Cleveland with 263 yards passing and a couple of scores, and that should be the absolute floor for him this week as his setup is fantastic. In case you haven't heard, Le'Veon Bell still has not reported to team headquarters as of this writing, meaning Pittsburgh will have to rely heavily on the pass versus a Browns defense that is still trying to find its identity. Typically in the top-10 conversation, Roethlisberger will put up top-five stats this week.
RB Jamaal Williams, Green Bay Packers vs. Chicago Bears
While Chicago has made some splashy headlines of late, the Bears remain in the very early stages of a complete rebuild. The Packers are on the opposite side of the spectrum: A veteran team and an established offense opening at home. This one could get ugly early with Williams dominating touches and controlling the clock throughout the second half. Williams did not do much against Chicago's surprisingly stout defense last year, but in Week 1 of 2018, he is looking like a top-12 option.
WR A.J. Green, Cincinnati Bengals @ Indianapolis Colts
After a strong preseason where he showed excellent chemistry with the Red Rifle, Green is set to dominate a young Colts secondary that will be simply overmatched from the first snap. Green is looking to start 2018 with a bang following one of his most disappointing seasons, one in which he put up just three 100-yard efforts. He will clear 100 right out of the gate this season and make the Colts look silly on his way to a top-three WR finish this week.
TE Jack Doyle, Indianapolis Colts vs. Cincinnati Bengals
With the Bengals set to rip the Colts' secondary apart, Indy will have to pass and pass often to keep pace. Add that likely scenario to the Colts' backfield questions, and all of their receivers get the seal of approval. T.Y. Hilton should draw consistent double coverage, leaving both Colts tight ends -- Doyle and Eric Ebron -- roaming free in the short and intermediate areas. Doyle had a very strong rapport with Andrew Luck previously and managed 80 receptions and nearly 700 yards with the legendary Jacoby Brissett under center in 2017. The fact that the Bengals ranked nearly dead last in tight end coverage last year is just icing on the cake.


To win your league, start by winning your draft. Draft Analyzer can make you a champion! New in 2018 - full sync to all leagues!



Stock Down
QB Kirk Cousins, Minnesota Vikings vs. San Francisco 49ers
Cousins lit up the 49ers for one of his best performances of 2017, compiling 8.9 yards per pass attempt on his way to 330 yards and three total scores in a 26-24 barnburner. Things are very different this year, however, as Cousins is still finding his way in the Vikings' high-octane offense behind a banged-up line that will have trouble protecting him. Questions riddle his backfield mates as well; chief among them is how many touches RB Dalvin Cook can handle this week. Cousins will reward you for drafting him, but this is the week to look for better options.
RB Marshawn Lynch, Oakland Raiders vs. Los Angeles Rams
Marshawn will have some strong performances this year, but this will not be one of them. Not only do the Rams present one of the most formidable fronts that Lynch will face this year with the offseason addition of Ndamukong Suh, the Rams could get out to an early lead and force the geriatric Raiders to abandon the run completely. This one scares me enough to leave Lynch outside of my top-30 running backs this week.
WR Marquise Goodwin, San Francisco 49ers @ Minnesota Vikings
Goodwin was one of the hottest names in drafts this year, seemingly climbing the ADP ladder each week. This week, however, the love affair comes to an end with Goodwin putting up a dud against the Vikings' stifling defense and arguably the best cover corner in the NFL, Xavier Rhodes. Yes, Goodwin showed a strong rapport with Jimmy Garoppolo in 2017, averaging 5.8 receptions and 76.8 yards in Jimmy G's five starts. But he is better left squarely on your bench for Week 1.
TE Evan Engram, New York Giants vs. Jacksonville Jaguars
There have been concerns about Engram's usage throughout the offseason following the return of WR Odell Beckham Jr. and the addition of RB Saquon Barkley. The conversations are sure to get uglier after his Week 1 performance against a shutdown Jags defense.  Engram's real value doesn't come via yardage as he surpassed 70 yards only twice as a rookie last season. You drafted him because of his scoring potential, but that potential doesn't exist in a matchup between Eli Manning and the NFL's most elite defense. Engram is still in the TE1 conversation for the week, but just barely. He will finish outside the top 10 on Sunday.

Never miss ASL's latest fantasy sports news. Send us an email at This email address is being protected from spambots. You need JavaScript enabled to view it. and list the sports you are interested in (NFL, NBA, MLB, NHL, EPL) to start receiving ASL's newsletter.