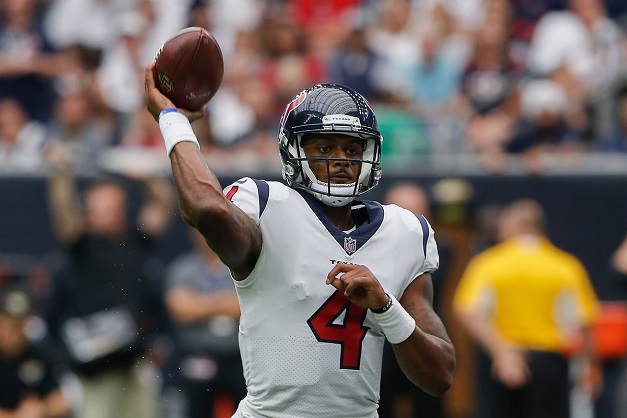 Written by Brian Murphy
23 August 2018
A couple of weeks ago, I and a few other ASL experts compiled our QB rankings to create a consensus positional ranking. Since then, here are the changes I have made to my own quarterback rankings, which I have updated below: 
-- I flip-flopped Deshaun Watson and Matthew Stafford to 7 and 8, respectively. I wouldn't say I love Watson this year, especially at his astronomically high ADP in some leagues. But there is also a legitimate non-zero chance he finishes as the No. 1 player at his position. That upside is worth more than Stafford, who is a very fine fantasy quarterback but will not end up in the top five.
-- Another flip-flop with Andrew Luck and Jimmy Garoppolo at 11 and 13, respectively. Luck has not put up boffo numbers during the preseason. But that's not really important. What is important is that his passes have looked generally sharp and been delivered with some good speed. I think he's more rusty than recovering at this point, and I'm ready to move him back into QB1 range. Jimmy G, as I said in my consensus write-up on him, is probably going to alternate really good fantasy days with really bad ones this year.
-- I moved Patrick Mahomes up one spot in front of Matt Ryan. In that QB2 range, you're much better off going with Mahomes' upside. The kid has some pretty freakish ability. That's been on display this month.
-- Eli Manning is up a few spots to No. 19. Look, I know he's running on fumes, but the Giants' defense isn't great, and Eli has every type of offensive skill-position weapon available to him. At the very least, I had to move him past Blake Bortles. I don't know what I was thinking there. Apologies.
-- I bumped out Case Keenum for Andy Dalton. You're getting desperate in that range, but I do believe last year was a fluke for Keenum. I've been pretty down on the Denver offense as a whole this summer.
-- My top five didn't change. I thought hard about moving No. 6 Carson Wentz down with all of the "will he, won't he?" speculation over his Week 1 playing status. But I firmly believe he'll be out there as the starter in a couple of weeks, and I feel like there is a clear line of demarcation between him and the QBs beneath him.


IT'S HERE! Draft Analyzer can now sync to all fantasy leagues! Get Draft Analyzer to make yourself a champion!


More rankings: Consensus Top-50 RBs || Consensus Top-50 WRs
| | | |
| --- | --- | --- |
| Rank | Player | Team |
| 1 | Aaron Rodgers | GB |
| 2 | Russell Wilson | SEA |
| 3 | Tom Brady | NE |
| 4 | Cam Newton | CAR |
| 5 | Drew Brees | NO |
| 6 | Carson Wentz | PHI |
| 7 | Deshaun Watson | HOU |
| 8 | Matthew Stafford | DET |
| 9 | Kirk Cousins | MIN |
| 10 | Ben Roethlisberger | PIT |
| 11 | Andrew Luck | IND |
| 12 | Philip Rivers | LAC |
| 13 | Jimmy Garoppolo | SF |
| 14 | Marcus Mariota | TEN |
| 15 | Jared Goff | LAR |
| 16 | Alex Smith | WAS |
| 17 | Patrick Mahomes | KC |
| 18 | Matt Ryan | ATL |
| 19 | Eli Manning | NYG |
| 20 | Dak Prescott | DAL |
| 21 | Derek Carr | OAK |
| 22 | Mitch Trubisky | CHI |
| 23 | Blake Bortles | JAC |
| 24 | Jameis Winston | TB |
| 25 | Andy Dalton | CIN |
You can follow, ask fantasy questions and yell at Brian on Twitter: @Spokes_Murphy
Never miss ASL's latest fantasy sports news. Send us an email at This email address is being protected from spambots. You need JavaScript enabled to view it. and list the sports you are interested in (NFL, NBA, MLB, NHL, EPL) to start receiving ASL's newsletter.