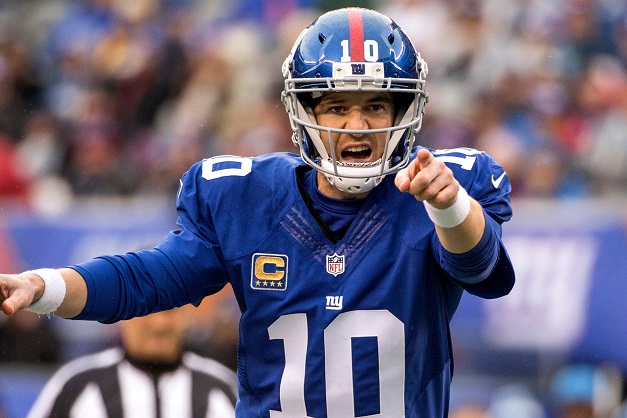 Written by Josh Rabbitt
23 August 2018
Wow. Last week may have been my favorite preseason week to date. So many of the guys I was hoping to break out got a huge opportunity, and I feel like I am on to a few things here. I am not sure if I will do a Week 4 preseason preview, but Week 3 is, of course, the regular-season dress rehearsal, so we should be able to get a good window into some things happening inside the NFL.
Eagles vs. Browns
Eagles RB Josh Adams: Adams was beat up last week, so he didn't get a chance to play. Week 3 should tell me a whole bunch about him. If he sees time in the first half, he will not only make the team but play a major role before the season is out.
Browns WR Rashard Higgins: Well, Nick Chubb wasn't quite as bad as he was in the opener, but I still don't think he is very good. I also am not a fan of Antonio Callaway. Conversely, Higgins has really impressed me and doesn't have the issues -- at least not publicly -- that seem to revolve around Callaway.

IT'S HERE! Draft Analyzer can now sync to all fantasy leagues! Get Draft Analyzer to make yourself a champion!

Broncos vs. Redskins
Broncos QB Chad Kelly: OK, I guess I'm in on Kelly. I am not a huge believer of his, but he just might be the best thing the Broncos have on their QB depth chart. Anything that pushes Paxton Lynch off the roster, I believe in it. We may see Chad play only in the fourth quarter, but I am hoping Denver wants to see what he can do with the first-stringers for a series or two.
Redskins TE Jordan Reed: Man, RB Samaje Perine looked AWESOME ... for one play ... before he got hurt. This time, I want to take a peek at Reed and his interactions with Alex Smith. I feel like Reed is going to see just a massive target share. Health permitting, he may be the biggest steal of your draft. No one believes in him, but if he is moving well, perhaps his feet are better this year.
Giants vs. Jets
Giants QB Eli Manning: Well, we didn't get to see Saquon Barkley last week, so that was disappointing. This week, I want to see what Eli does with the array of talent around him. No quarterback is in a better position to have a surprisingly great season at than Eli. However, he simply just might not be good enough to get the job done. This game could tease the future for a bunch of fantasy playmakers.
Jets QB Sam Darnold: Despite Teddy Bridgewater clearly being the better option, it sounds like the Jets are going full speed ahead with the wholly average Darnold. Typical Jets. I want to see how this "awesome" high draft pick does this week after falling pretty flat last week. Having Darnold under center kind of knocks some of the shine off an underrated Jets WR corps.
Patriots vs. Panthers
Patriots RB Rex Burkhead: Well, Burkhead is back at practice, and hopefully we get to see how he operates near the goal line this week. Unfortunately, I have to guess sometimes as to whether a player is going to play or not. In the preseason, it can be pretty difficult to know for sure.
Panthers RB Christian McCaffrey: C-Mac looked pretty incredible last week. After being a bit overhyped as a rookie, this may be his chance to turn the NFL on its head. C.J. Anderson simply isn't a very good player and shouldn't take too many of the young stud's carries.
Seahawks vs. Vikings
Seahawks RB Chris Carson: Can Carson carry the load this season for the Seahawks? Rashaad Penny's injury can really open a door for him to take over. However, the more relevant question is this: Do we care if Carson is the lead back? Seattle had one non-Russell Wilson rushing TD last year.
Vikings RB Dalvin Cook: Well, my idea of Cook and Latavius Murray acting as a timeshare may have flown out the window due to the latter's fumbling issue. However, I'm simply not a fan of Cook. I don't think he is a special NFL running back. However, I'm leaving the door open for him to surprise me.
Lions vs. Buccaneers
Lions WR Kenny Golladay: Golladay is apparently running as the No. 2 wideout in Detroit. If that is the case, he is a screaming-hot value at his current ADP. Not only that, but Golden Tate is sitting on the last year of his deal. We may have a huge dynasty opportunity to acquire as well with Kenny. Or perhaps this is all smoke and mirrors? We should find out in the regular-season dress rehearsal.
Buccaneers WR Mike Evans: I am betting quite a bit that last year was an outlier for Evans. He will have a great bounce-back season and reclaim his elite status in fantasy. But it would be nice if he could display chemistry with Tampa Bay's top two QBs.
Texans vs. Rams
Texans WR Braxton Miller: The once-touted sleeper seems to be on his last legs. Does Miller have enough juice to earn his roster spot or is he going to fade away?
Rams QB Jared Goff: I am hoping we get our first preseason look at my second-favorite sleeper QB this week. Goff was brilliant last year, but for some reason, almost no one cares. The Rams added an All-Pro talent at WR, and the fantasy community greets it with a yawn. It's like after one year stuck with Jeff Fisher, the fantasy community has written off a brilliant quarterback.
Titans vs. Steelers
Titans WR Taywan Taylor: Taylor is secretly his team's best wideout. However, how much will it matter for fantasy owners if he's buried behind the underrated Rishard Matthews and former first-rounder Corey Davis? If Taylor can get a starting spot, he will be at least a WR3 in fantasy.
Steelers TE Bucky Hodges: Football games are not played on paper. If they were, Hodges would be your dream TE. However, unfortunately for him, he has bounced around the league after being a huge threat for Virginia Tech. This is the third team he will be on that has a weak TE corps. Can he crack the 53-man roster? It seems like he has the potential to put up video-game numbers. He is 6-foot-6, 257 pounds and runs a 4.57 40-yard dash. There have to be ways he could be used.
49ers vs. Colts
49ers RB Jeremy McNichols: Have injuries opened the door for everyone's favorite former Bucs sleeper? McNichols might get a shot if the rest of the backs in front of him can't stay healthy. By my eyes, he looks much better this year and seems to be running with a sense of purpose.
Colts QB Andrew Luck: Alright, we saw a little good last week. Then we saw a little bad. This is the story of the offseason for me. I simply am not convinced he can not throw the ball for more than a year and then come back and have a quality NFL season. This dress rehearsal should tell us a lot.
Falcons vs. Jaguars
Falcons RB Tevin Coleman: I'm not sure there are enough carries available to support him as an RB3/flex sort of guy, and for some reason, the Falcons want to keep pushing Devonta Freeman over him. Coleman should land a nice-sized, Jerick McKinnon-style contract next offseason, and perhaps with another great performance or 20, he can force this into being more of a timeshare.
Jaguars QB Blake Bortles: The worst starting QB in the league is going to have to be better if the ADPs of some of his wide receivers are going to make sense. He certainly has the weapons and the offensive line, but Bortles has looked overmatched from the time he set out on the field.
Ravens vs. Dolphins
Ravens WR John Brown: Just when I assume his NFL career is dead, he sucks me back in. Can he really be a fantasy starter this year or is what we are seeing right now a mere setup that leads to more disappointment? I'm leaning toward the latter but am willing to admit I'm wrong if I see something more.
Dolphins RB Kenyan Drake: Is he ready for fantasy stardom or just another committee back in a bad offense? I have heard reports both ways and can't wait to see what my eyes tell me this week. I think he could be great, but I don't trust his coaching staff at all.
Saints vs. Chargers
All Saints RBs: We have been told up and down that Alvin Kamara's usage is not going to change while Mark Ingram is suspended. Why would they wear him down when they know how effective he was in the role he had last year? The smart money would be on Shane Vereen to contribute more, but I think he plays a role too similar to Kamara's. Maybe young Boston Scott can earn himself a paycheck? One of these dudes is going to pick up the slack for Ingram over the first four weeks. 
Chargers TE Virgil Green: Alright, it happened again. I am sucked back in to believing Green will have a significant role this season. You would think that if Antonio Gates was going to sign, it would have happened already. Philip Rivers loves his TEs in the red zone. Green is dripping with physical talent. Can this FINALLY be the year he unlocks his potential?
Bengals vs. Bills
Bengals QB Andy Dalton: Dalton used to be a really underrated QB. However, I just don't know that he has "it" anymore, whatever "it" is. I no longer see the player who was careful with the ball and whom you could count on to quietly accumulate stats. He seems rattled from the start of the game and throwing balls for anyone to grab. If the Bengals are going to get into the playoff conversation, they need better play from their QB.
Bills QB Josh Allen: So, Baker Mayfield has to sit and learn for a year, but Allen, Mr. Rocket Ball to Nowhere, gets the dress-rehearsal start? Sweet. Lock and load the defense playing the Bills each week. If Allen plays, you will get big points. I'm very confident he will not succeed.
Cardinals vs. Cowboys
Cardinals RB David Johnson: As a major DJ investor in dynasty leagues (because I, like, watch the preseason), here is what I want the Cardinals to do: NOT PLAY HIM. You have one of the best weapons in the NFL. He got some good snaps in Week 2. Maybe trot him out for a series this week, but then put him on ice until Week 1.
Cowboys QB Dak Prescott: Man, Dak looked sharp last week. I am starting to really believe he is a QB1 even without any serious weapons. He is one of the many reasons why you should wait on quarterbacks this year. If you pair Dak with Jared Goff, Patrick Mahomes or Mitch Trubisky, you are almost certain to get a QB1 out of that group. Perhaps even a second one to play the matchups with or trade. Hopefully, Dak can keep rolling this weekend.


Never miss ASL's latest fantasy sports news. Send us an email at This email address is being protected from spambots. You need JavaScript enabled to view it. and list the sports you are interested in (NFL, NBA, MLB, NHL, EPL) to start receiving ASL's newsletter.