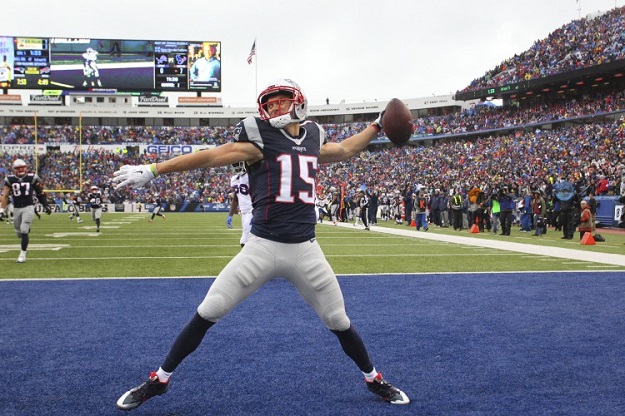 Written by Jimmy Williams
21 August 2018
I have done many drafts over the past two months and have seen several players' average draft position move up and down during that time. Here are five guys who I think have become value picks in PPR formats.
WR Chris Hogan, New England Patriots
In June, he was going in the eighth round. By July, I saw him going in the sixth round. By the beginning of August, he had moved up into the latter portion of the fifth round. Then, last week, he was going early in the fifth. The Patriots' offense looked to be in midseason form during its second preseason game; Tom Brady was targeting Hogan often even with Julian Edelman on the field. In 12-team leagues, you will not be able to select Hogan past Round 5. If you really want him, you may have to consider him in Round 4.
RB Joe Mixon, Cincinnati Bengals
Short and sweet: he looks good! A fourth-rounder back in June, Mixon has rocketed up into the second round. It's either there or very early in the third round -- if you're lucky -- where you will have to take him.

IT'S HERE! Draft Analyzer can now sync to all fantasy leagues! Get Draft Analyzer to make yourself a champion!
WR Cooper Kupp, Los Angeles Rams
This is stunning to me. In June, Kupp was going in the eighth or ninth round in many leagues. Come the middle of August, I've seen him only move up a round or two, no further than late in the seventh round. Are you kidding me? I think it will be Kupp, not Robert Woods or Brandin Cooks, who leads the Rams in targets and receptions this year. In 2017, Kupp was indeed the Rams' targets leader with 94, paced the team with 869 receiving yards and was second to Todd Gurley in receptions, 64-62. Cooks will demand a lot of targets, but his four-year receptions total of 280 gives him a yearly average of 70. He accomplished that with Hall of Fame quarterbacks such as Brady and Drew Brees. In other words, quarterbacks better than Jared Goff. Still, Kupp is consistently being drafted 4-5 rounds after Cooks and one round after Woods on average. He can be your WR2 but is carrying only a WR3/flex price tag right now.
Chris Carson, Seattle Seahawks
In June, Carson was getting called in the 13th or 14th round while Rashaad Penny was going Round 4 or 5. Fast-forward to present day, and Carson is going in the eighth round while Penny, even with his finger injury, is still going in the fifth on average. Penny may very well take over the lead-back role in Seattle, but even when the rookie was healthy, it was Carson who was the Seahawks' undisputed starter through the spring and in training camp. Carson averaged more than 4 yards per carry in the three games he started last season, and his lone touchdown actually came on a reception. I think he has RB2 potential in this offense, and you can currently acquire him in middle rounds.

Never miss ASL's latest fantasy sports news. Send us an email at This email address is being protected from spambots. You need JavaScript enabled to view it. and list the sports you are interested in (NFL, NBA, MLB, NHL, EPL) to start receiving ASL's newsletter.