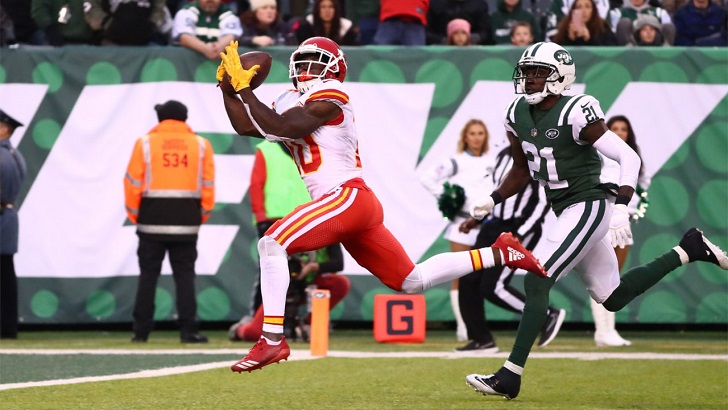 Written by Josh Rabbitt
16 August 2018
Week 1 of the preseason was quite revealing. There were quite a few players around the league whom I learned a ton about. Some of them are being drafted far too early. Others, far too late. This week, we will see a few more starters for a longer portion, so knowing that, let's take a look at Week 2.


IT'S HERE! Draft Analyzer can now sync to all fantasy leagues! Get Draft Analyzer to make yourself a champion!


Patriots vs. Eagles

Patriots RB Rex Burkhead: Sony Michel getting banged up has driven Burkhead to be a steaming-hot value pick, in my opinion. I do want to make sure he is operating as the goal-line back with the first-team offense though. This should be our first peek at that.
Editor's note: Unfortunately, it won't be. It was reported Thursday morning that Burkhead won't play in this game due to an undisclosed injury. Maybe he'll make his preseason debut next week?
Eagles RB Josh Adams: Dallas Goedert made some big plays last week, but oh, man, did Adams show he can absolutely play. He has a bunch of weak targets at RB in front of him. If you don't know my feelings on Jay Ajayi, take a peek at our RB rankings. I am thinking Adams may be the most surprising fantasy star in the league as soon as week 1.
Steelers vs. Packers
Steelers QB Mason Rudolph: Rudolph just looked average in Week 1. However, he is my No. 2 QB from this year's draft, and I think he will start to get comfortable and make a move sooner rather than later. Since we didn't get to see much of the Jaylen Samuels show last week, I will have my eyes on the rookie running back as well.
Packers WR Jake Kumerow: OK, I still think Equanimeous St. Brown is the guy to own in the race to be the Packers' No. 3 wideout, but when Aaron Rodgers calls you out by name as being a guy to watch and then you have a game like Kumerow did last week, you pay attention. Anyone who is still on the Geronimo Allison bandwagon is missing out.
Jets vs. Redskins
Jets WR Quincy Enunwa: Man, did you guys see Teddy Bridgewater last week? He looked like he was playing QB for some team that isn't the Jets. They better trade him quickly before they start to look like a real football team. Anyway, Quincy is officially out of his hand wrap and ready to practice again. He is one of my favorite late-round WR prospects as he is being completely ignored by the fantasy community. If he can return to his 2016 form, watch out!
Redskins RB Samaje Perine: Perine was a hot draft target for me last year in both redraft and dynasty rookie leagues. Then he fell on his face. Hard. However, I still think this guy is incredibly talented. I mean, Rob Kelley sure as heck isn't going to get the job done, and Chris Thompson simply can't handle a full workload. Perine may now be ready for a post-hype bounce.
Chiefs vs. Falcons
Chiefs WR Tyreek Hill: Here is favorite guy to discuss in all of fantasy football. Why? Because almost everyone I talk to is wrong about him. During the 2016 season, Hill was ripping up the league as a fifth-round rookie, scoring long TD after long TD. I see how incredibly fast he is and then say he will be a WR1 in 2017. I grab him in every draft I can and deal for him in the dynasty leagues where I don't have him. All the while, the "experts" are telling me he can't score long TDs consistently and won't be successful in fantasy if he doesn't get more targets, blah blah blah. So after finishing as WR4 in standard leagues and WR9 in PPR leagues -- despite being rested for one game -- guess what we are told again this year? His efficiency numbers are too high. He scored only long touchdowns. He cannot repeat what he did last year. It's impossible for him to have that kind of success again, blah blah blah. It's almost like, for most fantasy folks, last year didn't exist with Hill because it doesn't fit their narrative. It's all garbage. Get yourself some Tyreek Hill. He's a WR1 and probably a high-end one.
Falcons WR Calvin Ridley: Sometimes I want to see a guy again. I am really curious as to what everyone sees in Ridley. I just don't get it. Maybe this week I will see something?
Giants vs. Lions
Giants RB Saquon Barkley: I'm glad Saquon was able to get his gold jacket on his first NFL carry. It seems like everyone then just ignored all the issues that came afterward. Saquon had a habit of dancing and not hitting the hole hard in college. Yes, he is talented and, yes, he is going to get all the carries. Yes, I think he's an RB1. But I'm just not sold that he should be enshrined in the Hall just yet.
Lions TE Michael Roberts: Did you know Roberts scored 16 touchdowns for Toledo in 2016? Did you also know that the TE position is a barren wasteland in fantasy football? Add those two things together and you start making dart-throws on guys like Roberts. I am not sure there is anything here, but it looks like he is going to get a chance to contribute significantly.
Bills vs. Browns
Bills WR Corey Coleman: As my editor pointed out in last week's article, I was excited to see what Zay Jones could do prior to Coleman landing with the Bills. I, for one, am a huge believer in Coleman's talent. I think the Bills absolutely stole him from the Browns. It's pretty rare when the Bills' organization makes yours look bad. Anyway, let's see what he can do in Buffalo's terrible passing game, eh?
Browns RB Nick Chubb: Oh my. Chubb looked terrible last week. Baker Mayfield looked great. Knowing what I know about the Browns -- which has been confirmed by "Hard Knocks" -- the Browns will therefore start Chubb and make Mayfield a backup. Seriously, does no one care that Chubb took 15 carries for a total of 11 yards against the Giants' backup run defense? We are seeing an epic flop, perhaps.
Dolphins vs. Panthers
Dolphins TE Mike Gesicki: I want to take another look at Gesicki. He has a shot at being a back-end TE1 this year, so hopefully we can get a better view of him this week.
Panthers WR Curtis Samuel: Yes, it's another repeat selection from Week 1, but in Samuel's case, I just want to confirm what I am seeing from him: an upcoming breakout. Sure, it was only four catches for 40 yards, but he was involved in the offense and moving really well. I was seeing everything I saw last year before injuries derailed his rookie season. Samuel is on my late-round radar.


IT'S HERE! Draft Analyzer can now sync to all fantasy leagues! Get Draft Analyzer to make yourself a champion!
Cardinals vs. Saints
Cardinals RB Chase Edmonds: Edmonds looked really good in Week 1. If you are a believer in handcuffing (I am not, for the record), Edmonds is the guy to get if you are invested in David Johnson. I am hoping for a little more from the rook this week.
Saints WR Cameron Meredith: Meredith is one of my favorite players on an NFL roster. The guy just has exceptional talent. Is he back from last season's major knee injury? I am hoping we get a shot to judge that.
Jaguars vs. Vikings
Jaguars WR Keelan Cole: Cole is so obviously the most talented wideout on this roster, it's not even funny. However, will the Jags run him as a starter or is he going to be lost in the mix so that we get more of average Dede Westbrook? Can this offense even support one reliable wide receiver, much less two or three?
Vikings RB Latavius Murray: Did you see my guy QB Kyle Sloter last week? How many times does he have to light it up before he gets a chance to play? Someone go offer the Vikings a fifth-round pick for him and change your franchise!
Anyway, I want to watch someone else from the Vikings this week since I know Kyle won't get a chance. Murray is so talented, runs so dang smoothly and is so big that he doesn't even look real sometimes. But is he going to be relegated to carrying Dalvin Cook's water the whole year? I am a believer that this is a timeshare, not that Cook is going to be a workhorse this year. Why would Minnesota pound Cook into the ground when he is coming off a torn ACL and have a great backup like Murray?
Raiders vs. Rams

Raiders RB Chris Warren: I went back and watched some of his college tape from Texas and it has got me excited about Warren. He can make plays, and there is such a big opportunity waiting in this backfield.
Rams WR Brandin Cooks: I'm still not sure why this guy gets drafted as a WR2. He was WR1 with the Saints and the Patriots, and he will be a WR1 this year. In fact, I think his upside is much higher than most believe. Volume is not the only thing that matters with WRs, despite what half of the fantasy world wants you to believe. You can keep your eight catches for 60 yards with a Jarvis Landry-style WR. I'll take my three catches for 120 and a score all day.
Bengals vs. Cowboys
Bengals WR Alex Erickson: I mostly want to see Alex play because he is a local small-town kid. Secondly, I want to see him play more because he is really, really good. I think he may work his way into the No. 3 WR conversation with Cincy.
Cowboys WR/RB Tavon Austin: Alright, maybe I'm a sucker for the name again, but I'm officially interested in Austin. When you ask some really smart football people who will be the top-scoring wide receiver for the Cowboys this season, I'm hearing his name incredibly often.
Buccaneers vs. Titans
Buccaneers RB Ronald Jones: Jones is another in a line of terrible Bucs draft picks at RB. Are you going to trust the same people who told you Charles Sims was a quality NFL back? I'm sure not. This week provides another chance for me to confirm what I think about Jones.
Titans QB Marcus Mariota: I can't figure out Marcus. He is a good QB. He does the right things, but then at the end of the day, he puts up a QB2 stat line. Given the amount of talent in the NFL at quarterback right now, is it time to throw in the towel on Marcus from a fantasy perspective? I want to know if I should be spending a middle-round pick on guys such as him or Jared Goff.
49ers vs. Texans
49ers WR Marquise Goodwin: I know I know, another repeat. But really, Goodwin has the most confusing ADP of any player I have ever witnessed. Jimmy G. is being crowned as elite by a ton of really great football people. His ADP is crazy high. Everyone appears to be lock stepped in on him at least being a QB1. But his #1 target can't get any love. Again, we are talking an OLYMPIC athlete. An Olympic athlete playing with a great QB. An Olympic athlete who was just learning the system and still had 105 targets last year. He almost cracked 1000 yards with those few targets. I simply don't understand it. Barring injury Goodwins floor is a WR3. No doubt. Now it's time to see it.
Texans QB Deshaun Watson: We might not get much of him, but I want to see how he is moving around on the knee. Consider this… if Watson is 70% of the runner he was last year what does that make him? This is the RGIII story all over again if he isn't right. He isn't an accomplished enough passer to scare teams with just his arm.
Bears vs. Broncos
Bears TE Trey Burton: I am just cycling through Bears players I am super excited about at this point. Can Burton live up to his exceptionally high average draft position? I don't really think so, but he still can be a huge focal point of the offense. He is a huge reason why Mitchell Trubisky should be a QB1 this year. How can all of his weapons have such high ADPs but Trubisky is a bottom-end QB2? These things all work together, folks. You can't have it both ways!
Broncos RB Phillip Lindsay: This is my last double-down of this week, I promise. But Lindsay did look GREAT in Denver's first preseason game. If head coach Vance Joseph wasn't the worst coach in the NFL, Royce Freeman would be in on first and second downs while Lindsay would handle the third-down duties. However, knowing Joseph, he will try to sneak Lindsay on to the practice squad only to see him end up on the Vikings with former Bronco Kyle Sloter.
Seahawks vs. Chargers
Seahawks WR Tyler Lockett: I had kind of forgot about Lockett was a thing, but I was quickly reminded of his ability while watching him out there last week. He is so smooth! If Doug Baldwin isn't right, whom else is Russell Wilson going to throw the ball to? Lockett may be a white-hot bargain at his current ADP, but after being burned on him before, I want to make sure he is legit.
Chargers TE Virgil Green: Green is one of my old favorites as a former Broncos tight end. The guy has physical attributes you wouldn't believe but has just never really gotten a chance. Is this FINALLY his time? Probably not. I'm sure if he has a breakout with a few catches and a TD, the Chargers will follow that up by immediately signing Antonio Gates and letting the old man hobble out there to haul in a few more touchdowns.
Ravens vs. Colts
Ravens TE Hayden Hurst: Even though there are 15 tight ends on Baltimore's roster -- are the Ravens building a rugby team or something? -- my interest is piqued with Hurst. The guy looks really good. Like, good as in you might be able to use him in fantasy this year good. If that is a thing, I want in on it.
Colts WR Ryan Grant: QB Andrew Luck looked fine last week, so that means we need to talk about who he is throwing to. The obvious choice, in my opinion, to be the No. 2 WR in Indy is Grant. He is seemingly loved by his coaches, runs great routes and works really hard. Plus, it's not like there is a ton of talent throughout the Colts' receiving corps.


Never miss ASL's latest fantasy sports news. Send us an email at This email address is being protected from spambots. You need JavaScript enabled to view it. and list the sports you are interested in (NFL, NBA, MLB, NHL, EPL) to start receiving ASL's newsletter.