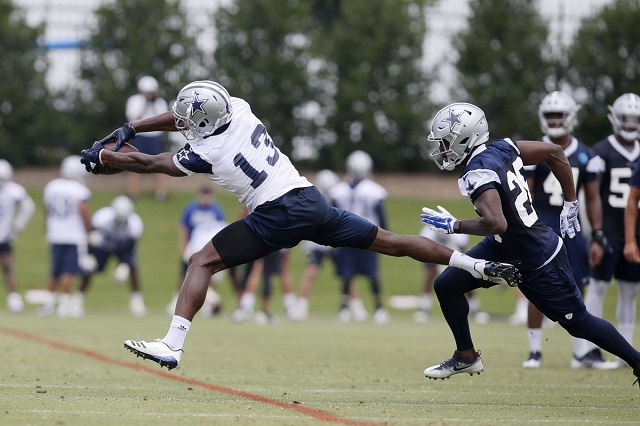 Written by Josh Rabbitt
07 August 2018
Week 1 of the preseason: snoozefest or super-important fantasy football homework? Actually, these preseason games are absolutely critical if you want a leg up on your league during your draft or if you want to scout some early waiver-wire names to watch. Most people ignore these games, but every year an unexpected star is born under the bright lights. 
This week, I will give you a name to watch from each team. Some will be stars and some will be players you have never heard of before. 
Browns vs. Giants
Browns QB Johnny Manziel. I mean, Baker Mayfield. Just kidding. I actually love Mayfield.  I think he has the tools to be an upper-end QB in this league. His only problem is head coach Hue Jackson. I really don't understand what people see in him. His claim to fame as a QB tutor is Joe Flacco. Couple that with a 1-31 record in the last two years, and I'm not sure what sort of hope the Browns have here. There is still a chance that despite poor coaching, Mayfield finds a way to shine through. We are talking about one of the most prolific quarterbacks I have ever witnessed in college football. The numbers speak for themselves. In the last two years, Mayfield posted an 83:14 TD-to-INT ratio with a completion percentage better than 70.
New York Giants QB Davis Webb: In a few weeks, we will want to see how Saquon Barkley's Hall of Fame bust is coming along. Until then, let's check out the best quarterback on the Giants' roster. I legitimately think if Eli Manning gets hurt, this offense goes to warp speed and becomes one of the best in the NFL. The weapons are in place for someone to have a really good season; Evan Engram, Odell Beckham, Sterling Shepard and the aforementioned Barkley are all potential studs. However, it does take someone to get them the ball.

To win your league, start by winning your draft. Draft Analyzer can make you a champion!


Panthers vs. Bills
Panthers WR Curtis Samuel: Samuel has Tarik Cohen-like skills. Can he find a role in this offense and impress after last year's injury-shortened season? I believe he was just starting to find his groove and in line for a breakout with a five-catch game right before he bit the dust due to a broken ankle. I think his 4.31-40 speed could really help this offense run down the field. Couple him with rookie wideout D.J. Moore, and defenses must worry about the Panthers during short throws into long gains.
Bills WR Zay Jones: I am not sure there is going to be a worse offense in the NFL this year than the Bills', especially with LeSean McCoy's status up in the air. Hope comes in strange places. One of last year's biggest disasters of a draft pick, Jones was incredibly inefficient catching the ball. Then he had his whole naked arrest incident this spring. Now he hasn't been practicing because he is sick. Can Jones crack the worst WR corps in the NFL? He certainly has the talent to be a factor with only TE-lite Kelvin Benjamin and borderline NFL talent Jeremy Kerley blocking his way for targets. Can he ever put it together?
*Editor's note: This was submitted for publication prior to WR Corey Coleman being traded to Buffalo. So, ostensibly, Jones' competition for targets has grown by one.
Bears vs. Bengals
Bears RB Tarik Cohen: We may see only one series from Cohen in this game, but that might be all it takes to get a highlight play. Every time the Bears show a training camp video, it's of Cohen scoring a TD. He is literally the second coming of Tyreek Hill: a player who can score from anywhere at any time. There are very few players I consider more of a value in fantasy drafts this year than Cohen. I am hoping the Bears give me a chance to see it.
Bengals WR John Ross: I just talked about Jones being a massive bust last year. His on-field struggles may have received more media play if Ross wasn't categorically worse. When you are a top-10 pick as a wide receiver and end your rookie season with a stat line of three games played, no catches, one carry for 12 yards and a lost fumble, you know your career trajectory is not heading in the right direction. Ross will be fed chances to prove that he wasn't a wasted pick, and camp reports state he is looking better. Will he run with the first team? Will he make any plays? If Ross can live up to his draft position, he could be of worth in the super-late rounds of your fantasy leagues.
Steelers vs. Eagles
Steelers RB Jaylen Samuels: Is he a running back? A fullback? A tight end? A wideout? Whatever the case, we do know he scored 48 touchdowns at NC State. I think Samuels will get some run as an RB in this game, and we can see if he is the handcuff to Le'Veon Bell. Most people just assume James Conner is that guy, but I'm not sure why. He isn't a very talented runner whereas Samuels can hurt you all over the field. Given the way the Steelers like to move Bell around, Samuels seems to me as the more likely replacement to Bell, not the straight-line Conner.
Eagles TE Dallas Goedert: Every report I hear coming out of the Philly is about Goedert ripping up whatever defense he sees, including the Eagles' first-string guys. I want to watch this situation for three reasons: 
1. Is he going to play well enough to affect Zach Ertz's target share?
2. Is he going to see enough snaps to have stand-alone TE2 value?
3. Are we looking at a top 5 TE play if Ertz gets injured? Coming from a small school, I have never seen Goedert play outside of some practice tape, so he is one of the players I am genuinely most curious about.
Saints vs. Jaguars
Saints QB J.T. Barrett:  Here's a super-deep choice for you! Barrett at times looks like an absolute force to be reckoned with as a QB. Other times, he misses passes my high school QB could make. If he finds a way to become a more consistent passer, I think he could find a place on an NFL roster. However, he is going to have to improve quickly just to get a chance to play on a practice squad.
Jaguars WR Allen Lazard: Alright, so why should you care about the 10th wideout or so on a team that is going to run the ball 40 times per game? Because this dude can flat-out play. I can't figure out why he went undrafted, but every time I watched an Iowa State game, he flashed. Lazard can be a red-zone threat in the NFL, I am sure of it. He is just going to need a chance. I don't think there is any way he can crack the Jags' 53, but he might impress enough to find himself on another roster and then work his way onto the field. Once he is there, I don't think he'll leave. This is Adam Thielen or Tyrell Williams waiting to happen all over again.
Buccaneers vs. Dolphins
Bucs TE O.J. Howard: We might not see a ton of Howard, probably just a series or two. Despite the Bucs' really curious decision to pile money in front of Cameron Brate, I still think O.J. can be a breakout player. He is perhaps the most NFL-ready college TE I have ever watched. I don't think he will be held back by an average talent such as Brate again this year. Maybe we get to see the Bucs mix in some "12" personnel here with both Howard and Brate on the field. 
Dolphins TE Mike Gesicki: Yes, we are watching dueling TEs this game -- deal with it. Where Howard is the most NFL-ready tight end I have ever watched, Gesicki is the most confusing. I have no idea how he was able to test out the way he did at the combine. I just did not see that athlete playing on the field. Reportedly, he has already become Ryan Tannehill's best friend in camp. Maybe there is something here I did not see before. If he can play to his measurables, watch out.
Redskins vs. Patriots
Redskins WR Trey Quinn:  Although he was "Mr. Irrelevant" in the 2018 draft, I think Quinn has the skills to someday matter as a slot receiver. He is the kind of player who might be able to really shine in a game like this. You aren't looking at him for this year, but he just might matter next year.  Before he can do that, however, he's got to make a roster.
Patriots WR Cordarrelle Patterson: If you followed me last year, you know I was all in on Patterson as a deep sleeper, which turned out to be a flop. However, I'm all in for another ride aboard the Patterson train. His measurables are still off the charts and the talent is undeniable. Can he get a chance to play a role that matters for fantasy football? If he doesn't play much in this one, that is probably a good sign for my sleeper hopes!
Rams vs. Ravens
Rams WR Brandin Cooks: There are a ton of fantasy enthusiasts out there who think Cooks is in line for a regression just based on the possibility that he will see fewer targets in L.A. I simply don't agree with that statement. People want to compare him to Sammy Watkins, but Watkins isn't in the same class as this dude. The Rams didn't give Cooks a boatload of money to just not use him. This is another case of a player who doesn't fit in most analysts' box of what a No. 1 WR looks like, so they don't understand his value. I don't care if he isn't peppered with targets so long as he scores big-play TDs all year. See: Tyreek Hill.
Ravens QB Josh Woodrum: If you missed the thrilling Ravens-Bears game last week, you probably don't know that the best QB on the field by far was Woodrum. He didn't get much run nor press, but I was in awe of how good he looked. While the commentators couldn't stop talking about Lamar Jackson, I couldn't stop wanting Woodrum to go back in. He obviously won't get a shot in Baltimore, but he should be on a roster somewhere. He looked better than most NFL backups and even several starters.
Titans vs. Packers
Titans WR Taywan Taylor: Taylor is someone whom my guy R.C. Fischer of Fantasy Football Metrics turned me on to. Checking out some of his tape, man, can he play. I'm not sure the Titans' offense will support three wide receivers for fantasy purposes, but I have high hopes. Taylor isn't a superstar athletically who is going to run past you, but his quickness can definitely break your ankles. If he does what I think he can do, this is a potential WR4/flex value player whom you can get in the last rounds of your fantasy drafts.
Packers WR Equanimeous St. Brown: I promise I'm not just putting him in here to make my editor check his name three times. How someone with this much athletic talent and went to a big school like Notre Dame lasted until the sixth round, I will never know. Most analysts are talking about Geronimo Allison as the No. 3 wideout in this offense. I think if that was the case, we would have caught a glimpse of that last year. I am putting my eggs in the St. Brown basket based on talent alone. He should get a lot of run in this game, so I'll definitely be watching what happens.
Texans vs. Chiefs
Texans TE Jordan Akins: Honestly, the Texans' offensive roster makes me shudder when I look at it. You have DeAndre Hopkins, Deshaun Watson and an injured D'Onta Foreman. Past that, picking your favorite player to watch on this offense is like picking your favorite trash out at the local dump. In theory, Akins doesn't have a tough road ahead of him to become a starter in Houston. What is that worth? I have no idea, but maybe there could be something here given his raw athletic ability.
Chiefs RB Spencer Ware: I still think Ware is the most talented back on the Chiefs' roster. Kareem Hunt can be really good at times -- as we saw at the start of last season -- but honestly, I could have walked for a touchdown through some of the holes he had early on in the year. Ware is a really talented, no-nonsense, smash-mouth ball carrier who also has great hands. He needs to perform really well and get himself traded to a place where he can shine.  
Cowboys vs. 49ers
Cowboys WR Michael Gallup: I admit it: I am a huge Colorado State Rams fan. Yes, those people do exist. That being said, I feel like Gallup might be the best wide receiver from the 2018 draft. You heard me! The best WR from the draft.
6-foot-1, 205 pounds, 4.51 40-yard-dash time, 36-inch vertical, 122-inch broad jump.
6-foot-1, 189 pounds, 4.43 40-yard-dash time, 31-inch vertical, 110-inch broad jump.
Which one of these two players is more athletic? The top is Gallup. The bottom is everyone's favorite, first-round wideout Calvin Ridley. Attending Alabama is not a measurable precursor to NFL success. I would argue that not only is Gallup a better pass-catcher and route-runner, he is also the superior athlete of the two. Watch him after the catch against Alabama here.  You can see more impressive after-the-catch stuff earlier in that video, but he still looks good even against SEC players. That's what I want you all to see.
49ers WR Marquise Goodwin: Goodwin is one of my favorite value picks in 2018 fantasy drafts. He's another case of mainstream groupthink getting it wrong. I understand he wasn't successful in Buffalo or at any time when Jimmy Garoppolo was not throwing him the ball. However, haven't we had proof that Buffalo is where WRs go to die at this point? We are talking about an Olympic-caliber athlete with 4.27 speed paired with potentially the best young QB in the league. Not to mention that he has the game's best offensive mind, Kyle Shanahan, drawing up plays for him. Don't you think there is a reason why the 49ers didn't do much to help their receiving corps this offseason? We aren't going to see much of Goodwin this week, and I think that just may prove my point.
Colts vs. Seahawks
Colts QB Andrew Luck: I'll get off my soapbox after those last two and write something simple: I want to see if Luck can still throw the ball. So does everyone else. Moving on.
Seahawks WR Brandon Marshall: So, here's the thing about Marshall: He can't really run anymore. However, can he still jump? Someone has to replace Jimmy Graham's 10 scores from last year. What if Marshall plays more of a flexed-out TE role and just catches jump balls in the end zone all year? We just have to see if he can still jump.
Falcons vs. Jets
Falcons WR Calvin Ridley: I think we have an average-to-below-average NFL WR here. If Mohamed Sanu doesn't excite you, I'm not sure why Ridley would. Am I wrong? Most of the free football world sure thinks I am. R.C. Fisher of Fantasy Football Metrics is almost always right about things like this, and he thinks even less of Ridley than I do.
Jets QB Teddy Bridgewater: Once again, the Jets are doing something stupid. All the talk of camp is how Teddy looks like the best QB on the roster. If that is the case, why would they want to trade him. I simply don't understand it. The Jets stole Bridgewater from the rest of the NFL. Why not just ride with him? Oh, because they are the Jets.
Lions vs. Raiders
Lions RB Dwayne Washington: Alright, so perhaps you all remember my love affair with Washington from last year. At least now we can all agree Ameer Abdullah is not an NFL-quality running back. However, I don't think Kerryon Johnson is one either. The word is the rookie is not showing well in camp. Can I hope against hope one more time that my guy gets another shot at glory? Probably not. I can't have nice things. But maybe, just maybe, Jon Gruden will remember how awesome Washington looks after the Lions cut him and gives him a look-see with the Silver and Black!
Raiders WR Martavis Bryant: Adding Bryant was a self-inflicted wound for the Raiders. He's not that good, it would appear he can't get his stuff together enough to play football, and Oakland gave up a third-round pick for him. All of these things can turn a Broncos fan's frown upside down. The good news here is Gruden is already calling him out for not working hard in camp, so there's that to look forward to, Raiders fans!
Vikings vs. Broncos
Vikings QB Kyle Sloter: Ah, yes. Behold the best QB the Broncos had on their roster last year, who was cut so that Paxton Lynch and Trevor Siemian could run that "offense." Did you know that Sloter was on the Vikings' roster for the entire 2017 season, even after Bridgewater was activated? Why would an NFL team carry four quarterbacks? Because Sloter is that good. He just needs a chance. My money is on him lighting up his former teammates pretty good during the second half here and eventually putting Siemian, now a Viking, out of work.
Broncos RB Phillip Lindsay: With all the exciting offensive talent Denver added, you are probably curious why I want to know more about an undrafted free agent who is listed fifth on Denver's running back depth chart. Well, perhaps it is because he could be the best darn one they have. Royce Freeman and Lindsay could make a really nice one-two punch if head coach Vance Joseph is smart enough to sit Devontae Booker down. Let's see if I can find another Broncos gem here.  
Chargers vs. Cardinals
Chargers RB Justin Jackson: You know I love me some combine numbers, so here we go.
6 feet, 199 pounds, 4.52 40-yard-dash time, 38.5-inch vertical, 122-inch broad jump.
5-foot-11, 227 pounds, 4.52 40-yard-dash time, 38.5-inch vertical, 128-inch broad jump.
Nick Chubb is the bottom, Jackson is the top. Yes, Chubb is quite a bit stockier than Jackson, but the former was an early-second-round pick and the latter came off the board in the seventh round. I'm using this comparison to let you know Jackson is a legit NFL athlete. Why do I care? Because I don't think Melvin Gordon is a very good running back. If Jackson can cut into some of that workload, everyone drafting Gordon with a premium pick s going to be disappointed.
Cardinals TE Ricky Seals-Jones: This is one player for whom I don't understand all the hype. I get that he is a big, strong dude, but I haven't seen a whole lot that made me want to invest in RS-J. Everyone else seems to be over the moon for him. He had a two-game span during the second half of last season in which he scored three touchdowns. Awesome. Carve me up some of those TDs and serve them to me as a TE2 all day. However, after those two games, he simply wasn't effective and then kind of fell off the map completely. Is there something here I didn't see, or did he just randomly score a few touchdowns?
Well, ladies and gents, that about covers it for this week. Check back in next week as I once again break down all of the preseason action!

Never miss ASL's latest fantasy sports news. Send us an email at This email address is being protected from spambots. You need JavaScript enabled to view it. and list the sports you are interested in (NFL, NBA, MLB, NHL, EPL) to start receiving ASL's newsletter.