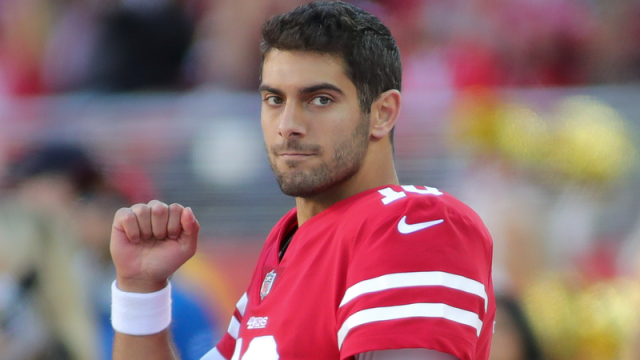 Written by Levi Andrew
17 July 2018
These are five players you should be betting on early in your startup drafts. And if you're looking to bet on some sporting events this year, Novibet is the way to go.
1. WR DeAndre Hopkins, Houston Texans
Even before his breakout season in 2017, Hopkins was a true cornerstone. Hopkins has been a top-15 fantasy wideout in three of the past four seasons. You kind of have to give him a mulligan for his low numbers in 2016 since the Texans' QB situation was a disaster that year. When he and Deshaun Watson really find their connection, I believe Hopkins will surpass 100 receptions for the second time in his career. If Watson can solve Houston's recent QB woes, Hopkins' potential is unlimited. He's still only 26 years old and in a young offense. I'm scared of his TD numbers falling slightly this year, but I see his yardage total going up. Hopkins will be my No. 1 WR in every format but redraft this year, trailing only Antonio Brown there.
2. RB Ezekiel Elliott, Dallas Cowboys
Zeke and Le'Veon Bell are my No. 1 and No. 2 running backs, respectively. I'm docking Bell slightly due to his contract situation and the fact that he will most likely be a free agent next year. Also, Zeke has been in the league going on only three years compared to Bell's six. In 2017, despite missing six games due to a suspension, Zeke finished only 17 rushing yards from 1,000. With Dak Prescott keeping defenses honest with his running ability, the running lanes should be wide open for Zeke, even following the departure of Dez Bryant. Dallas' great O-line will open holes for him as well. I assume Dak will check down to Zeke more often this year without Jason Witten around to be his go-to guy. Elliott should be that guy now. That only adds value to someone who is already slated to be one of the top RBs this year.
3. QB Jimmy Garoppolo, San Francisco 49ers
Jimmy GQ was a highly touted rookie who was taken in the second round by Bill Belichick in 2014. We can say he learned from the great Tom Brady, but those ESPN reports from last year state otherwise. Either way, Garoppolo showed what he could do early on in New England and then was traded in October to be coached by another great NFL mind, Kyle Shanahan. Let's tell it like it is: Jimmy is a 7-0 "sophomore" QB entering 2018. Defensive coordinators have tape on him and Shanahan's offensive system now, so Jimmy GQ could come crashing down, but that won't happen. Shanahan has helped QBs such as Matt Schaub, Robert Griffin III and Matt Ryan produce top-five fantasy numbers. And Jimmy GQ is better than all of them. Garoppolo owns a 67.3 percent career completion rate and has thrown only five interceptions, all of which came last year along with seven touchdowns. After an offseason spent learning the whole playbook and getting to know his receivers -- Pierre Garçon, Marquise Goodwin, Trent Taylor and rookies Dante Pettis and Richie James, I envision that his TD:INT ratio will be much improved.
4. QB Carson Wentz, Philadelphia Eagles
With Wentz coming off a torn ACL, some people are afraid that he'll change his style or won't be ready by Week 1. Fear not, fantasy owners. Wentz may not play week 1, but that may be the best thing for his long-term playing ability. Before going down, Wentz was playing on an MVP level, throwing for 3,296 yards with 33 TDs and 7 INTs. For his NFL career, he owns a 61.5 completion percentage. With a great cast of wideouts and pass-catching running backs around him, that number should go up. Wentz is one of my top five quarterbacks in dynasty, but he could very well be my No. 2 overall QB once I do my rankings.
5. WR Odell Beckham Jr., New York Giants
Beckham is one of the most electrifying superstars in the NFL. No one since Randy Moss has put on as many shows on the field as Odell. Other than last year when Odell broke his ankle and saw his season end in Week 5, Beckham has tallied at least 1,300 yards and 10 TDs in every season. He should arguably be the No. 1 WR in everyone's rankings. But like Hopkins, Odell has topped 100 catches just once in his career. However, he does own a 63.5 catch rate. If you've seen any of his workout videos, Beckham's ankle looks good to go, and he doesn't seem to be making a fuss about his contract yet. With a full supporting cast around him, that should take some of the double coverages away and put Beckham in line for a big season. Defenses will have to watch not only Sterling Shepard on the other side of the field, but the Giants will have Saquon Barkley coming out of the backfield as well.
As always, follow me on Twitter: @LeviAndrewFF


Never miss ASL's latest fantasy sports news. Send us an email at This email address is being protected from spambots. You need JavaScript enabled to view it. and list the sports you are interested in (NFL, NBA, MLB, NHL, EPL) to start receiving ASL's newsletter.