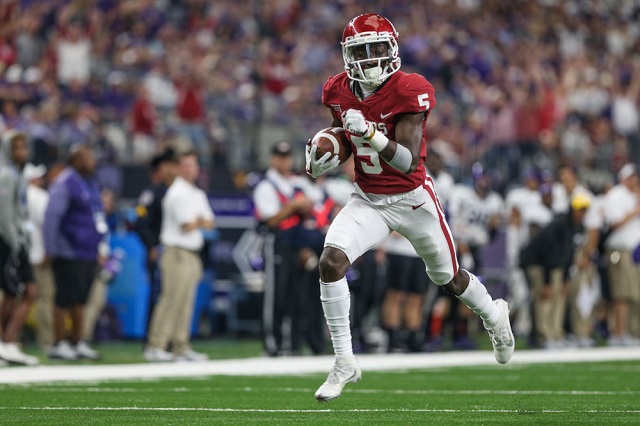 Written by Etan Mozia
21 June 2018
The brilliant thing about dynasty leagues in comparison to redraft formats is the extra strategy built into them. The decisions you make have a marked effect on your team's chances for seasons on end, for better or worse. Because of this, savvy dynasty league owners must always be on their toes by looking out for changing trends, analyzing depth charts, scouring their waiver wire and staying informed about player values. Team management is also key. Formulating your moves ahead of time can be the difference between missing the playoffs and winning your league. One of the best ways to effectively gain an advantage over your league mates is to know which prospects to watch in anticipation for the next season's rookie draft. Today, I will highlight some 2019 first-round rookies you should know about now.  
WR A.J. Brown, Ole Miss Rebels
Brown is the marquee wide receiver that the 2018 draft lacked. The 6-foot-1, 225-pound Ole Miss slot receiver caught 75 balls for 1,252 yards and 11 touchdowns in his junior season. Though he cannot be described as a downfield burner, Brown is a quick-twitch athlete comparable to a young Dez Bryant. Brown has flashed the ability to be a major problem for defenses at the college level with his high motor, crisp route running and brutal physicality that makes him near uncoverable. If Brown can maintain his numbers and avoid a major injury this season, he'll hear his name called early in the 2019 NFL Draft.
WR Marquise Brown, Oklahoma Sooners
Marquise Brown wins much differently than A.J.; the former has speed to burn. A threat to take it to the house at any time, Marquise hasn't allowed his small frame (5-foot-11, 162 pounds) to prevent him from being a big-time performer. In his 2017 sophomore season, the Oklahoma product hauled in passes from Baker Mayfield, compiling 57 receptions for 1,095 yards and seven TDs. If a stronger Will Fuller with better hands doesn't excite you, one can wonder why you play this game.
RB Rodney Anderson, Oklahoma Sooners
Anderson and former OU running back Joe Mixon share similar physical attributes. Though Mixon has shown to date to be the better pass catcher, both players are athletic freaks. Anderson checks in at 6-foot-2, 218 pounds. In his sophomore campaign, he rushed 188 times for 1,161 yards and 13 TDs. He also caught 17 balls for 281 yards and another five scores. If Anderson continues along his current path, he has an excellent chance of being a huge talent on Sundays.
QB Shea Patterson, Michigan Wolverines
At 6-foot-2, 203 pounds, Patterson can hardly be described as a physically imposing player. Don't let that fool you, however. Patterson has all the tools necessary to be a future No. 1 pick. Last season as a member of the Ole Miss Rebels, Patterson threw for 2,259 yards and 17 TDs with nine interceptions in only seven games. He flashed his accuracy, completing 63.8 percent of his passes and finished with a 151.5 QB rating. This season, he'll suit up for Jim Harbaugh's Michigan Wolverines. If he can continue his prolific 2017 form, some NFL team will feel very fortunate to snag this future franchise signal-caller.
TE Noah Fant, Iowa Hawkeyes
If you wished to craft a "move" tight end fit perfectly for the modern NFL, you could do no better than Fant. Standing 6-foot-5, 232 pounds with legitimate deep speed, he would be a tough cover for any NFL linebacker at this very moment. His receiving statistics don't yet jump off the page as he recorded only 30 catches for 494 yards as a sophomore in 2017. That said, it's his red zone prowess that is so tantalizing. With those 30 grabs, Fant was able to register 11 touchdowns, proving to be a matchup nightmare for cover safeties and linebackers. If Fant can stay healthy this season, the NFL may have another uber-athletic and utterly dominant TE in its ranks come 2019.


Follow me on Twitter: @Goal2Goalpost
Never miss ASL's latest fantasy sports news. Send us an email at This email address is being protected from spambots. You need JavaScript enabled to view it. and list the sports you are interested in (NFL, NBA, MLB, NHL, EPL) to start receiving ASL's newsletter.