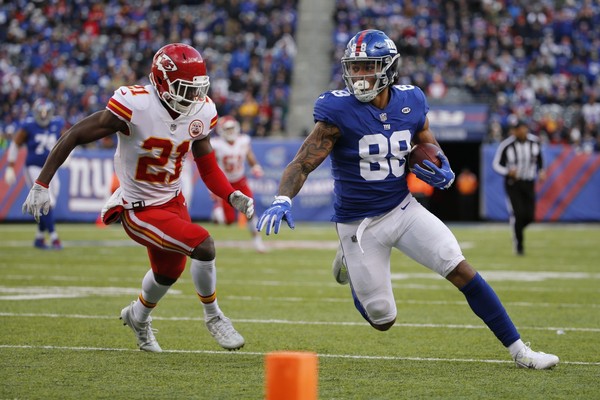 Written by Levi Andrew
12 June 2018
TE Evan Engram, New York Giants
When I see Engram, I see regression. He is one of two tight ends since 2000 to amass more than 100 targets in his rookie year. With Odell Beckham Jr. back and Saquon Barkley added to the fold, I don't see Engram getting close to the 115 targets he saw last season. Engam could have a huge role in the red zone, which could lead to him surpassing his six touchdowns from 2017. But if you take a look at what new Giants head coach Pat Shurmur did as the offensive coordinator in Minnesota last year, Kyle Rudolph saw only 81 targets. Plus, Eli Manning hasn't truly relied on a TE since Jeremy Shockey was on the Giants and has generally targeted his tight ends 70 times or less per season. Yes, Larry Donnell and Martellus Bennett each had a season with 80-plus targets, but those were outliers. Engram caught just 55.5 percent of his targets and averaged 11.3 yards per catch as a rookie. Cut his target share down from 115 to 85 due to the Giants' restocked cache of playmakers but keep those rates and you end up with a player who turns a final 2018 stat line resembling 47-528-5.
Engram's value isn't ever going to be higher than it is now. Who knows if rookie Kyle Lauletta or Davis Webb will rely on him if they take over the Giants' QB job in the future. I would look to move Engram. Try to acquire a TE and some draft picks, if possible.
RB C.J. Anderson, Carolina Panthers
When C.J. signed with Carolina after the draft, people got excited. I looked at it as a nice move for a football team but a horrible move for a fantasy team. Anderson is going from a team where he was the lead dog but unwanted to a team that wants him to play second fiddle behind Christian McCaffrey. Jonathan Stewart played that role last year and finished with a stat line of 198-680-6. With Anderson having a career average 4.4 yards per carry, he could finish with about 100 more yards on the same workload. Cam Newton has a lot of weapons at his disposal, but that may not mean much. McCaffrey should handle a lot of short passes and third-down work, giving Anderson the early-down work. Then again, you have to worry about Cam pulling it back and running it himself.
Look to see if you can trade C.J. in order to fill a hole on your roster. Maybe throw an offer to the McCaffrey owner in your league.
WR Julio Jones, Atlanta Falcons
On Monday, we learned that Julio will be holding out of mandatory minicamp as he continues to seek a new contract. This may not seem like a big deal, but with first-round rookie wide receiver Calvin Ridley coming in, it could mean regression is about to set in. Atlanta's offense has a bevy of other capable contributors, including Devonta Freeman, Austin Hooper, Tevin Coleman, rookie Ito Smith and Mohamed Sanu, who has really found his rhythm since leaving Cincinnati. This offense should take a huge step forward this year with all the pieces it has in place. If the Falcons truly go no-huddle as offensive coordinator Steve Sarkisian likes to run, we could be in for another year of inconsistency from Julio. We have seen Matt Ryan support multiple 100-target receivers.
Julio wasn't the most productive receiver last year, scoring fewer than 10 fantasy points in 11 of 16 games. Every year, we hear about how Atlanta will get Julio more involved in the red zone and every year, it doesn't happen. Julio scored only three touchdowns last year and six in 2016. His catch rate also dropped from 64 percent in 2016 to 59 percent in 2017. Trading Julio could net you a couple first-round picks or a wideout such as Adam Thielen along with some lesser draft picks. Put his name out there and see what you can get in return.


As always, give me a follow on Twitter: @LeviAndrewFF!
Never miss ASL's latest fantasy sports news. Send us an email at This email address is being protected from spambots. You need JavaScript enabled to view it. and list the sports you are interested in (NFL, NBA, MLB, NHL, EPL) to start receiving ASL's newsletter.