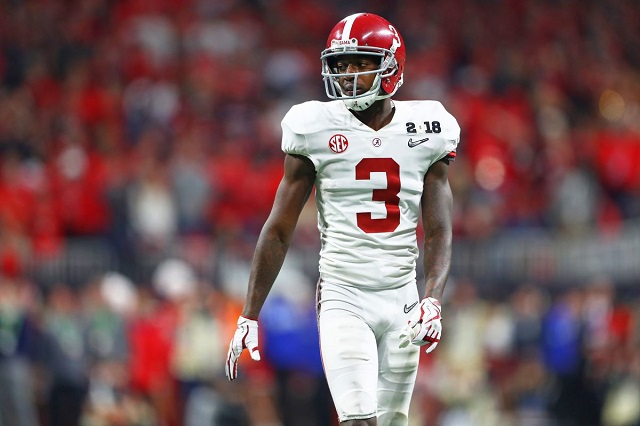 Written by Brian Murphy
27 April 2018
It didn't look like there would be any reason for this article for most of Thursday night. NFL general managers stayed away from taking any wide receivers until the Panthers took D.J. Moore at No. 24. Maybe those GMs were acutely aware of the past three classes of first-round wideouts. 2014 was a banner year with Mike Evans, Odell Beckham Jr., Brandin Cooks, Sammy Watkins, Jarvis Landry, Allen Robinson, Kelvin Benjamin, Davante Adams, etc.
Since then? Read 'em and weep.
Amari Cooper
Kevin White
DeVante Parker
Breshad Perriman
Phillip Dorsett
Corey Coleman
Will Fuller
Josh Doctson
Laquon Treadwell
Corey Davis
Mike Williams
John Ross
Small sample size? Absolutely. But Cooper, who was a massive fantasy disappointment in 2017, is the only player on that list to have an 800-yard season to his credit. Ross and Williams' rookie seasons were basically a wash. Among the non-rookies from last year, only Cooper, Parker and Fuller have caught at least 40 passes in a year.
So, recent history isn't ... great. Maybe that's one reason why only two wide receivers were called to the stage Thursday night in Dallas. Nonetheless, let's take a quick look at where they landed and their fantasy prospects for 2018 and beyond.
D.J. Moore, Carolina Panthers, Pick No. 24
The Panthers need to add another wide receiver. I'm just skeptical if they are going to end up loving this pick. I felt the Panthers could have waited to take a wide receiver rather than using a first-rounder Moore, who has good size and speed. He's not phenomenally tall at 6-foot, but he's well built and his athleticism is fantastic. I think he profiles as more of a slot player than the Steve Smith comps that he was getting last night (from Steve Smith himself). Overall, that means this is another short-range target for Cam Newton to go along with Christian McCaffrey, Greg Olsen and Curtis Samuel (when healthy). With Torrey Smith also around to do his usual trick, it makes me wonder how much this pick delivers a downgrade to Devin Funchess' stock. The Panthers have a handful of potentially fantastic short-range, middle-of-the-field options. And then Smith is there to pick up some deep throws, which all belonged to Funchess following the Kelvin Benjamin trade last year.
Quick Fantasy Take: Moore has a chance to fantasy-starter-worthy in deeper PPR leagues this season. I think his fantasy ceiling over the long-term is as a solid WR2. Another option should help Newton, but this should eat into whatever the projected totals were for Funchess. I'm not worried about Olsen's value; he'll produce because offensive coordinator Norv Turner is going to will it.
Calvin Ridley, Atlanta Falcons, Pick No. 26
No one is overtaking Julio Jones in Atlanta, we all know that. However, Ridley has the skills to create a fantastic 1-2 combo with his Alabama brethren this season. The Falcons need to diagram ways to get him away from tight corner coverage because he's not a physical player. But once he's in space, Ridley puts on a show. He's got speed to burn and the route technique to go with it. If he can get stronger and improve his hands, Ridley can be an NFL star. Mohamed Sanu should not be much of an impediment to Ridley's initial fantasy production; I think the rookie should/will be the Falcons' second-most productive receiver right away. Ridley is going to put up some big box scores on not many receptions in certain weeks.
Quick Fantasy Take: On a team with a greater need at wideout, I'd be more bullish on Ridley's immediate fantasy value. As is, I think he's going to be at least a WR3 at points during the 2018 season in all 12-team formats. It helps Matt Ryan, it hurts Sanu, and it doesn't move the needle on Julio. Over time, if Ridley addresses his weaknesses, he can be a WR1-type player in fantasy.
And that was it for Day 1 at the wide receiver position. We'll see what happens with Courtland Sutton, Christian Kirk, Anthony Miller and the other WRs who are expected to be drafted during Friday's Day 2.


Never miss ASL's latest fantasy sports news. Send us an email at This email address is being protected from spambots. You need JavaScript enabled to view it. and list the sports you are interested in (NFL, NBA, MLB, NHL, EPL) to start receiving ASL's newsletter.