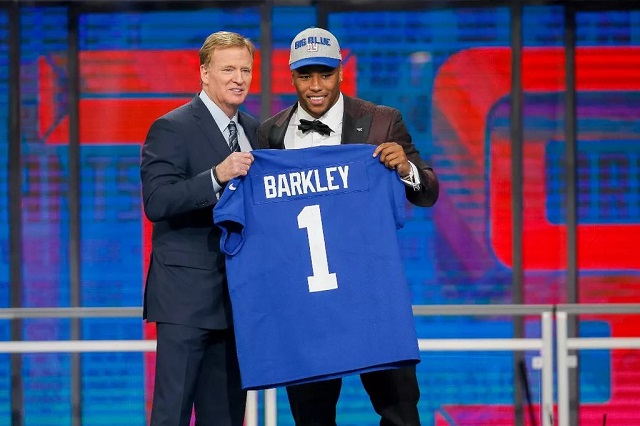 Written by Michael Nease
27 April 2018
As I listened to the boos for Roger Goodell echo throughout AT&T Stadium, I knew the REAL Draft was about to begin. I was so tired of listening to the talking heads in the media shout out the countless permutations of which 32 players could get selected in the first round. Their incessant banter over the last several weeks was finally ending, and the facts would expose themselves over a next few short hours.
Although it will never happen, I would really like to see a player who is rated to go in the fourth round or so get picked in the first. Quite frankly, the sad truth is that the scouts, general managers and frothing-at-the-mouth media have more wrong than right answers, and a few fourth-rounders will exceed the performance level of those highly touted bonus babies.
The best thing about these festivities is that you never quite know what to expect. Ready for an evening of suspense — surprise trades, a few "what the hell?" picks (Hello, Cleveland. LOL.), seeing placers drop precipitously while others come up from nowhere to sneak into the primo round, allowing us to get a little background on those kids. I sat back with my laptop and a notebook and was all ready.
One thing that never surprises me is that with hindsigh.t you always find out how screwed up this whole process is as far as picking players that will live up to expectations. If GMs were really judged honestly by owners, many more would be replaced annually. If we all performed that poorly in school we would now be working somewhere as busboys. Their success rates just totally suck.
With all that built up angst and sarcasm at my disposal, I proceeded to watch the draft from two varying perspectives:
Having been a Bears fan since I became aware of football back in about 1958 or so, I was pumped up by the rare chance for a possibly good (defined as non-embarrassing yet necessarily championship-winning) season in 2018. But hey, they already have two championships in my lifetime (1963 and 1985), and the Cubs and White Sox have only one each. The Bulls and Blackhawks either have dynasties or suck like the other three do most of the time.

Fortunately, fantasy football came into my life in 1985. With that, I became a fan of more teams and players, and the realities of the Chicago sports scene were blurred by my fantasies. Even the 1985 Bears, one of the greatest defensive teams ever, failed to become the dynasty they should have become.
Indeed, there were quite a few events from Thursday evening that left me scratching my head. These are the ones that were shockers to me:
After several prominent names were thrown out as potential draft-day trade bait, the only one sent packing was WR

Martavis Bryant

going from Pittsburgh to Oakland for the 79

th

pick. It was a shrewd move by Jon Gruden. For a mid-thi

rd-r

ound pick, he got a polished but volatile player with lengthy suspension possibilities at any time. The Steelers rid themselves of a player they considered to be toxic and will roll the dice on what they get in return. Rather than pay Bryant a big-money contract, the Steelers opted to sever the relationship and get what they could for him.



Over the past few months, there were two names mentioned as the likely only running backs who would be chosen in the first round: 

Saquon Barkley

and

Derrius Guice.

 Barkley went to the Giants at No. 2, but Guice fell out of the first round altogether. Surprisingly, two other RBs moved up.

Rashaad Penny

was taken by the Seahawks after they traded up to the 27th pick. New England complicated fantasy owners' lives once again by picking up

Sony Michel at No. 31.



Ravens general manager 

Ozzie Newsome

went out in style in what would be his final fir

st

 round. Wheeling and dealing all night, he got TE

Hayden Hurst

with the No. 25 selection and then traded back into the first round to add QB

Lamar Jackson to close out the night. Those are two very highly rated prospects at their positions. After those great pickups, Newsome still has five choices.



GMs actually seemed to work harder last night to avoid placing too much value on overrated wide receivers. It seems like every season the mock drafts inflate the potential of first-round wideouts who later become

 fantasy busts and get outplayed by many lower-drafted players. This year, 

Courtland Sutton

,

Calvin Ridley

and

D.J. Moore

were the three we saw in most mocks. Last night, Sutton fell out of the first round and Ridley and Moore went later than expected. And as for the Dallas Cowboys, who were expected to take a WR at No. 19, they instead chose OLB

Leighton Vander Esch, who is considered to be a steal at that point. There is plenty of time to draft WRs.



Odds and ends: Brothers were taken in the first round -- 

ILB

Tremaine Edmunds 

to Buffalo at 16th and FS

Terrell Edmunds to Pittsburgh at 28.

 Five QBs were selected in the opening r

ound for the first time since 1999. Cleveland, despite being the laughing stock of late and my earlier jab in this article, made no obviously grievous selections. But time as always will tell. Last but not least, my beloved Bears at chose ILB Roquan Smith eighth overall. I saw CBS Sports say he has Ray Lewis qualities. I just hope he never has to explain how one of his friends got stabbed to death in the back seat of a limo with nobody seeing how it happened ….
Just about three months until training camps open, Buckle up for the journey. My colleagues and I at Advanced Sports logic are intent on helping you become the champion you want to be. Between our top-rated software and our poignant articles, we will be with you for the 2018 season in its entirety. What happens then? That, my friends, is easy. We start over and do it all again in 2019!


Over the years many readers have contacted me personally for fantasy football questions throughout the year. I look forward to helping you in your quest to win championships this year. You can contact me with any questions or comments you may have at This email address is being protected from spambots. You need JavaScript enabled to view it., follow me on Twitter @mikeinsights, or join me as a member of Couch Tomatoes, my fantasy football discussion group on Facebook.
https://www.facebook.com/groups/330237687362965/.
Never miss ASL's latest fantasy sports news. Send us an email at This email address is being protected from spambots. You need JavaScript enabled to view it. and list the sports you are interested in (NFL, NBA, MLB, NHL, EPL) to start receiving ASL's newsletter.
Good luck! Have fun!