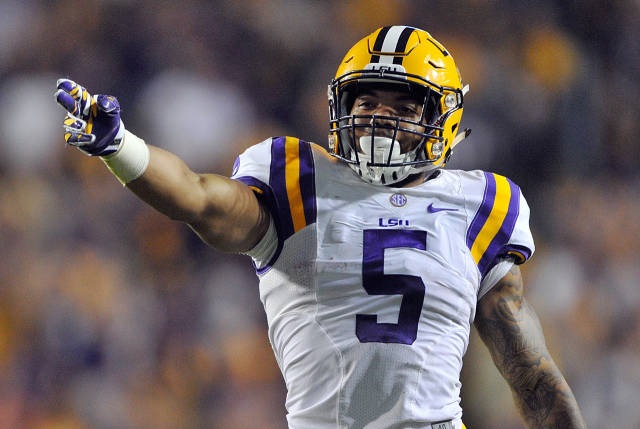 Written by John Adams
24 April 2018
Most experts agree that there is some nice depth at the running back position coming into the 2018 NFL Draft. There's little question that Penn State's Saquon Barkley will be the first running back off of the board, but then the draft picture gets a little cloudy. Join Advanced Sports Logic as we rank the top three RBs in this year's draft. Georgia's Sony Michel was on the original top-three list, but there are multiple rumors going around that he has some health issues that will cause him to fall in the draft. If he does have a medical issue, he and his camp are doing a great job of keeping it top secret.
Saquon Barkley, Penn State 
Barkley is the clear-cut top running back in this year's draft class, but there are more than a few questions regarding which team he will be playing for when the regular season begins. The Browns have the No. 1 and No. 4 picks while the Giants have the No. 2 pick, and the Jets have the No. 3 pick. Assuming that the Browns and Giants don't trade down, most pundits expect Barkley to be taken with one of the first four picks. If not, it's hard to imagine that Denver won't jump on Barkley if he's still on the board at No. 5 considering they just got rid of C.J. Anderson. 
Derrius Guice, LSU
Most people agree that Guice is probably the second-most talented running back coming into the draft. Many teams have started floating rumors about the kid, but even as questions about his personality and mindset start to churn, the reality is he's a bruising, top-rate talent that no defender really wants to tackle. He's 5-foot-11 and 212 pounds with 4.49 speed in the 40-yard dash. Guice dealt with some injury issues at LSU but still racked up more than 2,600 yards and 26 rushing scores in just two seasons.
Ronald Jones, USC 
Jones played in 40 career games for USC, finishing his college career with 3,619 yards and 39 touchdowns while averaging 6.1 yards per carry. During the 2017 season, he started in 13 games, rushing for 1,550 yards and 19 scores on 261 attempts. He stands at 5-foot-11 and weighs just over 200 pounds. Jones is most known for his explosive speed and balance and has drawn several comparisons to Jamaal Charles in his prime. He is a three-down back and is likely to be taken in the first round despite tweaking a hamstring during the NFL Combine. 


Never miss ASL's latest fantasy sports news. Send us an email at This email address is being protected from spambots. You need JavaScript enabled to view it.and list the sports you are interested in (NFL, NBA, MLB, NHL, EPL) to start receiving ASL's newsletter.