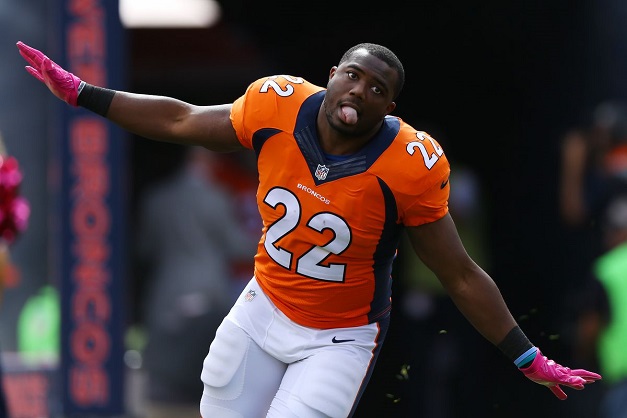 Written by Brian Murphy
17 April 2018
-- Broncos move on from RB C.J. Anderson
Anderson was a top-20 fantasy back in 2017 and the Broncos' best runner by far. But being able to save $4.5 million was too good to pass up for the Broncos, who have a couple of younger, cheaper RBs -- Devontae Booker and De'Angelo Henderson -- on the depth chart. Denver released Anderson on Monday.
Fantasy take: Denver should take a running back in this month's draft, but that player shouldn't come with the No. 5 overall pick is Saquon Barkley is off the board at that point. I don't know what to expect from the diminutive Henderson, and Booker looks better as a minority-share, third-down player. Anderson isn't an overly special NFL'er, but if he is placed behind a decent offensive line, stays healthy and shares some percentage of carries, he can be a useful RB2 in standard and PPR formats. The Dolphins tried to trade for him earlier this year, but don't expect them to go back to Anderson after signing Frank Gore. Anderson is just 27 years old and will be fantasy-relevant no matter where he signs next. If he latches on with a team where he can start, Anderson should continue to produce RB2 numbers.
More fantasy football news: What's next for Dez Bryant?
-- Bengals RB Joe Mixon in the best shape of his life?
Mixon now weighs 225 pounds, down 3 pounds from his previously listed weight and down 13 pounds from where he was at the start of his rookie minicamp last year. And Mixon said he's not done yet; he wants to weigh in at 220.
Fantasy take: I'm not going to overrate news about a player losing or gaining weight in the spring. The real value of such stories is nebulous. But it's nice to see that Mixon is taking his conditioning more seriously this year than last. He had a very uneven rookie year that was a mix of disappointing results and eye-popping highlights. With Jeremy Hill gone, he should take on more work in 2018, and the Bengals' offensive line can't be any worse than it was in 2017. Mixon looks like a third-round pick right now and possesses obvious RB1 upside.
-- Ravens re-ink RB Alex Collins
The third-year back signed his one-year tender offer Monday. He led the team with 973 yards on 212 carries last season (4.6 yards per carry) despite not getting double-digit touches in any game until Week 5.
Fantasy take: Collins was fantasy's No. 16 RB in standard leagues last year. Pro Football Focus gave him an 89.7 grade as a rusher, the best mark of any running back in the league. He showed surprisingly great quickness and cutting ability, and Collins' pass-receiving chops improved as the season aged. The Ravens still have Buck Allen and Kenneth Dixon hanging around and both of them are more natural pass-catchers than Collins. Even if those two eat up a good portion of Collins' third-down work, it looks like he has a very clear path to early-down and goal-line work in Baltimore once again. That, of course, assumes the Ravens don't draft a running back. They might. For now, Collins should be considered a mid-range RB2. 
-- QB Tom Brady, TE Rob Gronkowski skipping Patriots workouts
New England began its voluntary workout program Monday without Brady and Gronk. Is anyone surprised?
Fantasy take: Brady is currently traveling and is not expected to be a frequent participant in the Pats' offseason program. But at this point in his career, what value is there in having Brady on the field for spring workouts? The more interesting absence is Gronkowski's since we still don't know for sure if he will play in 2018. The latest reports have him leaning toward playing rather than retiring, but nothing is firm yet. As we get into the summer, Gronkowski's immediate football future, if it remains undecided, should be one of the top stories in fantasy football circles. It's too early to freak out in any manner right now.

You can follow, ask fantasy questions and yell at Brian on Twitter: @Spokes_Murphy
Never miss ASL's latest fantasy sports news. Send us an email at This email address is being protected from spambots. You need JavaScript enabled to view it. and list the sports you are interested in (NFL, NBA, MLB, NHL, EPL) to start receiving ASL's newsletter.