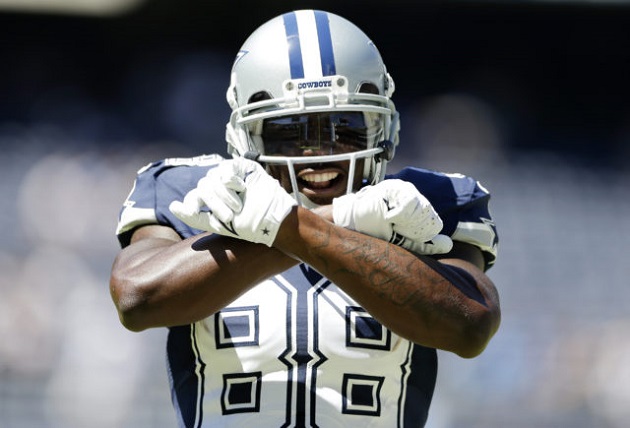 Written by Brian Murphy
17 April 2018
A major fantasy football commodity was handed his walking papers a few days ago. No, it wasn't Kenneth Farrow or Jeremy Langford. I'm talking about Dez Bryant. Now that the now-former Cowboy is available on the open market, what does the fantasy future look like? Obviously, his next team and surrounding teammates will heavily determine that, but with what we know now, let's speculate.
Bryant is heading into his age-30 season; he'll turn 30 in November. A three-time Pro Bowler and a one-time All-Pro, Bryant has scored the third-most touchdowns since the start of 2010, trailing only Rob Gronkowski and LeSean McCoy. However, Bryant has scored just 17 touchdowns over the past three seasons, thanks in large part due to injuries that caused him to miss a total of 10 games over that span. Bryant played a full season in 2017, but he averaged just 4.3 catches and 52.4 yards per game. His yards-per-catch average fell to a career-low 12.1, and Bryant had just three plays that went for 20 yards or more. He ended 2017 as the No. 25 WR in standard leagues.
You can attribute some part of Bryant's disappointing 2017 stat line to the Cowboys' conservative offense -- 52.2 percent pass plays -- and Dak Prescott's clear regression as a passer from 2016. You also can't wipe away the fact that Bryant's extensive history of lower-body injuries has taken away some burst he will never reclaim. He can still be an overwhelming physical presence and does a great job of fighting for jump-balls. But Dez isn't going to burn many cornerbacks from here on out. He wants to play in the NFC East, yet the Giants and Eagles don't have the cap space to sign him. The Redskins are reportedly not interested. The teams that have indeed been rumored as interested are the Packers, Bills, Ravens and Cardinals. In other words: Aaron Rodgers, A.J. McCarron (or an incoming rookie), Joe Flacco and Sam Bradford. One of those things is not like the others. Again, Bryant's fantasy outlook will be greatly influenced by his destination, but if those are his top suitors, three of those four teams wouldn't give his fantasy value a boost.
At this point in his career, Bryant needs a great quarterback to succeed in ways Dez Bryant used to. He can still be a quality red-zone target, but he is not nearly as explosive today because of his past physical ailments. It's also worth noting that he dropped a league-high 12 passes last season. Going into 2018, I'll consider Bryant a touchdown-dependant injury risk with possible 1,100-yard upside if he stays healthy. Maybe he's a top-15 wideout in fantasy, but that's as sunny as I can be right now. I will revisit that quick projection if Bryant does find himself playing alongside Rodgers. For now, I'd shy away from Dez in drafts this summer unless I can get him in the 20-25 range among wideouts.

You can follow, ask fantasy questions and yell at Brian on Twitter: @Spokes_Murphy
Never miss ASL's latest fantasy sports news. Send us an email at This email address is being protected from spambots. You need JavaScript enabled to view it. and list the sports you are interested in (NFL, NBA, MLB, NHL, EPL) to start receiving ASL's newsletter.