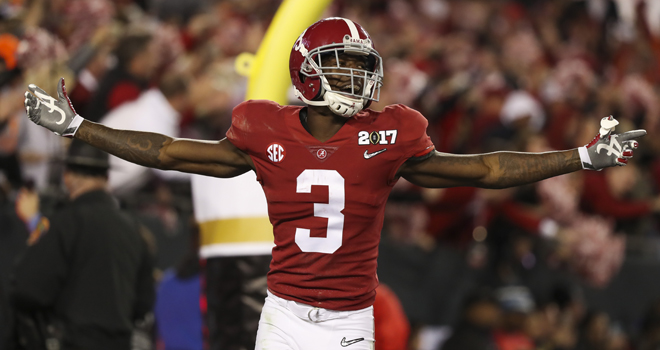 Written by Chad Samuels
13 March 2018
The NFL Combine is over. The players have been measured and tested. These prospects were interviewed and sometimes asked questions like What type of fruit would you be, or (to Bo Scarbrough) Do you think God is an Auburn Fan? The questions are not as important but it is time to begin solidifying our draft ranks now that we have these data points. Last week was the top 10 rookie running backs. You can find part 1 here and part 2 here. Wide receivers are a little trickier to rank than running backs. The running back prospects this year are the strongest of all positions and also usually has a specific profile that correlates to success in the NFL. Successful NFL receivers can come in all shapes and sizes. While teams like prototypical sizes, players like Jarvis Landry and Wes Welker have been very productive in dynasty that do not fit that subtype. Where with running backs pedigree matters, wide receivers it is all about draft pedigree as opposed to college recruitment. Corey Davis was a two-star recruit to Western Michigan, and Courtland Sutton was a defensive back before he was moved to wide receiver.
If you play in a dynasty league, give your team the best chance to win with Chad's Dynasty Diagnostic service. 
Wide receivers who are drafted in the first round of the NFL draft have roughly a 70% chance of putting up one starter season. The statistics drop significantly after round one. This means we will be waiting with anticipation for the NFL draft to finalize out rankings and who we should target. When looking to draft a wide receiver after round one while normally it is wise to load up on players to reduce risk it is wiser to look at running back over the wide receiver position instead. Because it takes time for receivers to develop you will be stuck waiting for players to flash that many not happen until year three if at all. This will clog your roster with players you don't want to start or be less likely to sell to others for a profit. Because of this, when you select wide receivers that were drafted after round two, you need to be very careful and grab specific players that drop into day two of the NFL draft. For example, last year there was a recommendation to draft Juju Smith-Schuster because of his strong performance at USC and the potential to play out of the slot which has seen a lot of production in the Steelers offensive scheme over the last few years. With these things in mind here is the first half of the top ten wide receiver draft prospects post combine from a dynasty perspective and why I ranked them where I did.
1 Courtland Sutton: The top four on this list can be reshuffled by many experts.  Many had Sutton number one before the combine because of his prototypical size and production. He was measured at 6'3" and 218 lbs for a BMI of 27.25 which is reasonable. He, as a redshirt junior, produced 195 receptions for 3220 yards and his best season came as a sophomore. The younger you have a good season the better for your dynasty profile. I have seen mixed reviews about Sutton being a round 1 selection and that hurts his chances to succeed in dynasty. Still mock drafts are just mock drafts and not a real draft. They suggest an indication of where a player will be drafted but often are not accurate. Sutton's forty time is reasonable and he put up a 6.57 second three cone drill showing he can move and has some explosion with with a 35.5 vertical jump. Sutton is ranked within the top three of Mike Mayock, Mel Kiper Junior, and Todd McShay although that is from an NFL prospect standpoint. I chose to keep Sutton ahead of the rest because  he is from SMU and is a small school prospect. There is still a chance he goes round one in the NFL draft but if he does not a second round showing at the draft for a small school prospect is something for dynasty owners to take notice of. With his metrics and measurable combined I believe he has the ability to become a WR1 even if he is drafted in round two.
2 Christian Kirk: Christian Kirk's profile is one with an upside to be drafted in the first round of the NFL draft. He is a smaller but thick receiver at 5'10" and 201 lbs with a BMI of 28.84. His size is a concern that he would be relegated to the slot role. He is thick enough withstand working in the slot and break some tackles. He is athletic enough with a 4.47 forty yard dash though his 3 cone drill at 7.09 is not what I want out of a receiver his size. Kirk's breakout season of 1009 yards as a freshman suggests solid upside. He has solid career numbers for a junior although Kirk does have some downside. The first as mentioned above is his size could prevent him from an outside receiver position. The second is as his college career progressed his college numbers decreased. He finished his junior year season with 66 receptions for 859 yards. His junior season did net his best ypr (yards per reception) average but his career average  is 12.2 which is low and suggests less big play ability. Kirk's number two ranking rests solely on this odds of becoming a first round draftee in the NFL. If he drops to the second round he drops on this list. Because there are better prospects that should be around in round two, where he is drafted will be key to how immediately he will produce. Even if he goes to a team that has some solid receiver talent do not discount him for that reason, especially in PPR leagues. A slot receiver can still be productive in the right system.
3 James Washington:  Washington is a safer profile than Christian Kirk. However he is not considered a first round prospect and as of right now he would be a surprise to be drafted in the first round of the NFL draft. From a metric standpoint this lowers Washington's odds to break out as an NFL receiver. Some experts have also projected him as a slot receiver in the NFL.I do believe of the solid second round prospects that Washington's profile is one that can be the exception to the rule and worth drafting in dynasty. Washington is older as he did not declare early for the NFL draft. His statistics progressed every year with his senior year produced 74 years for 1549 yards and 13 touchdowns. HIs career 4472 yards is very productive and these numbers point to him producing in the NFL. He is a little small at 5'11" but has a BMI of 29.71 is the highest of receivers I tracked this year. His athletic stats are solid as a receiver with a 5.54 forty and 7.11 second three cone drill. When in your rookie draft when choosing who to take at wide receiver between Kirk and Washington it may come down on which do you value more in a profile. Production or athletic ability. Kirk is more athletic than Washington, although Washington is more productive. When comparing the two both are close to each other. Washington's profile suggests a higher floor for production while KIrk's slightly better athletic profile suggests a higher ceiling.
4 Calvin Ridley: First he is a five star recruit. This means he has name recognition and will be a quicker go to name early in the draft process and his draft status is elevated because of this. Recruiting is not as important for wide receiver. While it shouldn't be discarded outright it should not be a major factor in evaluation. Calvin Ridley is considered by many as the top wide receiver in this class. The big three of Mike Mayock, Mel Kiper Jr. and Todd Mcshay all have Ridley as their top wide receiver prospect lists. This makes his appearance on this list at number four  in dynasty either damning of me or Ridley as a dynasty asset. What Ridley gains as a projected first round prospect he loses in the metrics. A six foot frame is OK for the NFL but it is not elite size. His BMI is 25.69 is average as well. His career yards of 2781 is good production for junior. His 4.43 forty was very good for his size although he was worst in testing for broad jump and vertical jump. Ridley was quoted at his pro day stating, "I don't get in a receiver stance and broad jump before I run a route." It is a nice sentiment but you do not get into a forty yard dash stance to run a route either. Keep in mind the vertical jump and broad jump is not a test of route running but a test of explosion and power which can affect running a route for separation or jumping to catch a ball at it's high point. It suggest he may not win as many jump balls especially since he is 6'0" and not 6'4" as well as have some trouble starting out fast off the line of scrimmage. He separated in college but can he separate with the elite talent of the NFL? A career 12.4 ypr suggests these possible difficulties and that it will be difficult for him to be a down the field threat in the NFL if he can't separate. He did make a leap in his junior season however age may be a reason why. Like Christian Kirk he regressed from his Freshman season. Yes, the next two seasons he has been dealing with a not a great QB in Jalen Hurts. However Jake Coker was not an elite prospect either. His progression to his junior year is good but finishing his junior season under 1000 yards still suggests a high risk profile. This is compounded by his age. Even as a Junior Ridley was 22 years old and will be 23.7 years old at the start of the NFL season.  Not only will he have less time in the NFL but more importantly despite being older and having extra time to grow he still was not able to meet near the top level production of other players his age. His body was more mature and because of that he would match up better versus college talent that is younger and less developed. We should expect a spike in college progression. We did see a spike but not nearly enough for his age to feel comfortable. For these reasons despite the first round projection, I think Ridley will be a high risk, high reward profile and a risk to draft. I would rather spend a later draft pick on the prospects listed above. The cost to trade up for Kirk and Washington is cheaper and palatable for the upside they offer..
5 DJ Moore: The first four rankings of players are a draft tier of their own. Moore starts the beginning of the next tier of players that are a bit riskier to draft. Moore has been a riser in the draft process. He is another 6' receiver and at 210 lbs has a solid BMI of 28.48. His 4.42 forty barley puts him into the positive speed for his size but his 6.95 3 cone score is decent but not elite. His 1033 yards as a junior is a decent break out for his best season although we look for 1200 to 1300 yards as a junior to really get excited about production from a prospect. With rookie drafts, unless there are deep rosters for your dynasty league, it can be difficult to hold onto receivers for the full three years if you have a lot of young ones on your roster. His 13.9 ypr average again like other prospects on this list. Finally, Moore is young he will be 21.8 this September which gives him a little more time to grow both physically and as a receiver. Normally we would like to see multiple seasons of solid production from a prospect to feel secure drafting him. Unfortunately, we do not have that in Moore. He has upside and after the elite four are off the draft board he becomes an upside play to draft and add to your roster. As with all wide receivers draft pedigree will be key. This assessment is based on him being drafted day two in the NFL draft.
Wide Receivers can be tricky to evaluate. You should focus on drafting the elite and then add additional receivers sparingly. It does little good to develop a player only to cut him for lack of space and then have him break out. The top four receivers on this list should be players you consider in the first round and a half of your rookie drafts. While the fifth DJ Moore Comes into play late second early third depending on how the NFL plays out. As with any rankings the final determination is up to you. Remember three out of ten first-round wide receivers do not put up a single decent season. It may be the highest hit rate for NFL players but there still are mistakes If you feel strongly against drafting a certain player, forget who ranks them where and go with your gut. You might feel bad if you skip a player and they play well but you will be regretting it more if you draft a player you think will fail and then he does exactly what you think he will.
Dynasty never goes out of style. The following is previous content you may want to refer to:
Introduction to Growth Strategies
Growth Strategies and Startup Drafts, Part 1
Growth Strategies and Startup Drafts, Part 2
Growth Strategies and Rookie Drafts
When Roster Growth Strategies Go Right
Why You Should Join a Devy League


Don't miss out additional content in the rookie prospect series:
Post-Combine Top 10 Running Backs, Part 1
Post-Combine Top 10 Running Backs, Part 2

Never miss ASL's latest fantasy sports news. Send us an email at This email address is being protected from spambots. You need JavaScript enabled to view it. and list the sports you are interested in (NFL, NBA, MLB, NHL, EPL) to start receiving ASL's newsletter.