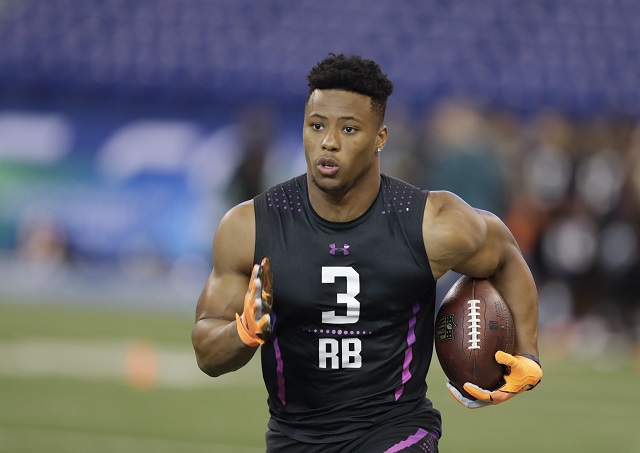 Written by Chad Samuels
08 March 2018
The NFL scouting combine is over. With it we now have enough data points to begin to construct a draft board for your 2018 rookie draft. Now that the players have been measured, the forty yard dashes ran, interviews held and positional drills run how do the players stack up? As we ramp up to the draft we will go over who the top players are at each position for dynasty purposes. Remember, while draft pedigree matters in dynasty, we do not want to rank players by who we think is going to be drafted high, but by who has the tools to be a successful fantasy football player for years to come. Also, this time of year, it is very easy to become susceptible to "groupthink." Normally draft experts and pundits have solid reasons why they rank players where they do. Often they are correct. Still, everyone is fallible and that is why there will be draft misses and dynasty busts every year. So when you are setting your draft board and choosing target players keep it in mind and follow your gut if there is a player or two that does not match what the experts think. With these things in mind, here is the first half of my top ten rookie running backs post combine.
1 Saquon Barkley: Barkley has been considered by all the top running back prospect heading into the combine and it was not close. In such a situation where there is a large gap between the top two players the question that needs to be asked is not how did the players perform, but instead what sort of scenario needs to happen for Barkley to be bumped from the number one spot? For me that answer was he would need to either weigh in lighter than 220 lbs and run a poor forty yard dash both at the combine and his pro day.  Barkley weighed in at 233 lbs and carries the size to be a workhorse in the NFL. His 4.40 forty time is excellent for a back his size. Barkley is entrenched as the top rookie back and retains that designation. Only a catastrophic injury is left as a possibility that should drop his dynasty draft stock.
2 Nick Chubb: This is a deviation from the pundits. Just because I rank Chubb number two overall does not mean I think you should draft him number two overall. Rookie drafts are about value and taking a player over the consensus number two player is a reach when you can get him a couple of spots lower. People like Derrius Guice and as long as Guice has a higher ADP over Chubb it is the correct move to position yourself at three overall and draft him after Guice is off the board. Chubb has a strong profile averaging 6.2 ypc (yards per carry) in his collegiate career. He also weighs 227 lbs and ran a 4.52 forty and a 7.09 three cone drill showing he can move for a big back. His best season was as a freshman when he rushed for 1547 yards. He was also a five star recruit and plays at a position where recruiting seems to matter to NFL teams. Chubb's profile is solid. Detractors will point to his knee injury. Yes it was a bad injury but he has avoided small nagging injuries that would cause him to miss a game or two in a season. Chubb is two years removed from the injury and it appears he is fully recovered and has not suffered any setbacks. Nick's injury situation reminds me of Adrian Peterson's collegiate injury. When in college, Peterson broke his collarbone. He missed significant time but it was not something that would linger and affect his NFL career. I think Chubb will follow a similar track of recovering from his injury.  Some may argue that Chubb had his most productive season was before his knee injury. They are correct, however, in 2017 more than a year removed from his knee injury Chubb rushed for 1345 yards and a 6.0 ypc average proving he is still a productive back after his injury. In my opinion his only true negative to his profile is that his best season for receptions was 18 in his freshman year. This is the same number of receptions as Derrius Guice. Chubb's downside does not cause any additional separation between the two prospects. For me the difference between Chubb and Guice is miniscule. Guice overtakes the number two position if Chubb falls into day three of the NFL Draft or if Guice lands on a team that has an open depth chart and Chubb does not.
3 Derrius Guice: If Nick Chubb is ranked at number two then Derrius Guice is ranked 2A. He is another big back from LSU at 224 lbs. There were rumblings heading into the 2017 season that Guice was a better prospect than Leonard Fournette. It is hard to argue either way because both players were excellent prospects. Like Fournette, Guice also chose to enter the NFL draft as a junior which helps his draft profile. His 4.49 forty yard dash is three one hundredths of a second better than Nick Chubb but we are missing his three cone time to see how his lateral movement is. The reason I have Guice just a hair below Nick Chubb is his injuries. Instead of a season ending injury, Guice has missed time and parts of games with smaller nicks and dings. This sort of injury history suggests that the cycle could continue as the NFL game is more violent than the college game. If I am going to draft a running back high for my dynasty squad I want him available for as many games as possible and more importantly not to leave the game for periods of time that will reduce his stat line. If Guice misses time during the fantasy football playoffs it could mean the difference between advancing or your season being over. While considered the better talent I think Guice comes with slightly more risk and that is why he drops to the number three overall running back below Nick Chubb for dynasty purposes.
4 Royce Freeman: Royce Freeman is another running back that you can acquire later than his number four ranking. Normally when a prospect is elite they come out when they are a junior. Thus sometimes there is less love for a senior than a junior coming out. I believe this is the dynamic that is happening to Freeman in the dynasty community. He went back for his senior year because his Junior production was down from his first two seasons. His production early in his college career was off the chart. His sophomore season produced 1836 rushing yards. He is a big back at 229 lbs who should withstand punishment that the NFL will dish out. His 4.54 forty and sub sevan second three cone drill show he is athletic enough at his size to become productive at the NFL level. As a senior he is a little older than the top prospects as he will be 22.6 years old when the NFL season starts. Also he just barely missed a career 6 ypc average at 5.9. Neither of these are red flags that you should avoid him as a prospect. Finally his receiving chops are enough he should add a little production at the NFL level. His best season of 26 receptions while middling  is significantly better than either Chubb or Guice ahead of him. While usually smaller and tweener backs are the receiving backs for their team Freeman provides enough prowess that he should put up some fantasy point in this category.
5 Rashaad Penny:  With this ranking I am assuming Rashaad Penny will be drafted day two. There are a lot of solid running backs in this draft. Because of this not all of them can be drafted where their production and metrics would indicate they should. Penny burst upon the scene as a senior rushing for 2248 yards and finished his career with a 7.5 ypc average. These numbers are difficult to ignore. He barely passes the big back threshold at 220 lbs.  He also has a 4.46 forty time which is fast enough for his size to be a productive back. His receiving numbers in college put him in the middle of the pack so his value as a prospect rests primarily on his college production and speed. I would have liked for him to run the three cone but he chose not to participate. He can add that data through his pro day. The other blemish on his record is his recruitment. Penny was a three star recruit at a position where recruitment seems to matter. Will NFL teams overlook his recruitment for his senior year production? This is the key question to be answered for Penny to remain ranked number five on this list.  
For 2018 the running back position is stacked. At this point in the process SaQuon Barkley has established himself as the top prospect. The second tier of Nick Chubb and Derrius Guice are really good as well and separated from the rest of the field. Backs four through seven on my list form a solid third tier of RB prospects that are worth drafting to round out the rest of the first round. We will cover the other two backs in this tier next time. Trade value for Barkley has been exceptional and if you own the 1.1 rookie pick it is worth exploring trading down and see what type of trade value you can get for him. People have been offering insane amounts of value for him. At the same time if you own rookie picks 1.2 through 1.4 it is better to stay where you are than try to move up as there is a lot of value at running back and will provide a lot of production for you. I expect Guice to be drafted at 1.2 and I would not be surprised is a wide receiver sneak into the 1.3 spot of this rookie draft leaving Chubb a very good value at 1.4 rookie pick. If you do not own a pick in the top four, it is worth seeing if you can position yourself to get that pick as it will either be the top wide receiver or Nick Chubb and it will cost less then moving into the top three of the rookie draft. If you need a running back this is a very good year to get one.
Dynasty never goes out of style the following is previous content you may want to refer to.  
Introduction to Growth Strategies
Growth Strategies and Startup Drafts Part 1
Growth Strategies and Startup Drafts Part 2
Growth Strategies and Rookie Drafts
When Roster Growth Strategies Go Right
Why You Should Join a Devy League
Never miss ASL's latest fantasy sports news. Send us an email at This email address is being protected from spambots. You need JavaScript enabled to view it. and list the sports you are interested in (NFL, NBA, MLB, NHL, EPL) to start receiving ASL's newsletter.