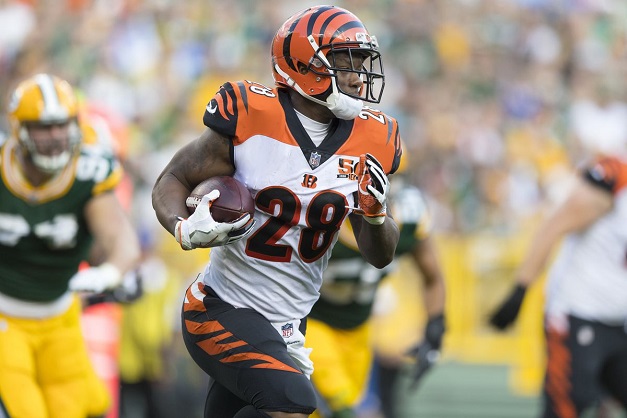 Written by Chad Samuels
16 January 2018
There are many different fantasy football formats that one can play in. Daily fantasy football has been hot lately but there is a niche for fantasy footballers that brings an extra challenge for those who are looking for more strategy and challenge than seasonal fantasy football. It is the dynasty format. Dynasty fantasy football is where you keep your rosters from year to year with some mechanic to turn over a portion of your roster. There is an annual draft. Most commonly the draft is a rookie only draft but sometimes free agents can be drafted too. The roster turnover mechanics usually fall into two categories. The first is a league where you are required to drop a certain number of players a year or equivalent to the number players you can draft. Sometimes leagues require you drop a certain number of players that are top scorers at their position. The other common mechanic is some sort of salary cap where players are assigned contracts usually from one to five years and when the contract is up the player is either dropped or resigned to your roster for more money. There are many dynasty formats out there for a player looking for more challenge than the traditional seasonal fantasy football format.
If you play in a dynasty league, give your team the best chance to win with Chad's Dynasty Diagnostic service. 
Dynasty adds a different layer of strategy that the normal league just normally does not have. It is tempting to just try to load up your roster with some elite players add some rookies every year and try to compete. The problem is some teams can develop super rosters and it will be difficult to win or finish in the money adding a couple of young players a year and hoping they break out.  Others will react by trading away what annual draft picks they have for veterans or studs in an attempt to create that super team. Winning it all is part luck in fantasy football. This is because it is all about who gets hot during your fantasy football playoffs. In 2015 and 2016, owners who had David Johnson often finished in the money while in 2017, Todd Gurley owners were rewarded by his monster production weeks to help them finish in the money.  Meanwhile in 2017 if you owned Alvin Kamara and/or Antonio Brown, if you started them the week they got injured early in the game, it often meant an early exit from the playoffs. Because of this, these super teams are not a lock to win it all and you better win because this team-building strategy leads to a team that can not replenish itself over time except through a free agency or waiver mechanic. The owner often will hit a wall where his players age and if he can not replace his aging studs with elite options that he is losing. When this happens it can take a couple of years to rebuild a roster. Sometimes, during this process, an owner will lose interest and then move on to other leagues leaving an orphan that the rest of the league needs to find an owner for.
The strategy that can be effective long-term is what I call growth strategies. This concept is based on the stock market and a class of assets called growth stocks. Growth stocks are stocks in companies that tend to increase in capital and income. These stocks increase in value over time and can be sold for a profit. This concept can be applied to dynasty leagues. Instead of building a roster of players that you intend to compete for a championship, you build a roster of growth stocks (or players with growth potential) that will increase in value over time. From these stocks, you will set your lineups, compete for some titles and eventually sell them for a profit. From that profit, you purchase more growth stocks and some studs and the process repeats. Over time you build a roster that is strong and competitive.
There are three different types of players or assets that your dynasty roster will own. They are Core Assets, Flip Players and Fodder. Core Assets are the players you build your team around. these are the young studs everyone wants.  These are also the players that have the upside to break out that you think will continue producing at a high level for several years. They are top 12 or have top-12 potential at their position. These players are often found in the first six rounds of a startup draft and first round of a rookie draft. Ezekiel Elliott, Leonard Fournette, and Saquon Barkley are all examples of running backs that are core assets.
Flip Players are players that you expect to see a rise in value but will not sustain their production either through the season or into the following season. They are named flip players because you want to trade or flip them for draft picks or other prospects you think will rise in value over time once they start producing. These players get traded before their production declines. Trading them locks in the value growth of asset and turns in a profit. Ideally, you trade a flip player for more than you paid to acquire them to lock in the profit. A flip player should usually be considered a flip player due to talent versus being in a bad offense. For example, Cincinnati was 32nd in yards per game and 26th in points scored offensively in 2017. They had offensive line issues and if they rebuild the line, the Bengals' offense should see an increase in production. For this reason, it would be a mistake to discount A.J. Green or Joe Mixon to flip player status. Flip players are found mostly in Round 7 or later in startups and Round 2 and beyond of a rookie drafts. Samaje Perine, Kenyan Drake, Marlon Mack, and Sony Michel are examples of flip players.
Fodder are players that round out your roster that do not fill the function of flip players or core assets. They are called fodder because they are expendable. There are two types of fodder. The first type is a player who is there to fill in the gaps as a starter that can produce now but does not provide a statistical advantage to your roster. They are used mostly in bye weeks or in case of injury to a projected starter. These are the steady producers like Demaryius Thomas or Michael Crabtree. The other type of fodder is a high risk, high reward type of player that are liable to crash and burn. The odds of these players increasing in value are low. If they produce, then you immediately turn around and sell them for whatever profit you can get for them. These are the players that when it is time to cut down your roster they are the first to be cut because odds are you can not trade them. Examples of this type of fodder are Tavon Austin and Cody Latimer. Fodder can usually be found in rounds 15 or later in startup drafts. The steady producers can sometimes rise higher in the draft. Rookies from round three of later if they don't break out after a year or two can turn into fodder. When you add fodder to your roster the importance is the price you pay because odds are you will not get a return on your investment This is why you want to pay as little for fodder as you can. You do not want to draft an aging vet until late in a startup draft. It is also better not to trade for fodder and pick it up on the waiver wire. Unless you are in season and have a strong chance to win now you normally do not want to trade for fodder. Instead of acquiring fodder you want to acquire Flip Players. It is a rare situation where you want to trade a rookie pick for fodder.  
The key to roster growth strategies is you want a roster that is not top heavy with elite players and then has mostly fodder. Instead, you want a team of core assets and some fodder to round out lineups to create the core of your team, then you want to go wide with flip players and rookie draft picks in the first two rounds of your rookie drafts. Going wide is having a lot of players at the running back and/or wide receiver skill positions that creates significant depth at that position. Scoring rules as well as current depth in the NFL determine which position you want to go wide at. Normally it is a good idea to go wide at wide receiver. Young wide receivers who have not broken out have a tendency to hold their value through year three. Year four if they do not produce their value has a tendency to drop. Running backs normally have a shorter tolerance for lack of production. In general by the end of year two if a running back has not flashed production in your dynasty league, then they often will be dropped for the new shiny running back toy that has entered the NFL. Also, wide receivers have a tendency to be productive and put up their best stats several years longer than running backs when they finally produce. It is very common for running backs to gain temporary value due to injury or lack of performance to a starter. For these reasons, unless market factors dictate otherwise a dynasty team will want to go wide at wide receiver first and then the running back position. These players are the assets that will develop and rise in value. When they do gain value it will cause your team to grow and get better. You will find your team able to compete. Then as you sell your flip players and the new assets grow in value your team gets even stronger and then owners will be surprised that your roster came out of nowhere to compete in the playoffs.
The reason rosters go wide with flip players is that there is risk with growth players that they do not grow as you expected. Kevin White with his lost seasons for his first three seasons in the NFL is an example of this. To help reduce the risk you want to put as many flip players on your roster as you can. This increases your chances to hit on several of them. Missing on some growth assets is inevitable so when it happens do not get down on yourself. Once the writing is on the wall that a player does not look like he will grow in value you want to trade him (sometimes with something else) for another younger flip player and/or draft picks. This is called resetting the clock. Resetting the clock is taking a player who is about to lose value and trading him for a player who will hold his current value for longer and has a chance to break out. While you want to trade players for more than you paid for them, sometimes you have to sell for less. If you do not sell, then the player usually becomes fodder and then you may not be able to sell the player at all. While it may not have been optimal, the time that this player was on your roster he was an option to start and as such he did provide some value to your roster. This is especially true if you had to start him. An example of resetting the clock was back in 2015 I traded a second-round pick for Donte Moncrief. TY Hilton looked to be a free agent and than Moncrief could take over for him after the season. After the season, Hilton resigned with the Colts. After the 2016 season it was clear to me Moncrief was not going to rise in value. I packaged him with Andy Dalton to a team that needed a quarterback I picked up rookie pick 2.1 and TJ Yeldon in return. Yeldon was traded for pre-2017 NFL draft. His inclusion in the trade allowed the trade to go wide and increase the chances of finding a growth asset in the trade. But Yeldon was not the target he was a throw-in. The key piece to the trade was rookie pick 2.1 in 2017. That pick would turn into a young player who has several years to break out and would hold his value longer than Moncrief.
This is a quick overview of growth strategies. It is an effective tool in how to build your dynasty roster. These concepts are broad enough that you can apply them to any dynasty league and tailor them accordingly to your leagues. It is also an excellent way to begin a startup league. Next week, we will look at startup leagues and how to apply growth strategies to them. For now, if you have any questions about these concepts you can contact me at This email address is being protected from spambots. You need JavaScript enabled to view it. . If you would like some help applying these strategies to your existing roster we offer Chad's Dynasty Diagnostic service to assist you. When it comes to dynasty it is never too early to start for 2018.
Dynasty never goes out of style. The following is past content you may want to refer to:
Why You Should Join a Devy League
Do you love sports? Never miss out on the latest sports content at Advanced Sports Logic. Email us at This email address is being protected from spambots. You need JavaScript enabled to view it. with the sports you love and we will custom tailor a newsletter just for you.