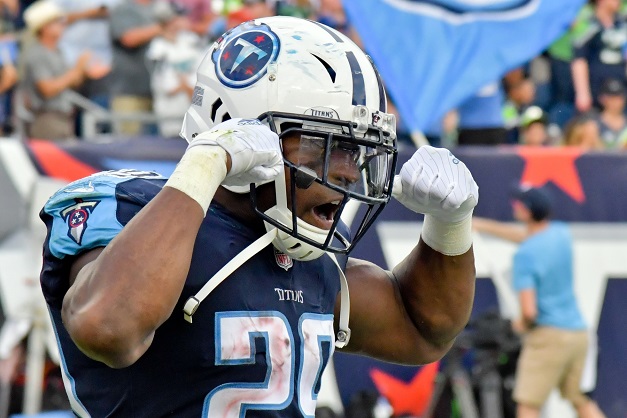 Written by Brian Murphy
09 January 2018
I opined with my 2017 fantasy football MVPs a couple of weeks ago. Here are the players who represent the antithesis.
LVP QUARTERBACK: Derek Carr, Oakland Raiders
I'm not going to hold bad injury luck against a player, which is why you won't see Andrew Luck or Aaron Rodgers or any player who was let down by his own body in this column. Instead, I'm picking players who let us down on the field, and Carr was actually just one of a few young QBs -- Marcus Mariota and Jameis Winston included -- who weren't worth their draft cost in 2017. A consensus top-10 fantasy quarterback last summer, Carr ended the year as the game's No. 19 signal-caller. He was near-MVP quality in 2016, and then Oakland's offense took a huge step back. Carr compiled at least 18 fantasy points only three times and just once after Week 2. His receiving corps, outside of Michael Crabtree, didn't offer much assistance, and Todd Downing had a puzzling first season as an offensive coordinator. It'll be interesting to see what kind of impact Jon Gruden has on Carr. Because of what we saw from him just a year ago, I'm still high on the Fresno State product even after this disappointing campaign.
Honorable mentions: Marcus Mariota, Tennessee Titans; Jameis Winston, Tampa Bay Buccaneers; Matt Ryan, Atlanta Falcons; Eli Manning, New York Giants
LVP RUNNING BACK: DeMarco Murray, Tennessee Titans
Murray was certainly slowed by injuries this season, but he qualifies for this column because he kept playing through them. And for the most part, playing poorly. He was generally a TD-or-bust player and yet another facet of what was a dysfunctional Titans offense. Murray had a first- or second-round ADP on all platforms and he concluded the year as fantasy's No. 23 running back despite playing in 15 games. Fantasy owners would have been better off if Murray had taken some weeks to rest. That would have saved a lot of Sunday morning headaches for those who were consistently asking whether or not to start him, and then rarely ever did he make it worth your while. I expect the Titans to move on from Murray during the offseason, clearing the way for Derrick Henry to take over and be a top-10 RB in 2018.  
Honorable mentions: Jay Ajayi, Philadelphia Eagles; Isaiah Crowell, Cleveland Browns; Joe Mixon, Cincinnati Bengals;
LVP WIDE RECEIVER: Dez Bryant, Dallas Cowboys
This "award" had a lot of competition, but I think Bryant is the clearest choice. He just no longer deserves the WR1 respect that he's been getting. Bryant was a second- or third-rounder in many drafts, but he barely finished this season inside the top 25 at his own position. Bryant had the third-most drops of any wideout and didn't record a single 100-yard performance. And this is more than just one bad year; over his last 38 games, Bryant is averaging just 53.5 yards per. Ezekiel Elliott's suspension certainly played a role in this down season, but just from a pure production standpoint, Bryant hasn't been a WR1 since 2014. Keep that in mind when you enter your drafts this summer.
Honorable mentions: Terrelle Pryor, Washington Redskins; Mike Evans, Tampa Bay Buccaneers; T.Y. Hilton, Indianapolis Colts; Amari Cooper, Oakland Raiders; Jordy Nelson, Green Bay Packers; Kelvin Benjamin, Buffalo Bills
LVP TIGHT END: Jimmy Graham, Seattle Seahawks
The pick here is less convincing because the tight end position, outside of Rob Gronkowski, Travis Kelce and Zach Ertz, was pretty middling overall. Graham's 10 touchdowns are the only reason why his season-ending line looks respectable. He gained only 520 yards (17th-most at the position) and was tied for second in the league in drops with seven. Plus, if you reached the playoffs with him, here is how Graham rewarded you in Weeks 14-16 combined: six targets, two catches, two yards, one touchdown. Thanks for playing.
Honorable mentions: Hunter Henry, Los Angeles Chargers; Kyle Rudolph, Minnesota Vikings; Martellus Bennett, New England Patriots


You can follow, ask fantasy questions and yell at Brian on Twitter: @Spokes_Murphy
Never miss ASL's latest fantasy sports news. Send us an email at newsletter@advancedsportslogic.com and list the sports you are interested in (NFL, NBA, MLB, NHL, EPL) to start receiving ASL's newsletter